Jack McCollough and Lazaro Hernandez of Proenza Schouler aren't too happy with Target for selling a purse that arguably looks like their PS1 bag, Cathy Horyn writes.
The PS1, which retails for $1,600, first made the fashion rounds two years ago and has remained popular since. We're not sure when Target started purveying the "Mossimo Messenger" (price: $34.99), but Horyn writes that bloggers first started pointing out the similarities last month. Even Hernandez attests, "The attitude, the slouch of the bag -- they got the weight really right."
The designers are particularly disappointed because they've previously partnered with Target for one of its Go International clothing collections. A Target spokesman told Horyn, "Target is committed to offering our guests everyday essentials alongside highly differentiated merchandise, all at a great value. It always has been and continues to be the policy of Target to respect the intellectual property rights of others."
Take a look at the two bags (the PS1 is on the left, image from Net-A-Porter.com and the Mossimo one is on the right) and tell us what you think.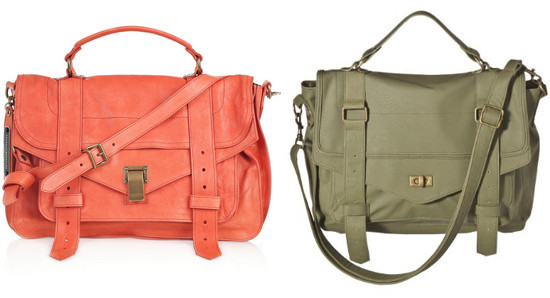 Read the rest at the Times.