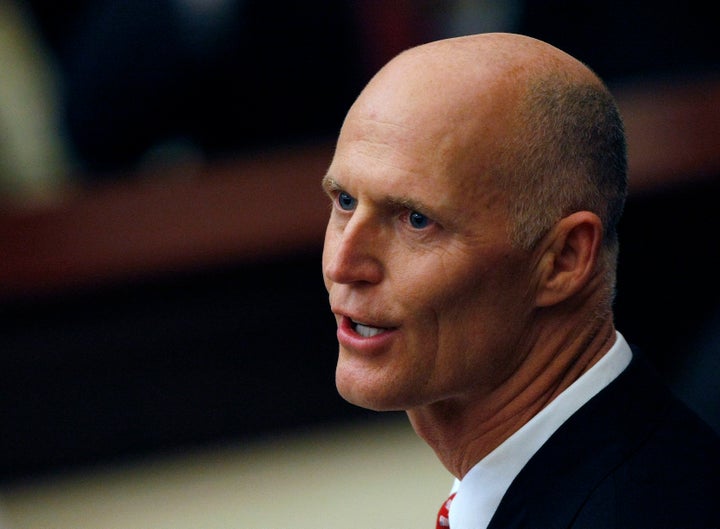 MIAMI (Reuters) - Florida's Republican Governor Rick Scott will soon be hit with legal challenges over his decision to make drug tests mandatory for all state workers, an American Civil Liberties Union official said on Monday.
"We're certainly moving in that direction," said Howard Simon, executive director of the ACLU of Florida, when asked about possible lawsuits challenging the policy.
"It's certainly going to be subjected to a test, a constitutional evaluation by the courts," Simon, a veteran civil rights advocate, told Reuters.
He was referring to an executive order that Scott, a Tea Party-backed conservative, signed last week requiring random drug screening for all workers on the state payroll at least once every three months.
New job applicants would also be subject to drug tests under the order signed by Scott, a controversial former healthcare executive, who took office in January.
Scott issued his order on the same day a bill was filed in the state legislature seeking to make good on his campaign pledge to require drug tests for welfare recipients, who would be required to pay for their own drug screening.
Simon said both the executive order and legislative proposal contradict what many consider to be established law, and clear standards on drug testing set by the U.S. Supreme Court about two decades ago.
He said random drug testing of government workers, without reasonable suspicion of drug abuse, has generally been limited to employees in jobs where public safety is an issue.
"There's federal, U.S. Supreme Court standards on all of this. I don't think the governor got very good legal advice on this thing," Simon said.
He noted that Scott has staunchly opposed a statewide computer database that would track prescriptions of Vicodin, Percocet and other dangerous narcotics, on grounds that it could intrude on privacy rights.
"That could only come from a person who is very, very selective in their principles," Simon said.
Law enforcement officials say Florida is the largest U.S. state without a database to keep track of painkillers, including oxycodone, and the undisputed epicenter of America's illegal pill-mill trade and prescription dope dealers.
(Reporting by Tom Brown; Editing by Todd Eastham)