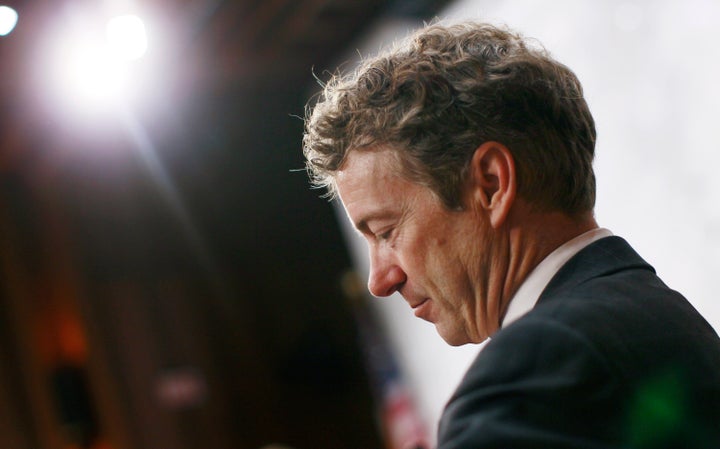 WASHINGTON –- Sen. Rand Paul (R-Ky.) impressed Iowa Republicans during his trip to the Hawkeye state over the weekend, sources in the state said.
In meetings with state GOP figures, they said, the freshman senator showed a level of knowledge and interest in policy and in the political process that wowed the other attendees.
"It was more centered on policy than any of the other meetings between the governor and other would-be 2012 prospects," said a source with knowledge of Paul's meeting with Gov. Terry Branstad (R).
"I didn't get a sense of posturing by Rand like maybe any of the others," the source said. "It was a high quality meeting. Interesting, since he's been the 'rookie' of the 2012-ers. He handled himself surprisingly well."
Paul can barely even qualify as a "rookie" among 2012 White House hopefuls. He has just begun to make noises about a possible run, but has said it is contingent on whether his 75-year old father, Rep. Ron Paul of Texas, decides to run for president again or not.
The elder Paul's 2008 campaign caught fire with a significant number of conservative voters with libertarian leanings. He was one of the '08 primary season's top fundraisers and received 10 percent of the vote in the GOP's Iowa caucuses, as well as the support of 8 percent of New Hampshire Republican primary voters.
Ron Paul's fundraising has remained strong in 2011, taking in about $3 million in the first quarter of the year.
The father and son, who live together in Washington when Congress is in session, talk often but have not come to any understanding about which one of them will run, according to a source close to them.
"The only thing I've decided is that I won't run against my dad," Rand Paul told a SourceMedia reporter in Iowa City.
If the senior Paul does not run, it is a virtual certainty that the campaign and fundraising apparatus built up in 2008 around his candidacy would be transferred to his son. Rand Paul was accompanied to his meetings in Iowa by three local Republicans active in state politics -- Drew Ivers, David Fischer and A.J. Spiker -- who also work for the Iowa chapter of Campaign for Liberty, the political nonprofit founded by Ron Paul.
The younger Paul has an incentive beyond politics to raise his profile. He has been traveling to promote his recently-published book, "The Tea Party Goes to Washington."
But in an interview with Radio Iowa, Sen. Paul gave a detailed explanation of why he might run.
"I feel the passion to fix the problems in our country before it's too late," he said. "And so, many who say, 'Why don't you just sit on the back bench and when your time has come in 12 or 15 or 20 years, then you come forward?' -- I see a shorter timeline. Not just for me, but I see a shorter timeline for the country."