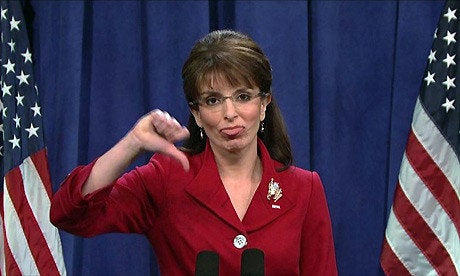 Her dead-on impression may have helped take down Sarah Palin in the 2008 election, but Tina Fey insists it didn't help her TV show, either.
Fey, who won an Emmy for her spoof portraying the then-Vice Presidential candidate as a clueless woman more comfortable spouting catch phrases than talking serious political policy, writes in her new book, "Bossypants," that rather than helping her Emmy-winning comedy "30 Rock" in the ratings, the impression has made it harder for the show to gain traction with audiences.
"Some may argue that exploiting Governor Palin and her family helped bring attention to my low-rated TV show," Fey writes (via an excerpt in USA Today). "I am proud to say you are wrong. My TV show still enjoys very low ratings. In fact, I think the Palin stuff may have hurt the TV show. Let's face it, between Alec Baldwin and me there is a certain fifty percent of the population who think we are pinko Commie monsters."
Baldwin, who plays her boss Jack Donaghy on the show, is well known for his progressive political activism. A regular Huffington Post contributor, he's spoken in the past about his desire to run for elected office.
WATCH
: