This post is part of a new series from HuffPostTech, Socialized, that will profile a different social startup--from apps to services to websites--every day. Want to be featured on the site? Email us about your startup, which should have a social media component and be less than two years old, at bianca@huffingtonpost.com.
Most existing social media sites are all about sharing what we're doing or what we've done. Foursquare allows you to check in once you've arrived at a location. Twitter asks you to share "what's happening" right now. Facebook is a hub for all the best pictures from last weekend or last night.
There's one big drawback: by the time your friends' party has shown up on Facebook or Foursquare, it's usually too late to join. Enter ImUp4, which aims to provide a way for people to share what they'd like to do with their friends, before it's happened, then sync up offline for drinks, dinner, brunch, or biking.
What it is: ImUp4 describes itself as a "a super simple way to find out which of your friends want to do the same things as you and share your plans."
Using the ImUp4 app or website, users can broadcast to their friends when they are free as well as what activities they'd like others to join them in doing.
ImUp4's Suraj Patel describes the service as providing a way to "pre-check-in to an activity." Instead of broadcasting your location once you've reached a bar or restaurant, as with services like Foursquare and Gowalla, with ImUp4 you can alert friends to your plans and send an open invitation ahead of time.
"What we're doing is creating a forward-looking calendar of plans for you," says Patel. "There's a real need for a forward-looking program that gives you options in a way you can join or ignore them."
How it works: Signing up for ImUp4 requires you to input your first and last name, email address, city, and gender. Once you've registered, ImUp4 lets you use Facebook, Gmail, email, and your phone's address book to connect with a circle of friends (ImUp4 launched in public beta less than a month ago, so the number of users is still limited and HuffPostTech was unable to find any contacts already using the service).
So how do you start hanging out? There are several ways to create a plan that will be visible to friends or to search friends' upcoming rendezvous. One alternative is to schedule a future activity via the app, which has a scroll wheel listing various events and times, and another option is to email team@imup4.com with the activity and date in the subject line, which then prompts the service to ping any other friends who have indicated they are interested in a similar activity at a similar time.
ImUp4 also has plans to automatically sync with a user's Twitter account so that if a user indicates she'd like to go to a concert on Saturday, it will note this availability to her ImUp4 contacts.
Why you'd use it: Why not just send an email or text message to the friends you want to see? It's a fair question.
ImUp4's answer is that Facebook and Twitter networks are too large--do people really want to invite their elementary school teacher out for drinks?--while texts or emails may reach too few people.
The goal is to cast a wider net and also target people more specifically. You won't find news, photos, or status updates on Twitter, but you will (in theory) find someone to hang out with. The brainchild of entrepreneurs who worked long, unpredictable hours in fields like consulting, ImUp4's goal was to create a platform through which people can signal their interests and availability and allow others to join in, frequently at the last minute, on plans.
How to get it: ImUp4 is available as a free iPhone app in the Apple App Store, as well as via its website, ImUp4.com
Tell us what you think:
LOOK: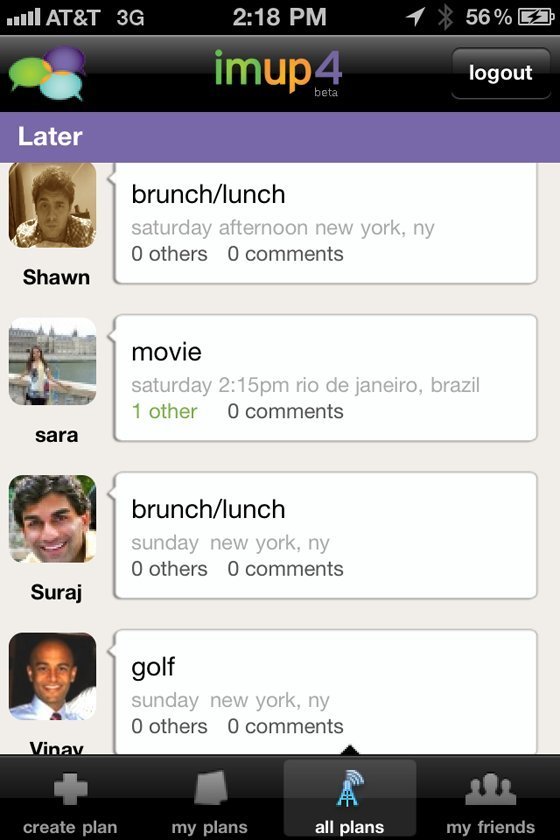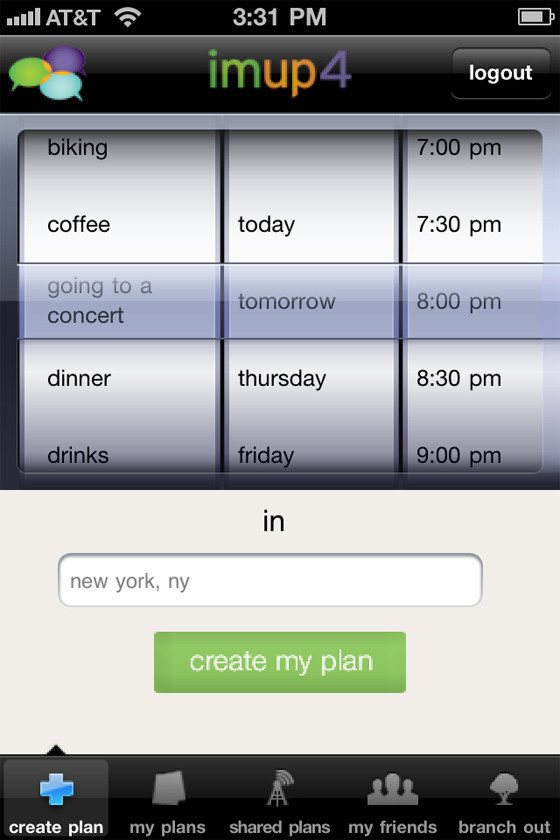 imup4 in action from imup4 on Vimeo.