How many people can't stand M. Night Shyamalan's films? One website is betting on 150,000.
M. Night School is a new website (and a .org at that) hoping to unite enough anti-Shyamalan fans to donate $1 each and send the maker of such gems as "The Happening" and "The Last Airbender" back to NYU's film school from whence he came.
The site pleads:
"Certainly there are 150,000 of us film lovers out there who are tired of his schlocky plot twists, canned dialogue, and over commercialized image as an 'auteur.'"
The site lets you donate to the cause as well as download M. Night School pictures and purchase swag. At the time of writing this the site has just over $230 in the kitty, so there's no telling how long it will take for them to reach their goal. Regardless of whether the site's legit or not, we couldn't help but laugh at the fact that it exists. Click over to the site and tell us what you think in the comments!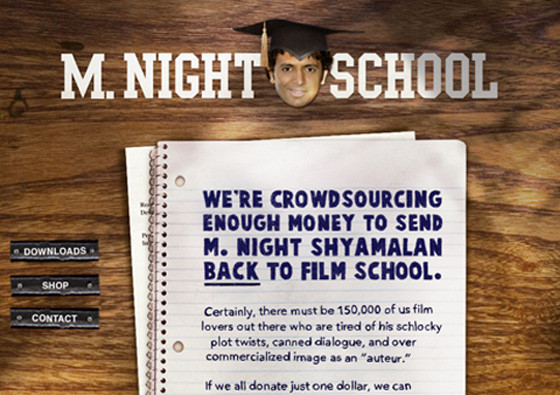 Via Best Week Ever