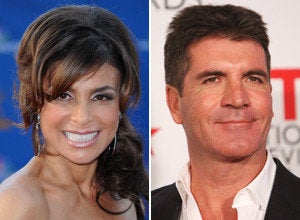 UPDATE: Cowell's representative denies that Abdul is a definite go for "The X Factor," clarifying the situation -- sort of -- for The Hollywood Reporter.
"It's still playing out," the rep said. "Nothing is set, and Paula is one of many people Simon is talking to. He's said the same thing many times, including on the radio last week. There's nothing new."
____
The team that made "American Idol" a smash hit is close to reuniting to try and bring back the magic.
Simon Cowell told Deadline that he's close to choosing Paula Abdul to join him as a judge on his upcoming American version of his hit singing competition show, "The X Factor." Abdul would join the already-named LA Reid and star singer and British "X Factor" judge Cheryl Cole as the three judges alongside Cowell.
Cowell and Abdul's relationship helped blast "American Idol" to American ubiquity; Abdul left the show after 2009, while Cowell said goodbye after last season.
Abdul's deal hasn't been negotiated yet, but it sounded like it wouldn't be much of a problem.
"I've always wanted Paula," Cowell told Deadline. "Always been very vocal about that. I missed her the second she left the show ["American Idol"]. Always loved working with her even though she can be a pain. And I've been consistent about this. I don't know what it is about her, but I've always clicked with her. You just have to get that chemistry, and she's right. I've never found anyone better than her. I think there's a good chance it will be her. We've agreed that we would meet as many people as possible, and now we're reaching the deadline we've got to make the decision soon. But I think she's got a really good shot."
Deadline's Nikki Finke, who conducted the interview, cited sources saying that Abdul was a "shoo-in" for the job and would be announced within the week.
Cowell discussed the difficult casting process in a March interview with The Huffington Post, describing the process as an intricate one with many considerations. The judges will also act as mentors for the contestants, which added additional difficulty.
"First of all, you've got to trust the people you're working with, and actually you've got to like the people, because you're going to be working with them for a long time," Cowell explained. "It's a difficult process because you want to have people who have different views, you want to have people on there who are fun to watch, people who aren't afraid to argue with me or stand up for the contestants. So you're trying to find everything, really. And what's made this process a long, drawn out process is that a lot of people were keen to be on the show. So it makes the decision that much harder."