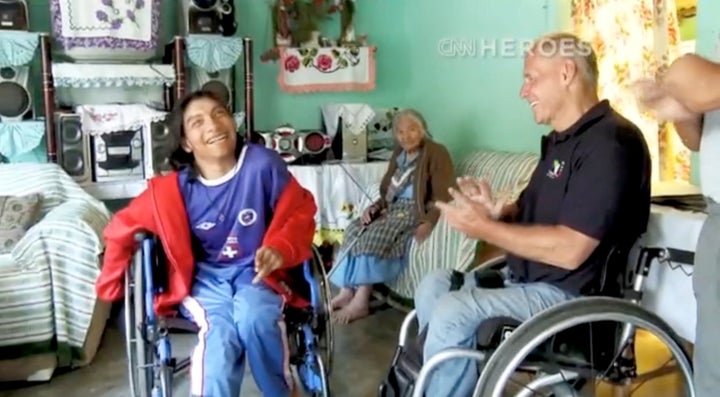 In 1976, a skiing accident left Richard St. Denis with a severed spinal cord and the knowledge that he would spend the rest of his life in a wheelchair.
Initially, this came as a tragedy to the former Air Force mechanic, but in time, and with some adjustments, St. Denis realized his new calling in life, reports CNN: To be an advocate for the rights of Americans living with disabilities.
His calling expanded to rural Mexican communities in 1997, after he was invited to speak in Mexico with the request of bringing just one wheelchair to somebody who needed it.
"As I was waiting for the program to begin, I was shocked to see people using branches for crutches, being pushed in wheelbarrows and crawling. One wheelchair was not enough. I just felt someone had to come and help," said St. Denis.
This led to the creation of World Access Project, a nonprofit that donates used wheelchairs from the United States to the indigenous disabled of Mexico.
In addition to providing wheelchairs, the project also aims to modify schools, sidewalks, businesses and homes for better accessibility, so those who are disabled have the opportunities for a better quality of life.
The World Access Project website offers multiple options to make a contribution: People can sponsor a wheelchair, donate crutches, walkers or canes, volunteer, help cut down on shipping costs, donate frequent flyer mileage, and make a single or monthly tax-deductible donation to cover the cost of wheelchair breakdowns and repairs.
There are also many ways available to ease the daily difficulties of the disabled living in the United States.
Disabled Sports USA offers nationwide sports rehabilitation to anyone with a permanent disability in order to help individuals develop self-motivation, confidence, and fitness.
Direct donations can help fund the various sports programs affiliated with DS/USA. Money may even help prepare select athletes to represent the United States at the Summer and Winter Paralympic Games.
Donations made to Disabled Children's Relief Fund helps give children the assistance to obtain wheelchairs, orthopedic braces, walkers, lifts, hearing aids, eyeglasses, medical equipment, physical therapy, and surgery.
A similar program, The Queen of Hearts Foundation for Disabled Children, also aims to give disabled children the chance to gain their independence. Volunteers can get involved by offering their professional skills: administrative help, assisting with developing their web presence or other areas of expertise (advertising, promotion, medical), planning fundraising events, and distribute information to hospitals, schools and businesses.
For veterans who became disabled while in the line of duty, Disabled American Veterans puts forth many options to provide support, encouragement and a better life. DAV volunteers can respond by driving vets to and from hospitals and clinics, or by directly working at a Veterans Affairs hospital.
A single person can drastically change a person's life. St. Denis said his success is due to the personal friendships he's made along the way, reports CNN:
"I understand what they're going through, and they know I understand. We're conquerors of the limitations in our life."