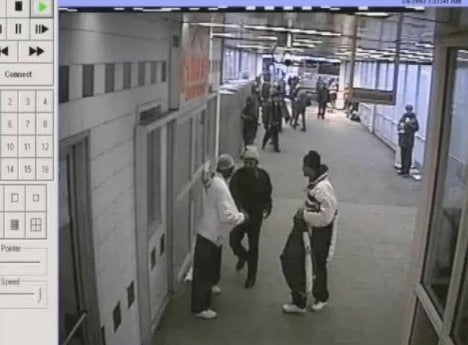 In 2003, Weems was breaking up a fight on a train platform when 23-year-old Michael Pleasance showed up on the scene. The officer was detaining Pleasance's friend, and then shot Pleasance in the face, killing him.
Only once the tape had surfaced would the city and Weems admit that the shooting had been in error. In 2007, a jury awarded Pleasance's family $12.5 million in a wrongful-death lawsuit, but that ruling would be overturned by the Illinois Appellate Court in 2009, which wrote that the trial jury had been prejudiced.
Meanwhile, the Office of Professional Standards (now the Independent Police Review Authority) recommended that Weems be fired on the basis of ten separate charges, relating both to the shooting and to the account he gave of the incident afterwards. Instead, former police superintendent Phil Cline (whose own career would be ended by another surveillance video of police violence) gave him a 30-day suspension. He was later promoted to detective.
Then on Thursday, Weems was found dead in his West Side home of a gunshot wound. The Cook County Medical Examiner's Office said it appeared to be self-inflicted, according to NBC Chicago.
The Chicago Sun-Times spoke to Pleasance's brother about Weems's apparent suicide. "It doesn't bring any closure," said Maurice Pleasance. "It's an unfortunate situation for both our families.... We don't take any comfort in knowing that an individual committed suicide."
WATCH the surveillance video from the 2003 incident here. Warning: Graphic content.