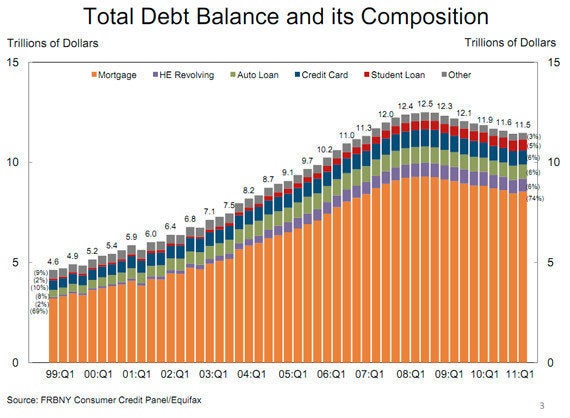 This post has been updated.
By at least a few measures, U.S. consumers are doing slightly better these days.
That's according to a new report by the Federal Reserve Bank of New York which looks at "consumer debt levels, delinquency rates, foreclosures and bankruptcies."
What the report found, according to an accompanying blog post by authors Andrew Haughwout, Donghoon Lee and Wilbert van der Klaauw, was small, yet significant "signs of healing" among U.S. consumers.
Total levels of consumer debt "held essentially steady" in the first months of the years, after declining for the previous nine quarters, spanning over 27 months. Total consumer debt -- including mortgages, credit cards and student loans -- is now down by 8.2 percent from its peak in the third quarter of 2008.
The percentage of consumer debt that is seriously delinquent, or unpaid for ninety days or more, is down by 15 percent from a year ago, however.
Consumer debt is now a regular part of U.S. life, but it wasn't always that way. Not until the mid-2000s did total consumer debt pass the $10 trillion mark. And today, Americans forced to choose between making mortgage payments or credit card payments more often choose the latter.
The below graph charts total U.S. debt by type of loan: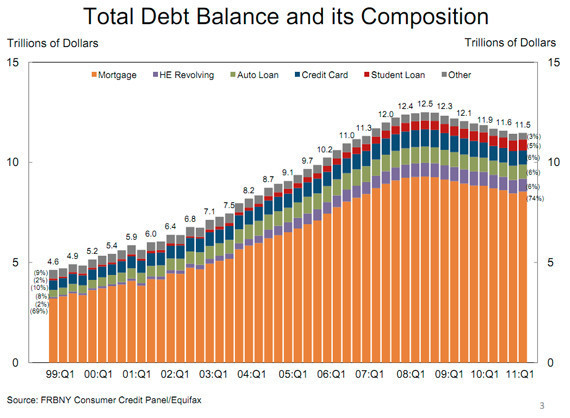 Aggregate credit cards limits have risen in the first months of the year, ending a decline first beginning in mid-2008, according to the NY Fed. And while the number of open credit cards remained roughly steady in the last three months, the total number of open credit cards is 24 percent lower than its 2008 peak. The balances on those cards also are nearly 20 percent below levels reached at the end of 2008.
The below graph illustrates the declining number of open credit card accounts: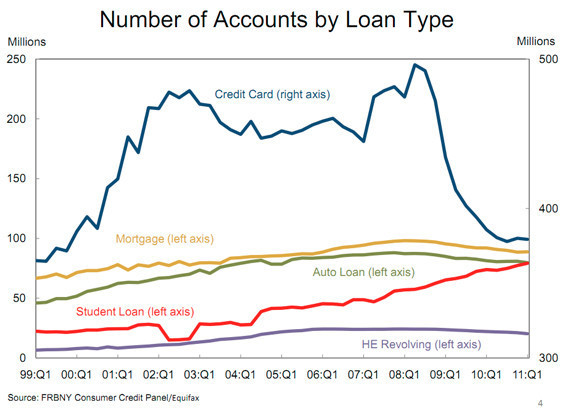 New foreclosures have also fallen nationally, according to the report, a significant finding for a struggling housing market. Only around 368,000 foreclosure notations were added to credit reports since the end of 2010, down almost 18 percent from just the previous quarter.
Household delinquency rates have now fallen for five consecutive quarters, and household mortgage indebtedness is now 8.1 percent below its peak. High-foreclosure areas like Arizona, California and Nevada are also now watching their foreclosure rates fall faster than many other areas of the country.
Bankruptcies noted on credit reports fell 13 percent since the end of last year, to 434,000 from 500,00.
Update: A previous version of this post mistakenly attributed the phrase "signs of healing" to the NY Fed. The phrase came from the authors of the NY Fed study.