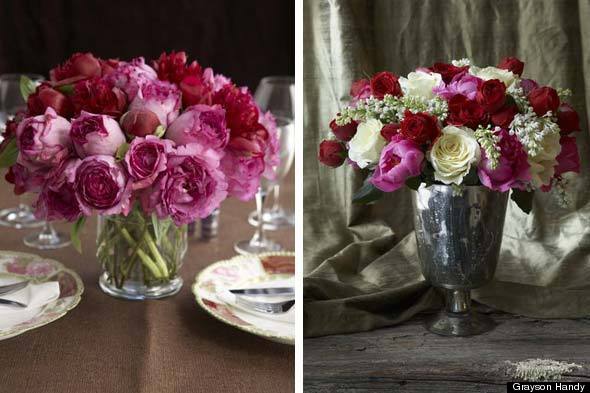 Spring flowers practically demand to be showcased in a gorgeous centerpiece, like these by floral designer extraordinaire Grayson Handy of Prudence Designs. (Don't you love the romantic palette?) But if you've ever removed the cellophane wrapper from a market bouquet and wondered "What now?", I have two words for you: Spiral arranging. This is a very loose technique that creates that pretty domed look in a centerpiece arrangement or bouquet. And you can do it all in one hand. My friend Brittni Mehlhoff of Papernstitch walks us through the process, which she used to create her wedding bouquet.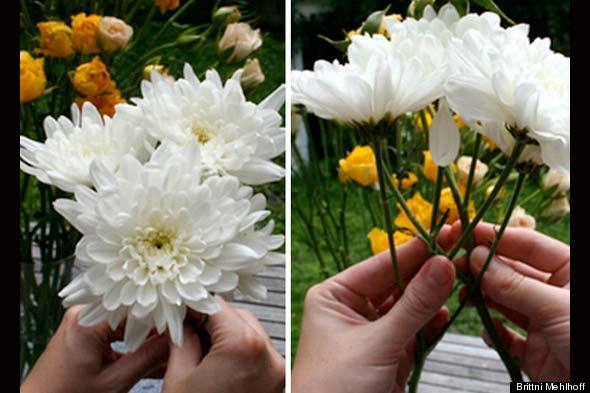 For your centerpiece arrangement or bouquet, she recommends using 15-25 stems. You'll want to have blooms in three sizes: Large, medium and small. Cut the stems to the same length and strip away excess greenery.
Start by holding a cluster of the large blooms. (Pick the prettiest ones, as these will be your "focal flowers.") You'll want to criss-cross the stems, which forms the basis for your spiral bouquet centerpiece.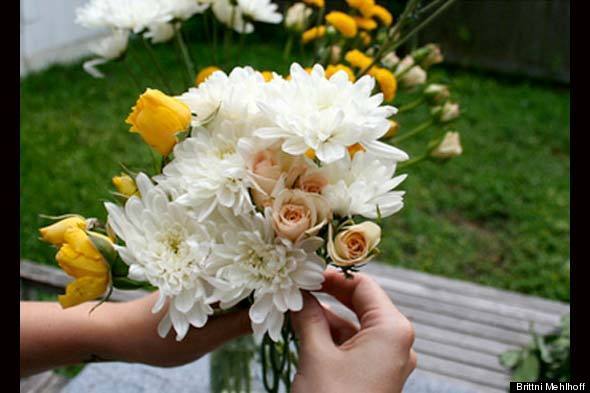 Next, add in your other blooms. If you're going to try a "color blocked" style (which is very pretty if you have flowers in varying shades of the same hue), add the blooms in clusters of threes. For some reason, odd numbers always look nicer than even ones. Otherwise, add in single blooms, varying the size for a balanced look. Remember to keep criss-crossing the stems and to turn the bouquet as your work.
Once you've reached a nice size for your centerpiece, simply transfer the bouquet into the vase of your choice. If you'll be holding the bouquet, cinch with a rubberband and then cover with plenty of floral tape. To hide the tape, wrap with ribbon and secure with pearl-topped floral pins. For the full tutorial on wrapping stems (and to see more photos of Brittni's gorgeous wedding bouquet), visit the Papernstitch blog.
Want more centerpiece ideas? Then check out...
Edible Arrangements: Make a Fruit, Veggie or Cupcake Bouquet