Peter Thiel looked on in awe. The billionaire early investor in Facebook and co-founder of PayPal, Thiel had spent countless hours in close quarters with young entrepreneurs. But he'd never traveled through the Caribbean on a 14-story cruise ship with 1,000 of them.
For three days in April just off the coast of Miami, the ship served as the venue for this year's Summit Series, an invite-only business conference that draws some of the world's most successful Internet startup founders. The yacht, the flowing champagne and the brand-name speakers were all part of Summit's three-year-old business model: convene an elite group of young entrepreneurs, add investors, philanthropists, alcohol and a few celebrities and see what happens.
This year's gathering was the largest Summit yet -- perhaps a sign of the times. For an elite class of tech entrepreneurs, including many who danced and drank on the cruise, there is no recession, no unemployment crisis. But, as waves of cash flow into Internet startups, there is talk of a sequel to the late '90s dot-com bubble.
"Markets are defined by greed and fear. We are in the greed mode right now," declared Fred Wilson, a top New York City venture capitalist, in a blog post late last month. "This is a time to raise money and sock it away for a rainy day."
Startups are heeding Wilson's advice. Thus far, 2011 has been the venture capital industry's best annual fundraising start since 2001, as deep-pocketed backers aimed funds at hot late-stage technology companies, such as Facebook, Twitter and Zynga. Facebook's value rose 58 percent during the first quarter to $65 billion, according to research firm Nyppex, while Zynga's climbed 80 percent to $8 billion. As U.S. venture capitalists raised $7 billion during the first quarter of 2011, Internet firms snatched up $2.3 billion in funds, according to research firm CB insights. Those totals were up 76 percent and 46 percent, respectively, from the first quarter of 2010.
Across the globe, more than $5 billion flowed into young web companies in the first four months of 2011, Reuters reported.
The result has been something of a mad dash to raise startup funds -- any funds. At the Summit Series, attendees could hardly throw a business card without hitting the founder of an Internet company that had raised millions in recent months.
Take Travis Kalanick, a Summit-goer who founded Uber, an on-demand car service that uses mobile apps. In February, less than eight months after its launch, Uber rounded up nearly $12 million from investors at a $60 million valuation. Kalanick said Uber has more than 10 investors with a long line of suitors eager to snap up shares.
Aaron Batalion, co-founder of the daily deals site LivingSocial, also had something to toast at this year's Summit. Four days before the conference, and less than four months after landing a $175 million investment, Living Social raised $400 million at a whopping $3 billion dollar valuation.
The cash rolling in at many young Internet companies has been a welcome, if frothy, development: In 2009, venture capital investments fell to a 12-year low, according to a report by National Venture Capital Association and PricewaterhouseCoopers.
"During the downturn, good companies just couldn't get funding," said John Frankel, a partner at ff Venture Capital. "But the pendulum has quickly swung back."
In 2010, venture capital investments rose for the first time in three years, to $21.8 billion. Frankel and other investors say that in recent months they've seen valuations for early-stage web startups jump to two or three times the level of the previous three years.
"You've got a whole group of investors who missed out on Groupon and Facebook and really don't want to miss out on the next big deal," Ben Lerer, founder of the online men's lifestyle network Thrillist and a partner at Lerer Ventures, told an audience at Bloomberg's Empowered Entrepreneur conference in April. "There's a lot of money out there," Lerer added. (Lerer is the son of Ken Lerer, a cofounder of The Huffington Post.)
Wall Street, too, has raced to get in on the flood of attention on Internet startups. Rather than waiting for high-flying tech companies like Facebook, Zynga or Twitter to go public, banks are piling into the private secondary markets in an attempt to cash in.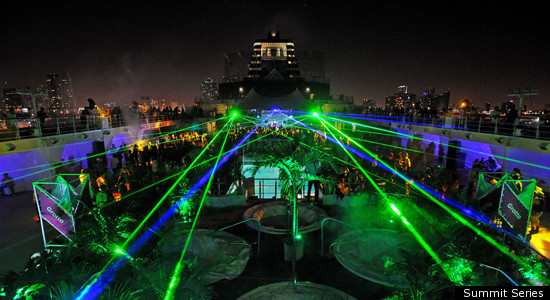 (Aboard the Summit Series' 14-story yacht)
In January, Goldman Sachs invested $450 million in Facebook in a deal that valued the social network at $50 billion. Last week, Reuters reported that a group of Facebook shareholders is trying to offload $1 billion worth of shares on the private secondary market. The sale would value the social-networking giant at more than $70 billion.
In February, JPMorgan Chase raised $1.22 billion for its Digital Growth Fund to invest exclusively in later-stage tech companies. The bank quickly purchased a 10 percent stake in Twitter, valuing the company at $4.5 billion.
Companies that are selling stock through secondary markets are getting the economic benefits of going public without increasing disclosure, said Jim Anderson, the head of Silicon Valley Bank's software, Internet and e-commerce division. "Valuations are just indicators," Anderson added. For many web companies, he warned, "there's real uncertainty about the revenue model."
The red-hot market for private company shares has drawn the attention of the Securities and Exchange Commission and led critics to call it a "shadow market" where investors are being kept in the dark about the companies they are buying into. Even as employees or VCs use secondary markets like SecondMarket or SharesPost to sell their stock, the companies themselves are not required by law to disclose detailed financial information.
Historically, employees and early investors at successful tech startups were left holding valuable stock they couldn't unload until an IPO or an acquisition. But secondary markets, their proponents say, free up capital by allowing employees and early investors at private tech companies to unload their stock before a public offering.
At least some of this new cash is circulating back into the startup world. Armed with the expertise, money and interest, tech entrepreneurs-turned-investors are assisting and financing the current generation of startup founders.
Some do it because investing in startups is more appealing than leaving cash in the bank or putting it in the stock market; some do it simply to stay plugged into the startup world.
"You now have a wave of entrepreneurs who have founded companies, sold their stock, and are using the money to either start another company or reinvest in other startups," said Frankel, the venture capitalist.
THE SUMMIT COLLECTIVE
"The Roots are about to take center stage for their final performance of the Summit Series," blared a voice over the ship's intercom.
Moments later, crowds poured out onto the pool deck as a neon laser-light show pulsated across the boat's stern. Three days of hyperactive networking mixed with champagne, extreme ocean sports and TED-style speeches by industry titans like Richard Branson and Google executive Jared Cohen had worn attendees down. But the celebration continued on through the night. Not until 6 a.m., when boat security ordered the crowds to disperse, did attendees finally return to their rooms.
Summit's final morning wasn't the only time the ship's security intervened in the festivities. Earlier in the trip, four tipsy attendees were detained after jumping off the boat into the ocean. (The jump, a premeditated dare, did not result in any injuries.)
For many, Summit felt more like a spring break getaway with friends than a business conference. Weeks before the jaunt, participants connected with friends and colleagues online using Summit's private social network, dubbed "The Collective." On the ship, they sported lanyards that carried their name and company and were provided with small plastic "e-toys" to swap virtual business cards.
Yet many didn't need identification. Attendees already knew fellow "Summiteers" from previous conferences or through business dealings. Summit's collective is a microcosm for the startup world: a group of young, smart, mostly white males hailing from the East or West Coast who are intimately connected to the investment community either through exclusive social networks, late nights spent boozing at invite-only gatherings -- or because they are active investors themselves.
"I don't remember seeing so many 27-year-old angel investors running around," said one Summit attendee, who also noted that many attendees blurred the line between startup founders and startup investors.
Though data on individual investors, also known as "angel investors," is scarce, it is widely believed that the total number of angels and amount of angel investments has grown substantially in the past five years.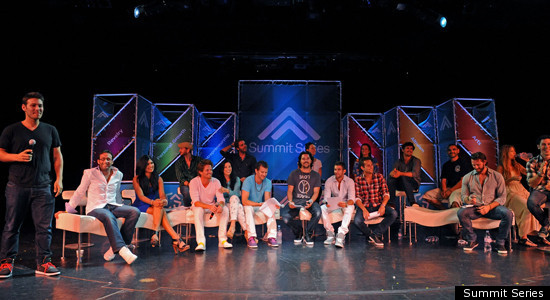 (A panel at this year's Summit Series)
Part of the reason is individuals now have access to a wide array of resources that didn't exist five years ago to learn the trade and to access deals, such as AngelList, an online networking service that matches entrepreneurs with investors. "The result is better and more reliable investors which is a huge benefit to entrepreneurs," said James Geshwiler, founding chairman of CommonAngels, a Boston-based network of investors.
And for the "in crowd" of entrepreneurs at Summit, there's no shortage of opportunities. "It's very different than it was a few years ago," said Robby Walker, co-founder of Greplin, an Internet search tool that lets users search across their Facebook, LinkedIn and other personal Web services. "A few years ago, when you raised a Series A, investors did due diligence and lawyers got in involved. Now you do a convertible note over lunch."
Greplin raised $4 million during its first round of financing, or Series A, in February and now boasts a distinguished group of angels including Bret Taylor, the former CTO of Facebook; Paul Buchheit, co-founder of FriendFreed; and Christina Brodbeck, a design lead at YouTube.
As cash piles up and today's top entrepreneurs become pickier about whom they take money from, a new class system for investors is emerging. "We're not just looking for money, we're looking for someone to offer advice, networks and relationships," said one tech entrepreneur at the Summit Series who spoke on the condition of anonymity.
But, to some, stories of soaring valuations and seamless funding rounds are reminiscent of the late 1990s, when cash flooded the markets and set off a dot-com craze. That bubble burst in 2000, littering the tech field with failed companies and heavy losses.
Yet many analysts say there are notable differences between the late-'90s boom and today's Internet investment environment.
For one, venture capital firms are investing considerably less capital than they were during the boom. Ben Horowitz, co-founder and general partner at venture capital firm Andreessen Horowitz, crunched the numbers and found that venture capital firms had invested $200 billion between 1998 and 2000. More dollars were invested in that single 3-year period than in total over the prior 18 years. Between 2008 and 2010, venture capital firms invested $90 billion, which is less than half the 1998-2000 level.
"I remember 1999," said email service ccLoop founder Michael Wolfe, who was previously the vice president of engineering at Kana, a web-based communications firm that went public in 1999 at a multibillion-dollar valuation. "Today's valuations may be 20, 30 or 50 percent too high, but they're nothing compared to the valuations we saw during the late-'90s bubble." Those valuations, according to Wolfe, were around 10 times what they should have been.
Horwitz and Wolfe are part of a growing chorus of analysts who view the current surge as more of a boom than a bubble.
"I'm bullish on the fundamental's of today's Web startups," said Wolfe. Internet businesses, he points out, can be built with substantially less capital than in the '90s because technology costs have dropped precipitously, enabling entrepreneurs to develop products and bring them to market quicker and with fewer resources. During the late-'90s boom, investors placed bets on capital-intensive Internet companies that burned through cash quickly and took years to turn a profit.
Some analysts also claim that today's tech investors are a different, more discerning breed.
"In the '90s grandmas were investing in startups," said Walker, Greplin's founder. "Today it is trained professionals and people with intimate knowledge of the space backing these companies."
Valuations for most late-'90s dot-com rockets generally didn't soar until after companies went public, after which money from the masses piled in. This exposed ordinary investors -- the day-traders and giddy optimists -– to risk as they rushed to the public markets to buy up tech stocks, some technology investors say.
Today, valuations for the hottest technology companies are soaring well before initial public offerings. These companies are waiting longer to go public, which keeps average investors from buying shares -- U.S. securities law prohibits investments by individual investors who have less than $1 million in assets (or below $200,000 in annual income).
"It's not your cab driver buying shares in today's tech startups. It's fairly smart, sophisticated individuals. These private markets are restricted to people who are generally not foolish with their money," said John Frankel.
But this doesn't mean there's not a bubble. Supposedly sophisticated investors can be just as susceptible to frenzies as the general public. After all, paid professionals fueled the most recent housing bubble. But if there is a tech bubble today, presumably the average Joe won't be directly affected when it bursts, some analysts believe.
Bubble detractors also say that high valuations for today's hottest Internet companies are not inflated because the market opportunity for digital media has become so large. Today, about one in three people are online, or roughly two billion global users, according to data from Internet World Stats, compared to 1999, when less than five percent of the global population used the Internet.
Flush with cash and in the crosscurrents of several seemingly game-changing trends, the startup world is confident that tomorrow's billion-dollar businesses are being built today.
Thiel, in his keynote on the second day of the summit, offered some advice to an audience filled with entrepreneurs and investors. "One of the most important things Facebook did was never sell the company," he said.
That is the mantra echoing through the startup world right now: Don't sell and stay private so you can maintain control of your company's vision.
If Summit's attendees and the investors that floated in their wake are any indication, the world of soaring valuations, million-dollar funding rounds and lofty entrepreneurial hopes will, for now, remain invite-only.
Disclosure: The reporter's brother was involved in the creation of the Summit Series. He has not played a role in its organization since 2009.
Correction: An earlier version of this report incorrectly described the circumstances surrounding Summit Series attendees jumping from the ship into the ocean, according to a statement from Celebrity Century Cruises. Four attendees jumped, not two, according to the company statement, and the jumpers were neither intoxicated nor fined.