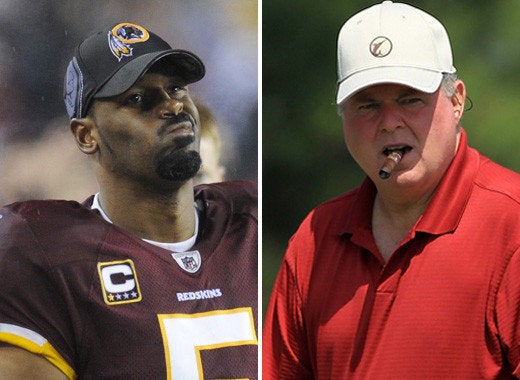 "This is just the latest in what has been a long line of attacks on Donovan McNabb from black individuals and organizations," Limbaugh said. "They have accused -- and I can't use the term. It's a purely totally unacceptable term, but they refer to McNabb by using the N-word, and they say he's a sellout; that McNabb befriends the white power brokers of the Eagles."
Last Tuesday, Hopkins went on a rant to reporters about how McNabb isn't tough or black enough. He also ripped the Pro Bowl quarterback for being raised in a suburb outside of Chicago.
"And it's disgruntled African Americans that are jumping down his case, about the way he was raised? It is horrible, it is distasteful." Limbaugh said. "His parents are out there having to defend the way they raised him, and all they tried to do was give him opportunity after opportunity, expose he and his brother to various things."
Fletcher Smith, McNabb's agent, responded to Hopkins' tirade, calling his insults "dangerous and irresponsible."
Limbaugh said on Friday that his criticism was about the media, not McNabb.
"I said nothing close to what Bernard Hopkins was saying. I never said a word about McNabb and blackness. I was talking about the media from start to finish," he said.