Former Michigan governor Jennifer Granholm took to Twitter on Tuesday to offer some sharp words in response to news that former California governor Arnold Schwarzenegger fathered a love child with a member of his household staff.
Here's what the Wolverine State Democrat wrote in a tweet on the matter: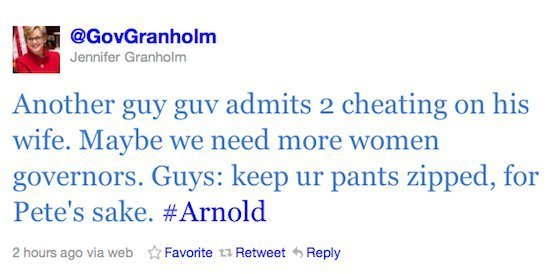 After twenty-five years of marriage, Schwarzenegger and Maria Shriver announced that they were separating last week. According to the Los Angeles Times, the woman with whom Schwarzenegger fathered a child worked for his family for twenty years until last January.
"After leaving the governor's office I told my wife about this event, which occurred over a decade ago," said Schwarzenegger in a statement, according to the New York Times. "I understand and deserve the feelings of anger and disappointment among my friends and family. There are no excuses and I take full responsibility for the hurt I have caused. I have apologized to Maria, my children and my family. I am truly sorry."
Shriver released a statement on the matter on Tuesday.
"This is a painful and heartbreaking time," she said. "As a mother, my concern is for the children. I ask for compassion, respect and privacy as my children and I try to rebuild our lives and heal. I will have no further comment."