ANNISTON, Ala. - Down highway 202 on a patch of land not far from where old Forsythe's grocery store used to be, there's a dead end that holds the buried skeletons of a small Southern town.
This place along the foothills of the Appalachian Mountains is full of old bones. They are buried behind the walls of downtown Anniston's fading brick storefronts, beneath the cracked pavement where innocent blood was shed, and in the memories of black folks who have lived across the railroad tracks most of their lives.
On last Thursday morning, as the sun shone down that lonely road, Josephine Hawkins (pictured below), a lifelong resident of Anniston, sat on the edge of a guardrail and remembered the hurt that happened here on this swath of beaten-brush 50 years earlier.
"It was unbelievable what they did to them people," said Hawkins, 79, her voice rising just above the hum of nearby traffic. "It was like a terror, just all tore up. There was belief and disbelief all at the same time. But we knew something bad was going to happen, so much was building up."
Back then the Ku Klux Klan and staunch segregationists ran the city -- they did so brazenly, and sometimes with the heavy hand of violence. The outside world, outside of the Deep South at least, was made painfully aware of this on May 14, 1961.
It was Mother's Day, at this very spot. A Ku Klux Klan mob smashed the windows of a Greyhound bus carrying a group of Freedom Riders and tossed a Molotov Cocktail through its shattered glass, setting the bus ablaze.
When the passengers tried to escape, the men outside held the door shut, trapping them inside. It was only the fear of an exploding gas tank that forced the gang to relent, according to one account. By another, it was a lawman with a pistol and a shot into the air.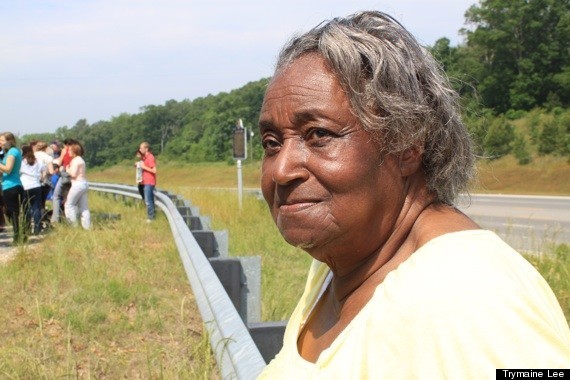 Either way, the riders poured from the vehicle gasping from smoke inhalation, and into the teeth of the awaiting mob. They were beaten and clubbed as flames and black smoke licked from the bus mere yards behind them.
It was an ugly moment in Anniston, but not the only one that day.
Before the bus made it down the highway, where they were forced off the road by slashed tires and a cavalcade of more than 40 trailing vehicles, it was trapped at the town's bus station, surrounded by the same men. There, they were badly beaten.
The group on the Greyhound bus was one of two that had left from Washington, D.C. more than a week earlier on a journey through the Deep South to challenge segregation along interstate highways. Both received a violent welcome in Anniston. The second group was on a Trailways bus that pulled into Anniston behind the Greyhound.
Shortly after pulling into a station at Ninth Street and Noble Street, a group of Klansmen rushed onto the bus and delivered more beating. The riders had intentionally sat in mixed-race couples, and with blacks in the white section of the bus and whites in the black section. Blacks were beaten to the back of the bus.
Charles Person was the youngest of the original Freedom Riders. He was 18 then, and he was on the Trailways bus that day in Anniston. Person said that he was clubbed in the head with a rod and otherwise pummeled.
On Thursday, he returned for the first time to the scene of that savage beating. Person joined a group of other original Freedom Riders and students touring the South as part of the 50th Anniversary of the Freedom Rides.
"It's hard because it was much like this," Person said, gazing out of the window moments after speaking to a group gathered at the unveiling of plaques commemorating the Freedom Riders at the now shuttered Greyhound and Trailways bus stations. "The bus was parked right about where we are now. It brings back those memories."
The black community here had been used to the fear, intimidation and violence of the white supremacists in the community. There was cradle to grave segregation, suspected lynchings and one family more than any other that stuck fear in their hearts: The Adams family.
The Adams family owned a gas station and several stores in town, according to historians and local residents. Kenneth Adams was perhaps the most notorious racist among the Adams family, a Klansmen who in 1956 attacked the singer Nat King Cole while on stage during a concert in Birmingham. Adams became enraged when he saw Cole and a white woman in the audience winking or smiling at each other, according to Civil Rights historian Ray Arsenault.
The Adams's were the boogey men to black Annistonians and no doubt played a role in the planning or execution of the Mother's Day attacks, said Arsenault.
The family was so big and their general attitude so surly and mean towards blacks, "they could have been their own Klan," said John Will Davis, a local black artist who lives in Anniston.
"You were always nervous because the KKK was out to destroy us, and they didn't hide that," said Samuel Williamson, another black Annistonian who was a little boy in 1961.
Williamson said race relations have improved today, but there are still deep divides.
"It's not good but it's getting better," he said. There's still a Klan presence here, he said, "you just don't know who is who anymore."
He lives on West 15th Street, about 10 blocks from the site of the bus bombing. The black community in Anniston is centered across the railroad tracks, in west Anniston. Like so many other once segregated black communities, there once were black-owned businesses and blacks owned homes up and down 15th Street. It even counts David Satcher, the first black man to serve as Surgeon General of the United States, as a native son.
Today 15th Street is a crumbling shell of iron and brick, like the rest of Anniston.
The town of 24,000 people has had huge economic and environmental difficulties. When Fort McClellan closed down in 1999, it decimated the local economy. But it also left behind chemical waste from chemical weapons it had stored at the base, which has contaminated the soil.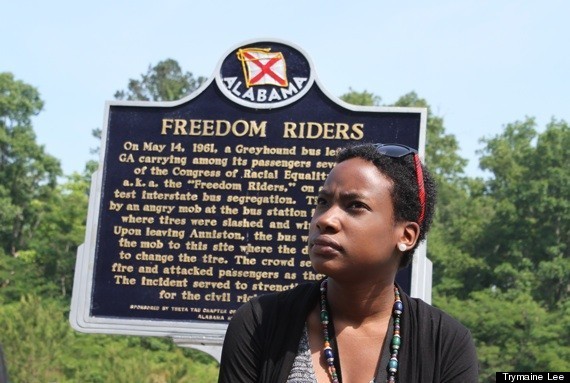 Anniston has a dark cloud hanging over it that it desperately wants to shake.
The Mayor of Anniston, Gene D. Robinson, is the city's biggest pitchman. He not only wants to move on from the past, every few conversations include a pitch for business people to invest in Anniston and for young people to move here. He talks little of the city's ugly reputation.
"There's no Ku Klux Klan and stuff like that. Why bring it up if it's not going on?" Robinson said. "That element of Annisiton is gone and has been gone for a long time. Our elected officials don't have that in them. We don't have Ku Klux Klaners, we don't have marchers and stuff. We're just a typical American small town."
A few years ago the city erected a plaque at the scene of the 1961 fire bombings. There are plans to build a 5-acre park on the site, "a place for education and reflection." They have also erected murals and plaques at the site of the now shuttered Greyhound and Trailways bus stations.
At a reception held in honor of the Freedom Riders, original riders and students were given the red carpet treatment. For the first time since that bloody day in 1961, the community of Anniston opened its arms.
Anniston City Councilman David Dawson stood at the front door, hugging each and every person that came through it. "I'm so sorry," he said. "I'm so, so, so sorry." He then handed out lapel pins that read, "Anniston, The Model City."
Richard Couch, an attorney and son of one of the men who attacked the Freedom Riders was there, and said that he is forever tainted by the sins of his father.
"It's a stain against my name that I don't want on my name anymore," Couch said, tears slowly streaming from his eyes. "I would rather my name carry the legacy of someone who reaches out in love and peace than something that happened fifty years ago." Couch was born three years after the bus bombing. But he grew up hearing about it. "It was always a point of shame in our family," he said. Couch's father, Jerome Couch, was a mean-hearted man with a blue pick-up truck who joined in the beating and chase of the riders.
Couch's mother and father divorced when he was a young man. And he ended up being raised by his more tolerant and progressive maternal grandfather. He hasn't talked to his father in more than a decade.
A few seats away from Couch at the reception the other night was Hank Thomas, a Freedom Rider who was on the Greyhound bus when it was torched.
Thomas spoke of reconciliation and offered his forgiveness to those that nearly killed him half a century earlier. And in a moment unthinkable just years earlier, Couch, the son of a racist and Thomas, the Civil Rights activist, embraced in a teary hug.
"In some ways I looked at this and it was a tragic event that people were injured and property was destroyed but it's something at this point in time that should be celebrated because it opened the door on a broader conversation about what was going on in the South and in Alabama," Couch said.
On highway 202, the original Freedom Riders and students gathered on what had been scorched earth 50 years earlier. Josephine Hawkins leaned back on the guardrail and shielded her eyes from the sun.
"To me it ain't no better now than it was," Hawkins said. "They were rough on us back then. Still rough on us now."