NEW YORK -- Since President Obama's much-praised speech at Cairo University in June 2009, a lot has changed in the Middle East.
Thursday's highly anticipated speech, which Obama delivered at the State Department, reflected the recent upheaval in the region, with a renewed focus on resolving the Israeli/Palestinian stalemate and a strong commitment to advancing democratic change. Yet while Obama hailed the unrest sparked by the "Arab Spring" as a "historic opportunity," his speech also demonstrated the administration's bifurcated approach to the protests shaking the Middle East, with tough words for Syria and, in contrast, conciliatory language about the monarchy in Bahrain and the regime in Yemen.
In Thursday's speech, the president referenced democracy more than twice as many times as he did in his 2009 address to the Muslim world. There were also far fewer mentions of the wars in Afghanistan and Iraq. Interestingly, he mentioned Pakistan twice in 2009 but ignored it on Thursday -- even though Osama bin Laden was just found in that country, and officials there are currently facing tough questions about their knowledge of the al Qaeda leader's whereabouts.
Here is a word cloud of today's speech: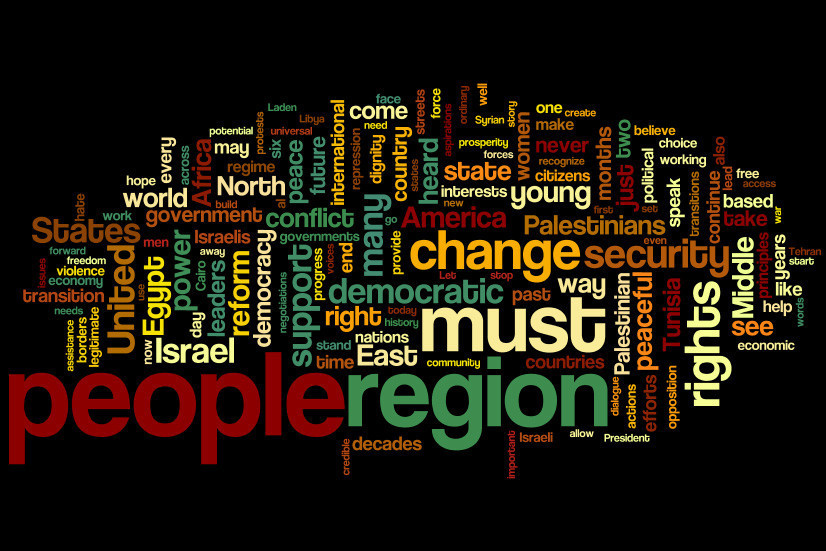 And here is a word cloud of the 2009 speech: