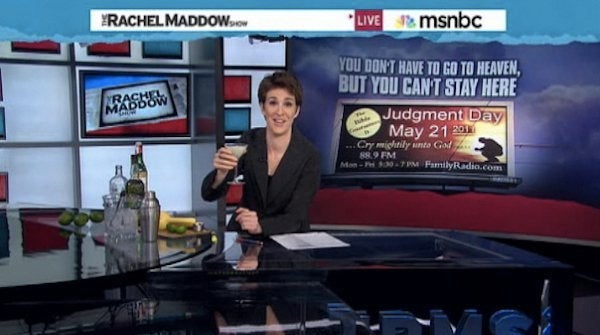 Yes, May 21st is supposed to bring about Judgment Day, according to obscure Christian radio host Harold Camping. Maddow admitted that she had not been giving this quite cosmically important story the attention it deserved.
"Both my family and my partner Susan's family have a little bit of a history of relatives believing in this stuff," she said. "... I think maybe that is why i haven't personally been able to find an appropriate way to cover the excitement."
However, she pointed out that MSNBC has been all over the story thanks to her colleague Lawrence O'Donnell, who has been giving the end of the world lots of coverage on "The Last Word." To thank him, Maddow proceeded to make a "Last Word cocktail" to mark the occasion.
She called it a Prohibition-era cocktail, and it had green chartreuse (she stressed that you shouldn't get yellow, because it's been "reformulated for ladies" and isn't very good), gin from Wisconsin (which she said she used to annoy Gov. Scott Walker), maraschino liqueur and lime juice. (The full recipe is here.)
As she raised her finished glass, Maddow said, "If the rapture doesn't happen on Saturday night, I'll be on Chris Matthews' show on Sunday morning," she said.
WATCH: