Voters in New York's 26th congressional district are casting their votes today in a special election to replace Rep. Chris Lee (R), who resigned earlier this year after he was caught sending topless photos of himself to a woman on Craigslist. Opinion polls in this traditionally Republican district have shown a surprisingly close race, with Democrat Kathy Hochul edging ahead of Republican Jane Corwin at the end of the campaign. Former Democratic candidate and businessman Jack Davis, who is running on the Tea Party line on the special election ballot, ran third in the final round of polls.
The polls will close at 9:00 p.m. eastern time Tuesday night. Here is some background on the district and tips on what to look for as the results roll in. The 26th district covers all or part of seven counties in western New York. Just over half of its voters live in the suburbs of Buffalo in Erie and Niagara Counties in the far west portion of the district (image via NationalAtlas.gov).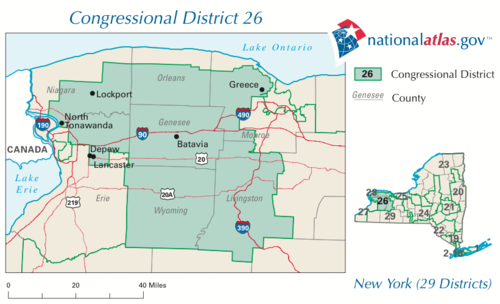 The Almanac of Politics calls the district "ancestrally Republican territory." It has been represented by Republicans in its current configuration since 2002, with Reps. Tom Reynolds and Chris Lee winning by typically healthy margins. The closest contests pitting Reynolds against then Democratic businessman Jack Davis in 2004 and the Democratic surge year of 2006, when Davis lost by just four percentage points (52 percent to 48 percent).

Tonight, look for Democrat Hochul to perform best in Erie and Niagara Counties. As the table below shows (based on results published by the New York Board of Elections), these counties are typically the district's most Democratic. In 2006, then-Democrat Davis won both counties narrowly, but lost the rest. Hochul will need to match, or slightly exceed, Davis' numbers from 2006 to prevail. With the now-independent Davis in the race, the winner will likely not need to reach 50 percent of the vote, so the 45 percent that Davis won in 2006 may be sufficient to win.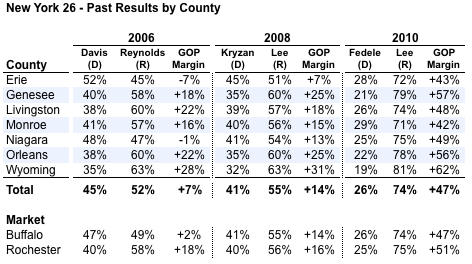 Democrats did prevail in this District in the two blowout U.S. Senate races in 2010, as indicated in the table below (numbers via Bloomberg Government's Greg Giroux). Again, to win, Hochul's share of the vote will likely need to at least match those of Davis in 2006 or Obama in 2008. Hochul will likely win by a solid margin should her by-county vote share approach Gilibrand's numbers from last year.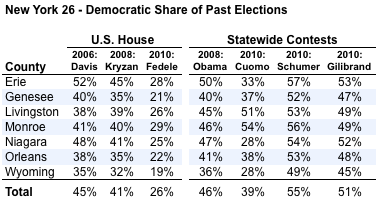 While turnout is the big unknown in any special election, the total House vote in the last three elections shows that the regional composition of this district has remained remarkably stable despite some very different outcomes. Specifically, Democratic leaning Erie County was roughly 34 percent of the total vote in all three elections even though Democrats surged in 2006 and 2008 and Republicans surged in 2010. The percentage contributed by the other counties remained similarly stable.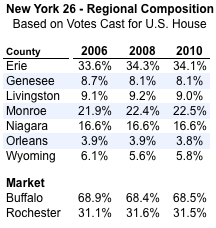 Judging vote composition is tricky when results are incomplete, but the percentage contributed by Erie and Niagara Counties is worth watching. If Democrats are having an exceptionally good night, the share of the vote from Erie and Niagara might be a point or two higher than the last few elections. If the vote share from those counties winds up being a point or two lower, then Republicans may post even stronger numbers than in 2010.