A massive multivortex tornado has broken out in Oklahoma, reportedly close to half of a mile wide.
This storm comes in the wake of the devastating tornado that hit Joplin, Missouri on Sunday. Officials are urging local residents to get below ground, and the Weather Channel has even echoed the call on Twitter.
LARGE, multivortex #tornado now near Binger, OK or 6 miles south of Hinton. TAKE COVER NOW below ground! http://wxch.nl/jyMQQiless than a minute ago via TweetDeck
Favorite
Retweet
Reply
TWC Breaking
TWCBreaking
You can see video of the tornado taken earlier below.
Oklahoma resident Nancy Davis tells The Huffington Post this is the first major storm of the season and it is "very serious business." Workers are being allowed to go home early.
Tulsa, Oklahoma resident Jamie Shouse said via Facebook, "I work in Tulsa, about two hours from OKC, they closed our office at 3:30 this afternoon. Home now and preparing for it to hit Tulsa."
UPDATE: Storm chasers were following the tornado closely until their feed suddenly went black (the second UStream feed below. Their status is unknown, but many who were watching are concerned.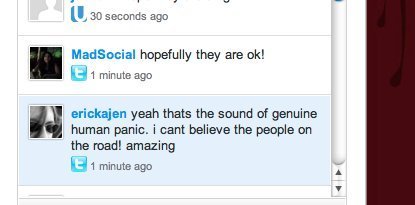 UPDATE 2: The storm chasers are back! The stream has returned and everything appears to be okay.
Fox 23 Tulsa has live streaming video as storm chasers attempt to get closer to the storm. You can see that feed in the second spot below.
UPDATE 3: A state of emergency has been declared for 14 counties in Oklahoma (Adair, Blaine, Cherokee, Craig, Delaware, Kiowa, Mayes, Muskogee, Nowata, Okmulgee, Osage, Ottawa, Rogers and Wagoner), according to Fox 23. State agencies also closed early in Canadian, Cleveland, Lincoln, Logan, McClain, Oklahoma, and Pottawatomie counties. It is possible that more areas may be added to the state of emergency.
UPDATE 4: According to a Fox News breaking news email, at least 2 have been reported dead as a result of a tornado that touched down in an Oklahoma City suburb.
For more on the storms, click here.
WATCH (THE TORNADO):