(Via Mutual Art)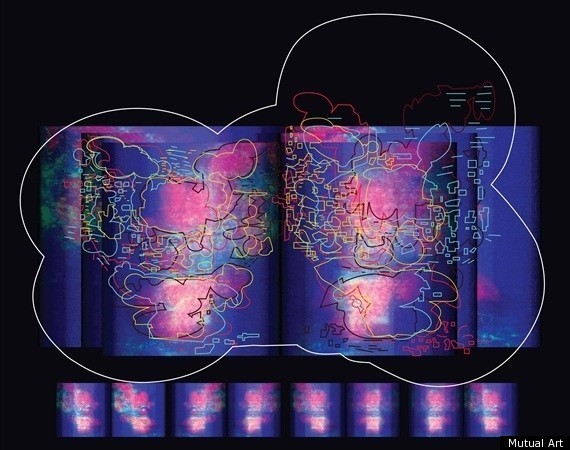 Contrary to popular belief, beauty is not only skin deep: there is plenty to fascinate right beneath the surface. This is certainly true for artist Jo Berry, whose latest work illuminates the exquisite cellular workings of the human body.
For Berry, the intricate live human cells are both a fascinating subject and the next great medium. In her groundbreaking new project "Hijacking Natural Systems," Berry captures the the art of biological processes - beauty that is, quite literally, on a cellular level. "The project is celebrating the human body, the use of new technology, the collaboration between science and art," Berry recently stated. "[It] also gives the public the opportunity to see art in a non-traditional setting."
Funded by the Wellcome Trust and Art Council England, the goal of this particular series of works is to engage and inform the general public, through the dual-disciplined lens of art and science. Most importantly, Berry and others hope to bring attention to the latest advancements in technology regarding the pharmacology of a "hunger" hormone - which could potentially lead to the development of drugs to aid in the treatment of diabetes, obesity, and eating disorders.
Certainly, the artist did not embark on this foray into science unprepared: she spent six months researching the project, participating in practical research activities, and using fluorescence microscopy to study the pharmacology of drugs and receptors in living cells. To produce this truly unique "body of work" Berry worked closely with biomedical engineers, studying not only the physiology of live cell interactions, but also how to capture and manipulate these relationships using the latest technology. She learned how to control the speed and animation of live cell imagery in order to create short films, digital drawings, vinyl artworks and multi-layered sculptural light-boxes illustrating these biological processes.
In a recent Interview with MutualArt.com, Berry discusses how "Hijacking Natural Systems" developed, and the extensive research and planning required in order to bring this ambitious project to fruition.
What is your current project "Hijacking Natural Systems" about? Where did the idea come from?
Because the work the scientists do does indeed "hijack natural systems" we thought that this was a great title to entice and intrigue the general public, which explained what these scientists I was working with [do on a daily basis]. The concept for Hijacking Natural Systems has developed over a couple of years after a lot of discussion with Chief Imaging Officer Tim Self and RCUK Academic Fellow Dr. Nicholas Holliday from the department of Biomedical Sciences and Laboratory for Molecular Pharmacology and Biophysics at the University of Nottingham Medical School, Queens Medical Centre in Nottingham, England.
I had visited the department on a number of occasions and I sat in on a number of live cell imagery experiments so I had some understanding of the facilities available before we even embarked on applying for funding to the WellcomeTrust for an art and science collaborative project. I was also given short films and still imagery from the labs, so that I could experiment and produce a series of pilot data artwork.The whole environment intrigued me, especially the microscopes.
There were many threads of association and areas of interest for me in this scientific environment. I was also interested in the fact that the scientists used new technology, and that it is a very logical but creative discipline. Visually, the imagery produced in the labs really fascinated me and I could see a strong association with some of the work I was developing at the time and I felt that new visual stimulus would strongly enhance my work, which it has. The environment, the opportunity to work in collaboration, learn something new, challenge myself and be inspired by the material that was there was ideal.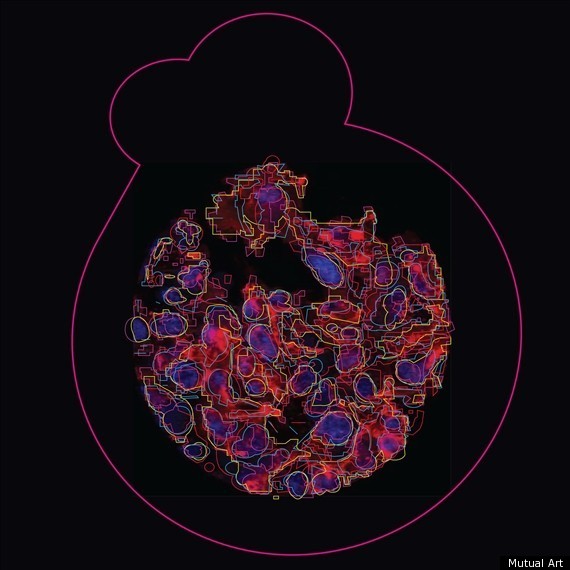 Ghrelin Internalisation: Ghrelin con tet Ghrelin 20 Minutes
There is a scientific objective to the project as well as an artistic one. What was your role in the research performed in the lab?
Tim [Self] and [Dr.] Nick [Holliday] wanted [the project] to have a scientific purpose, and for it to be a rigorous scientific project. They also recognized a need to get their ideas across to a wider audience and engage the general public, and they saw this as an opportunity to do so. As an artist I wanted visual stimulus, but because they wanted me to experience what it was like to work as a scientist on a specific project, it gave me a much more in-depth view of how a scientist works today in a research and teaching laboratory. I spent one day a week for six months working in the Cell Signalling Research Group at the school, where I was introduced to the scientific process behind hypothesis-driven research into pharmacology, and I gained hands-on experience of fluorescent-imaging experiments and production of cell images for analysis.
In layman's terms, the research undertaken looked at "hunger hormones" and their receptors, which determine how hungry we feel. Dr. Holliday supervised while Tim oversaw the microscopy and imaging. Together we designed a project based around the receptor for the stomach peptide Ghrelin, which is unique as a hormone because it stimulates our appetite. A range of experimental drugs acting at the Ghrelin receptor either act as agonists (they stimulate signalling, as Ghrelin does), or block Ghrelin receptor signalling. Both types of drugs are possible starting points for new therapies to treat eating disorders and obesity.
These are processes which are really important for scientists to see visually using microscopy – they can tell you lots about how interactions between drugs and receptors work as they happen in living cells, and how cells regulate this process. I found [the project] fascinating and daunting at the same time, as some things were really out of my comfort zone; however, I really enjoyed all aspects of it and especially loved working on the microscopes and using the Zeiss software, which I could manipulate and use in an experimental manner to alter the actual data - visual imagery I had produced through participating in a series of scientific experiments. I actually produced an academic poster for the British Pharmacological Society in December 2010.
When did you become interested in digital drawing?
I became interested - well, obsessed - with digital drawing in 2002 when I started working at Loughborough University as an Advanced Research Fellow funded by the Arts & Humanities Research Council (AHRC). This research period was an important milestone in the development of my work. It significantly cultivated my interest in drawing digitally to create inspirational 'light drawings' through the application of industrial laser technology and commercial computer software, and opened up a whole range of different ways of producing artwork. I have always been interested in drawing, but drawing digitally allows a purity of line and shape to be created; I think it's a fantastic and exciting medium to work with.
What was your experience of being exposed to such advanced imaging systems?
It's been a fantastic experience and opened up other computer programs, different software and imaging techniques that I can utilize to produce new, adaptive imagery, with both moving and still images. Working with ZEISS instruments and Software, I experienced a full range of imaging techniques - to measure receptor signalling (fluorescent dyes that sense intracellular calcium) and to image and co-localise receptors, fluorescent ligands and markers for different intracellular compartments. I observed the differences between traditional confocal microscopy and automated imaging systems. I also had the opportunity to try advanced imaging methods such as total internal reflection (TIRF) microscopy and the use of more physiological cell systems.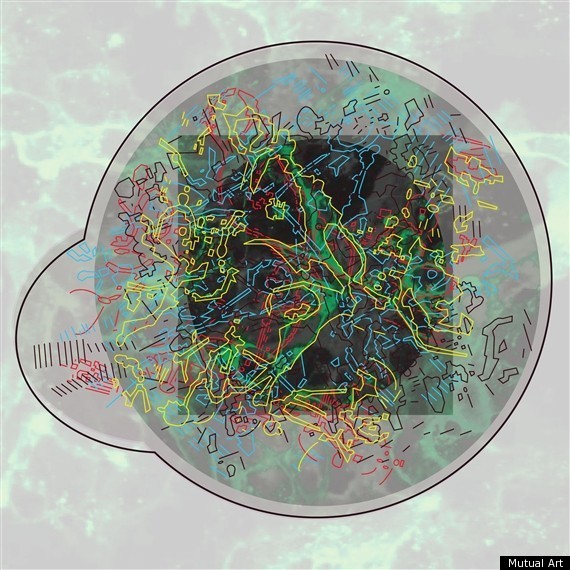 Live Internalisation with Fluor Ligand (2), GHRP6 Flourescent Agonist Internalisation; HEK 293 snap GHRP6 Rho 100nM 15 min projection movie
At what stage are you in the timeline of the project? When it is completed, how will it be exhibited?
I am nearly there! Two months to go till the first exhibition, so I am trying to finish animations off, assemble the light boxes (the LEDS are being fitted at the moment) and finish off the vinyl designs to be shown in the retail outlets in Derby. There is a range of artwork being produced: A series of layered sculptural-shaped laser cut light drawings, a series of printed artwork, a series of vinyl artwork for windows, one billboard, and a series of Flash animations that use original cell imagery altered by using Zeiss Software.
Also, there will be artwork displayed at six bus-stops created by school children and workshop participants which was inspired by the imagery I produced while working with the scientists. There will also be the short film created by filmmaker and photographer Andrew Robinson, which details the different aspects of the work undertaken in the research project. It has been designed to be a split-screen, descriptive film incorporating some of JB's animations with live film footage, and includes interviews with children about this art/science collaboration. There are audio interviews with all three collaborators who explain how this experience has affected each participant. There will also be a catalogue that was made in collaboration with Andrew.
How has work on this particular project changed you and/or your approach to your work as an artist?
I would like to work on other collaborative projects that allow me to continue to develop my interest in working across disciplines and develop art and science collaborations and partnerships. I am interested in developing projects that allow me to research and extend my knowledge of new technology, new industrial techniques, scientific exploration and artistic endeavor.
Berry's works will be exhibited at the Derby Museum & Art Gallery, The Royal Derby Hospital and BBC Big Screen–Derby, in addition to other venues in the city from the 23rd July - 30th October 2011. The work will also be shown at the School of Biomedical Science (corridor C) supported by the Dean's Art Initiative. On 9th September 2011, the Printed Artwork, Animations and Art Documentary will be shown at the Grand Opening of the New Zeiss Headquaters in Munchen, Germany, and the Lightboxes and Digital Artwork will be showcased for six weeks at the Lakeside Gallery at Nottingham University from 25 February - 9 April 2012.
Written by MutualArt.com Staff
Follow Mutual Art on Twitter