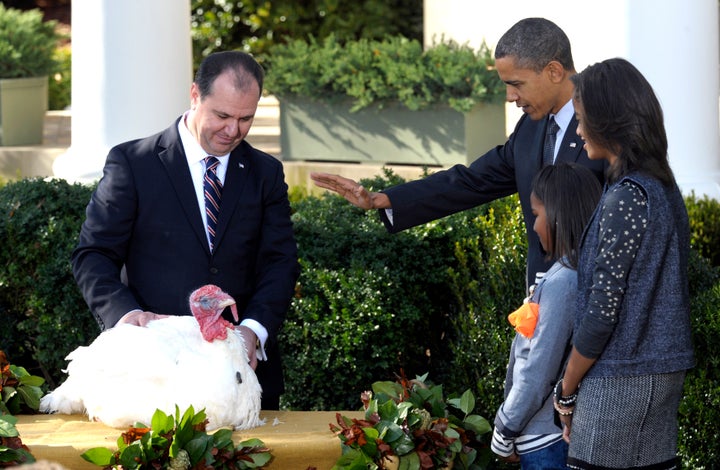 A 1975 felony conviction and three-year prison stint ended Randy Eugene Dyer's career as a bad guy who imported drugs from Mexico and started his career as a God-fearing family man who ministers to prisoners.
In 2004, after nearly 30 years jailhouse preaching, Dyer applied for a presidential pardon via the Office of the Pardon Attorney with much help from his wife, Karla Dyer. The application took them most of the year, she said, as they gathered more than 100 affidavits from business associates and friends who could speak to Dyer's good character.
Collecting the affidavits, plus gathering info on every place they'd lived since the 1970s and every job he'd had, amounted to hundreds of hours of work. On May 20, it paid off off: President Barack Obama pardoned Dyer, forgiving him for his bad deeds.
"I think it's a great honor," Dyer told HuffPost. "We know Jesus Christ forgave us, but sometimes society has a lot of difficulty forgiving people for the things they've done."
American presidents have found it increasingly difficult to forgive felons. Over the past century, acts of executive clemency have dwindled, with President Obama on track to be among the stingiest presidents in history.
So far, Obama's granted just 17 pardons. In May, the president denied 791 pardon requests and 1,947 sentence commutation requests, giving no explanation for his decisions. Obama has rejected at total of 3,976 requests for forgiveness.
George W. Bush wasn't any more generous after two years in office, but he also hadn't denied as many petitions as Obama. Over eight years in office, Bush handed out 189 pardons and 11 commutations.
P.S. Ruckman, a professor of political science and pardon expert at Rock Valley College in Rockford, Ill., said the lack of pardons is a shame.
"In an era of booming federal prison populations, mandatory minimum sentences, three-strikes laws, the growth of the 'nanny state' and over-criminalization, the need for regular use of the pardon power is greater than ever," Ruckman said. "Amazingly, the most popular explanation for scarce use of the power -- that controversial pardons expend tremendous political capital -- is altogether flimsy. The typical pardon simply restores the civil rights of an unknown, average person who has committed an offense and served their time a long, long time ago."
Obama pardoned seven others besides Dyer in May. Among them was Mike Neal of Palm Coast, Fla., who said he spent six months in a federal prison camp in the early 1990s for the "manufacture, assembly, modification and distribution of equipment for unauthorized decryption of satellite cable programming." Neal ran a company called T&M Communications in Virginia that de-scrambled satellite signals, he said, even though he knew it might be against the law.
A 1991 story in Communications Daily reported that Neal and his business partner realized more than $900,000 in illegal proceeds from their business. The FBI had to figure out what to do with the 3,000 people who'd purchased illegal decoders after Neal and his partner were arrested, the article said.
Neal told HuffPost he pursued the pardon in 2007 because he'd changed since the early '90s -- he was only 26 years old when he was arrested.
Neil is proud of the way the pardon reflects that change. "When I was young I could care less about voting, about holding public office," he said. "But later on in life when you grow up, you get married, you have kids, you want to be able to make a change in society. But you can't do it? Man, that really affects you. You run for office of any sort -– you can't do it? Back when you're a kid that didn't matter."
Neal, now 46, said he recruited three people to sign affidavits on his behalf, which is all that the pardon application requires. Each person provides a few lines to describe his or her relationship with the petitioner, whom the signer affirms "has behaved since the conviction in a moral and law-abiding manner." Neal said he handled the application himself.
Marveling at the number of applications rejected, Neal asked, "What made me stand out? Was it the luck of the draw? The Justice Department looked at these and said, 'This one looks good,'" he said. "My lucky day, I guess."
Dan Levitz of Angola, Ind., and Edwin Alan North of Wolcottville, Ind., both received pardons after being sentenced in 1980 to probation for felonies relating to the sale of a machine gun. North had sent it home from the Vietnam War as a souvenir, according to the pair's lawyers, Jackie Bennett and Jayna Cacioppo of Taft Stettinius & Hollister LLP, who represented them pro bono.
North traded the gun to Levitz, and Levitz told HuffPost that he sold it almost immediately. "I was told it was illegal to have it so I got rid of it," he said.
The gun apparently wound up in the wrong hands: Years later, Levitz said, federal authorities traced it back to Levitz, North, and a third friend, all of whom were arrested and charged with felonies.
Attorney Bennett said a strength of Levitz's and North's 2006 pardon applications was a transcript from their sentencing hearing that strongly suggested the judge didn't think the government should have pursued the case so aggressively. "The judge thought this was not the case that should have been brought," he said. "I think that fact was one of the most compelling aspects of their pardon application."
Another boost came from former Rep. Mark Souder (R-Ind.), who sent a letter supporting the applications after the lawyers brought it to his attention, Bennett said.
"I feel like I was very lucky that [President Obama] looked at it," said the 59-year-old Levitz. As for his felony record, he said, "Other than I couldn't hunt with my sons with cartridge guns, it really didn't have no effect."
Yet Levitz said that he's still "really relieved" to have been pardoned and that he's looking forward to now going hunting with his sons and grandkids.
"I'm sure that those who were pardoned are all deserving, but it isn't clear to me what distinguishes them from many hundreds of others who applied and were turned down," said Margaret Love, a U.S. pardon attorney from 1990 to 1997 who now represents clients seeking clemency.
Though it may be difficult to distinguish pardon winners and losers, there is a pattern to who gets pardons these days, P.S. Ruckman said. Drug offenders have been regulars among the pardoned for the past 30 years. And for the past 50 years, it's been unlikely for presidents to commute prison sentences, he said.
"And the people who are pardoned are typically people who were sentenced a really long time ago," Ruckman said. "People who are suffering right now are not getting pardons. People whose previous convictions are causing them the most inconvenience -- the ones who could benefit the most -- are the ones least likely to get it."
Another trend, Ruckman said, is pardons for minor offenses. He cited the December pardons for "mutilation of coins" in 1963 and the guy who'd been busted for stealing plywood and nails from a construction site.
The president's pattern of pardons, Ruckman said, has been identical to that of George W. Bush. "I don't think you could point to a single thing about Obama that suggests he's doing different in any way."
One man who had his pardon request denied by Obama in 2009 said it was "devastating" when he found out.
"There's a whole way of life I cannot participate in, and there's no mechanism for me to get my rights back," said the New York resident, who spoke on condition of anonymity because he wants to re-file his pardon request eventually.
In 2000, he was sentenced to four years of probation and slapped with a $5,000 fine for mail fraud and conspiracy after being accused of inflating the cost of a building renovation contract with a local government agency.
Since serving the probation and paying the fine, the man said his life has changed for the worse. Some real estate investors won't deal with him, he says, and he can't go hunting like he used to.
"I'm affected in business, I'm affected socially, and mostly, I love my country as I love my family, and it is so insulting for me," he said. "As it stands now, I'm going to die as a convicted felon."
HuffPost readers: Denied clemency by a president? Tell us about it -- email arthur@huffingtonpost.com. Please include your phone number if you're willing to do an interview.