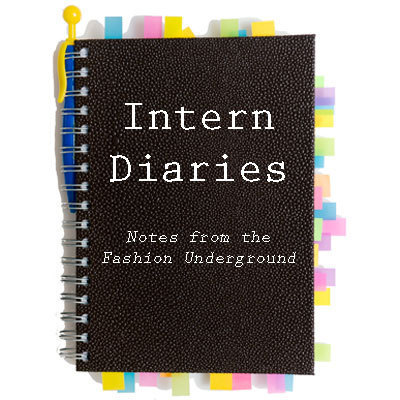 Intern Diaries: Notes from the Fashion Underground is a column that goes straight to the source of the fashion industry: the free labor. In this column, anonymous interns tell all about their terrible bosses and entitled coworkers as they endure ridiculous tasks which include, but are not limited to, fetching dry-cleaning, going on coffee runs and acting as a substitute nanny. This week's intern is a female college graduate working at a magazine in New York City.

DAY ONE
7:30 a.m. Wake up after having pressed the snooze button more times than I care to share. Must forgo washing my hair, hope it can pass for "tousled."
8:45 Why is the line for Starbucks around the block and why can't they see I clearly need it more?
10:00 Ride the elevator with some of fashion's finest, remind myself that I am in fact chic and stylish and deserving to be there.
10:40 Holy crap, that's a lot of returns.
10:41 That blazer costs how much?! Can I have it?
12:00 p.m. Boss asks me to take several garments to one of the editors. "She's tall, blonde and leggy." Typical.
12:02 Arrive at editors' office. Crap. They're all tall, blonde and leggy. Meagerly wander throughout the office repeating her name hoping to get a response.
12:03 Regain years of my life when another intern points me in the right direction.
1:00 Returns
2:00 More returns.
3:00 Am finally allowed to eat. The longest line in the cafeteria is for the salad bar, but there will be no corn chowder for this girl. I have The Devil Wears Prada to thank for that.
4:00 Editor's assistant calls me in to make personal boards because apparently the ones that everyone else uses aren't good enough. There are no more chairs at the intern desk, so I awkwardly squat.
4:15 I may have trained in ballet for 18 years but my quads hurt. Ouch.
6:00 I may be cross-eyed, but finally finished the boards. Am now a pro operator of the paper-cutter.
6:30 Well no wonder why everyone in this industry is so skinny. I'm hungry again already.
7:00 Finally leave work. Subways are harder to navigate in 3 inch Chloe wedges.
10:00 Too tired to do anything. I am so not glamorous.
DAY TWO
7:00 a.m. So this is how early I need to get up in order to achieve a not-so-effortless-but-looks-effortless look. I wonder if everyone else in fashion is as sleep deprived as me?
8:30 Pick out a fabulous ruffled Isabel Marant top and black skinny jeans. All I need is a cigarette and I will look très chic and très française. Add a pair of sky-high Chloe wedges.
9:00 4 inch wedges are not so great on the subway. Practically sat in some investment banker's lap when the train jolted, smiled uncomfortably and flirted to make it less awkward.
10:00 A man calls up from the lobby saying there are 60 trunks waiting to be unpacked. Hope to dear god he said 16 instead.
10:15 Nope, 60. Hate my life.
10:45 Bitchy boss tells me I need to have all the trunks unpacked by 1 p.m. and to not look at her like that, it is after all, a reasonable request. Right, and the world is flat.
1:15 p.m. Still unpacking.
2:00 Why do I even bother getting manicures anymore? One more trunk and my fingers will look like claws.
2:30 Kicked out of the closet by editors and stylists for a fitting involving one B list celebrity and a dozen hunky male models. Set up camp in the accessories closet and chat up the accessories interns.
3:00 Accessories interns are weird. Rachel Zoe may wear sequined beanies, but they're still not cute.
3:30 Boss says fitting is going to last all day and that I might as well take the rest of the day off. There are miracles!
5:00 So what if I'm an underpaid laborer? Barneys is calling to me.
6:00 $350 less to my name, I run into a friend from college on 14th and University. She decides that the best way to celebrate my day off is with a pole-dance fitness class.
6:30 You want me to wear what for this class?
7:00 I have never worked my quads more in my life. Pole dancing is hard. Fashion is easy.
9:00 Dinner and drinks at the Ace Hotel.
DAY THREE
7:30 a.m. My head hurts.
7:32 Receive a text from an unknown number. WHAT did I do last night?
8:15 Attempt to curl my stick-straight hair of Asian silk. Every curl goes limp the minute I take the curling iron away. New plan.
8:35 Run a flat iron through my hair bringing it back to square one. Apply fuchsia lipstick to draw attention away from my hair.
8:50 Decide to debut my newest purchase, a lace Equipment blouse with a peter-pan collar. Looks great with my angled bob, if I may say so myself.
10:00 Field phone calls from angry PR people demanding their pieces be returned to the showroom.
10:30 An editor calls from upstairs saying a burgundy McQueen gown is about to be delivered. It's made of ostrich feathers and is coming in a huge crate that may or may not fit through our glass doors.
10:40 A crate the size of a small house arrives at the closet.
10:45 Editor asks me to guestimate its dimensions. I say 3x5x5. She bluntly tells me I'm wrong and asks me to measure it. I do, and discover is 3x5x5.2. Sorry, lady.
10:55 The box is opened revealing a sweeping burgundy gown that is pure drama. It also takes up about 1/5 of the closet.
12:00 p.m. Overhear accessories interns talking about their favorite designers. Honey, if you're going to work in fashion you should know how to pronounce Maison Margiela and Lanvin correctly.
12:30 Make a bee-line for the salad bar, but eventually give into temptation. Bacon cheeseburger it is. I'll just work out twice as hard tonight.
12:50 Editors calls to say they need extra help for the September issue fitting. Lunch will have to wait.
1:00 Organize 12 racks of clothes that have been haphazardly thrown together. I wonder if they send used underwear back to their PR agencies.
1:30 Help a male model get dressed. Jan from Iceland is quite the talker. And looker.
3:00 How many different looks can Jan possibly try on? I am enjoying the view, though.
4:00 Wolf down my cheeseburger like it's nobody's business. No regrets.
4:30 Must get caught up on returns. Field more phone calls from angry PR people.
6:00 Stack empty trunks in the back of the closet. I was always good at Jenga, not so good at lifting heavy things. I better have some major arm muscle at the end of the summer.
6:30 Too tired to take the subway so I hail a cab home. Cab driver with racist tendencies keeps calling me "chinadoll." Great.
8:00 Straight after dinner, locate the nearest nail salon. I've earned a spa manicure/pedicure. Maybe a massage too.
10:00 Watch reruns of The Hills. Lauren Conrad is a sad excuse for a fashion intern.
Are you a fashion intern? Interested in contributing? Please email sarah.leon@huffingtonpost.com.