Did you know that less than 4 percent of the world has naturally red hair? Natural fire engine red, fuchsia and lavender hair is even more rare (aka impossible unless you are a cartoon character). This current trend demonstrates that women no longer mind admitting they dye their hair (an act otherwise associated with covering grays and - gasp- aging) but those showing off their flower and flame colored locks openly acknowledge that their color came from a bottle (Christina Hendricks and Karen Elson even admitted they share the same dye). Emma Stone, Scarlett Johannson and Selita Ebanks are among the many beautiful women who have switched to a bright red style recently. On the light pink team we have Nicki Minaj, Lady Gaga and all of their fabulous wigs while Ellie Goulding and Kelly Osbourne explore the latest trend of lavender. Even Selena Gomez's horse that she used for a music video shoot is participating in on the trend.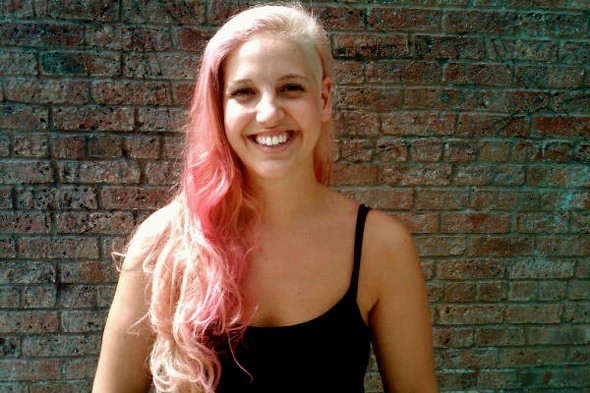 In an attempt to figure out why brightly colored hair is on the rise (can we credit the recession with a desire to imitate a recessive gene?) I decided to go straight to the source and ask Lizzy Plapinger, founder of Neon Gold records and a pioneer of pink hair, about her decision to go pink:
Why did you decide to dye your hair pink?
I chose to dye my hair pink last August – I'm naturally a brunette and I was thinking about going bright red, when the hairdresser told me they would have to bleach it. Once I knew that I would be going through blonde territory anyway I knew this was my opportunity to do something frivolous...I could always go darker later, but pink was calling me...
How did you choose your shade of pink?
I always kind of wanted to go pink, not in a hot topic punk princess sort of way, but more like a bubblegum candyfloss fantasy pink. There is something softer and a bit cheekier about baby pink.
What is your favorite color?
My favorite color changes quite a bit (you should see my apartment). I feel like I never really have so much a favorite color as a favorite trio or palate at any one time. Right now I'm into baby pink, periwinkle, mint green aqua and dark gothic purple.
Are you loving it so far?
I LOVE it. It feels like the most "natural" extension of how I see myself and would like other people to see me. It's fun to so easily put your personality right out there.
What response have you gotten?
I do get a lot of compliments but I also get the "what was she thinking?" stare...I kind of get off on both reactions. I have friends who have made comparisons to everything from looking like a milkshake to my little pony to someone who just lost a game of paintball.
What is the upkeep like?
Lets be real - the upkeep is kind of a pain. First, because I'm not blonde naturally so regardless of the pink I have to do my roots once a month. Second, bleaching your hair is guaranteed to bring out the worst in curly hair, which is a mess to tame anyway. Third, pink washes out pretty easily so I have to redo it myself almost every time I shower and while it looks fine it never looks as awesome as when my hairdresser does it. Fourth, nail in the coffin really, my original hairdresser moved back to Australia and no one has done as amazing a job as she did the first time...thank god she'll be back in September and we'll be reuniting her colors and my hair - we miss each other so.

What are your future plans for your hair?
I must sound mental after giving all the above reasons for why this is a TERRIBLE decision, but I definitely plan to continue to dye my hair. Being blonde so easily lends itself to so many color combinations and I love being able to go back and forth with extremes in a less permanent way than that of a tattoo or piercing (of which I have neither). Next I want some kind of mixture of colors all through the ends like I accidentally leaned on a wet watercolor painting, sigh, that would be awesome.
Who are your hair style icons?
Gwen Stefani, Pink Kate Moss, Scarlett Johansson in Lost in Translation, Blondie and other dip dye queens I see on tumblr... and by queens I mean the girls who think they are living princesses or at least in a total fantasy and like, actual drag queens.
What does having pink hair say about you in 5 words?
I don't work in Finance.