Angelina Jolie is the latest star to pose for Louis Vuitton's "Core Values" ad campaign.
Confirming previous reports, Women's Wear Daily got a first look at one of the images in which a serene and sultry Angie (in her own clothes and no makeup!) gazes off into the distance in Cambodia's Siem Reap province, a Louis Vuitton bag hanging off her shoulder.
The Cambodian setting and "mother earth" vibe (Jolie wears natural makeup and her own clothes) is fitting for the actress, who found time in between making all those movies and adopting all those children to advocate for Cambodia on the international stage.
The "Core Values" ads, set to run for 18 months, will feature other celeb-humanitarians such as Bono.
Curiously, the logo tote slung over Jolie's arm, Louis Vuitton's Alto bag, is a discontinued style. But Vuitton's executive vice president Pietro Beccari told WWD, "We are considering to re-edit it." Smart move.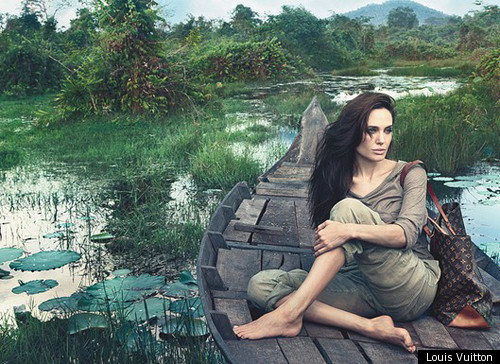 WATCH Angelina in action with her uber famous better half: