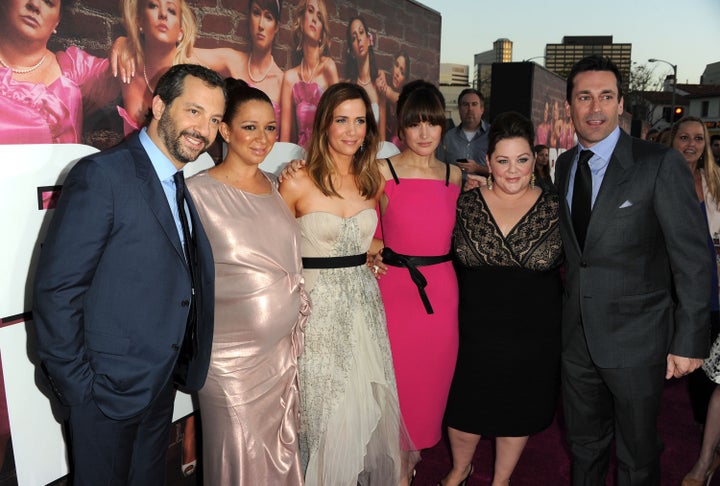 Nearly immediately after the semi-surprising smash hit success of the Kristen Wiig-tastic comedy, "Bridesmaids," director Paul Feig and producer Judd Apatow got the green light from Universal to go and make another film. Talk has been squarely aimed at a "Bridesmaids" sequel, and that may happen, but word is that there's another film, starring scene-stealing "Bridesmaids" supporting actors, that is in the works, too.
Deadline reports that Feig and Apatow are in the early stages of putting together a new comedy that would potentially star Jon Hamm and Melissa McCarthy as "unconventional lovers." Deadline's report pegs the plot as about a man who becomes obsessed with a woman, which while vague, would offer Hamm all sorts of avenues to show off the comedic skills that are finally coming to the forefront. Negotiations are in the early stages.
Hamm, as Kristen Wiig's jerk semi-boyfriend, and McCarthy as her quirky yet no nonsense fellow bridesmaid, nearly stole the show from the writer/star in the May smash hit comedy. It was the biggest stage yet for their respective comedic talents; Hamm, who plays the very serious Don Draper on "Mad Men," is a frequent guest host on "Saturday Night Live," and had an arc as Tina Fey's "in the bubble" boyfriend; McCarthy is one of two leads on the CBS sitcom "Mike & Molly."
The new Feig/Apatow film would be each actor's first big screen lead; Hamm has translated his small screen success to into supporting roles in films such as "Sucker Punch," "The Town," and "Howl," while McCarthy, a "Gilmore Girls," alum, has had roles in "Life As We Know It," and "The Back-Up Plan."