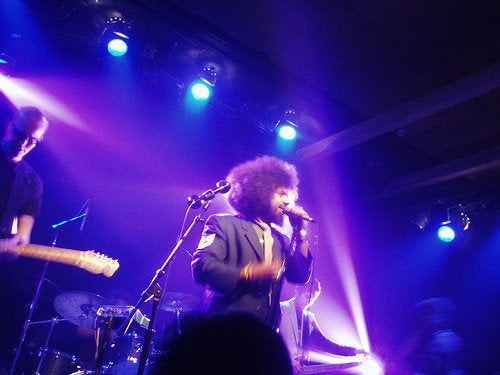 People tend to remember the first time they see Reggie Watts perform. His onstage persona is so uniquely his, so off-putting and hilarious and different all at once, that even if you're not quite sure what you saw, you'll probably be telling your friends about it the next day. "You have to see this guy," you'll say. "He delivered this monologue as a British professor and then launched into a gibberish R&B/hip hop hybrid song about pancakes."
But most impressive, perhaps, is that Watts has managed to forge a lasting career for himself doing whatever he wants, however he wants to do it -- a living example of that old mantra: Do what you love. Everything else will work itself out.
Armed with a looping pedal and a malleable, soulful baritone, Watts has become a favorite of fans and other comedians alike, and he's done it through a combination of international festivals, TV appearances, absurdist comedy shows, improv, Off-Off-Broadway theater, and viral videos.
Shortly after his opening slot on Conan O'Brien's national tour last Spring, Watts attained more ubiquitous recognition, moving beyond his years in the New York alternative-comedy world. Here, leading up to Wednesday night's big show at Central Park SummerStage, Watts speaks to HuffPost about his first solo comedy experiences, the origins of his act, and how he may or may not have afforded to move to New York City in 2004.
You were born in Germany and lived in Spain when you were little. When did you move to America
I think I moved to the U.S when I was about four. To Montana. And we stayed there.
Your dad was in the Air Force. Where did your affinity for music come from?
Neither of my parents really played. I guess my dad played saxophone for a second when he was a boy, but that's it. When I was 5 years old I started taking classical piano and classical violin, and kind of forged that for myself, I think.

Were your parents always supportive of your artistic inclinations?
My dad never tried to stop me, but he wasn't ever like, "This is your dream, man! Follow your dream." He was definitely more old school and a kind of quiet guy. My mom was really supportive, though, with anything I wanted to do.
When did you start your first band?
I think I was 16 when I started doing that. [We were called] Autumn Asylum. Rock band. We played for my last two years - starting my junior year of high school.
At that point, did you think you wanted to be a musician?
Music was the goal, either acting or music. Seattle had a bad-ass music thing happening, so it seemed like a natural choice for me to move there.
How did you make a living in Seattle?
I had a job at a movie theater for like a year and a half and then a job at a health food store for like two years. Those were the only two jobs I ever had. The other time was just me scraping by doing gigs and doing recording things, playing in bands, singing, doing random projects. Playing keyboards.
So where did the solo comedy thing come from? How did you know you'd be able to branch out on your own like that?
Well, I was doing solo stuff back in high school, actually. At Great Falls High School. Competitive Dramatics--like our version of speech and debate, I guess. It was this drama competition where we'd compete against other schools. The first year I did "Humorous Solo," which is pretty much exactly what you see me doing now. I was just improvising.
Did your coach trust you to make up stuff that would be funny?
Yeah, my coach was like, "Just go for it. See what happens." Very supportive. The first year I got third place in the state finals, and the next year I did "Humorous Duo" with my friend Wally, this brilliant writer and performer. We kind of evolved a piece from improvisation and gave it some structure. That year we won state in a very John Hughes kind of way.
You should probably tell that story.
Well, it was very dramatic because the state [finals] took place in Billings. And Billings had the best drama team for like five or six years running. So it was the Karate Kid-style underdogs against the masters. And I remember the lunch hour before we performed, I went off with a friend I knew in Billings, and we smoked a lot of weed. Wally wasn't a big weed smoker at all. And when I told Wally I'd smoked he was like, "Are you crazy? We have to go to state! This is the finals!" You know? And we went over to this hyper-packed classroom, people peeking into the windows, it was completely full, and all the judges were there except for one. One seat was empty. But the other judges were like, "Well, they're not here, I guess we'll just have to perform without him."
But we had this great show. And we thought it was over. But then our drama coach came up after the performance and said the other judge showed up, so we either had to re-perform the piece again or we were disqualified. So we did it again, and it was even better, because people could see we were improvising. And during the awards ceremony we're all sitting in the auditorium, and they announced the winner of humorous duo. "2 Guys Doing Stuff!" That was our piece. And the head of the Billings Team always had a weird grudge against Wally, and so when we came down the aisle Wally grabbed the award and said something like, "Look who's laughing now?"
So solo performance always came kind of naturally to you.
Yeah, I mean, I was always a solo performer, even while I was doing a million projects. It was always either art projects, or playing at a party, or being in a band, whatever it was - I was doing so many different things.
The indie art scene in Seattle doesn't seem like a particularly well-paying platform. How were you able to get by doing that stuff?
It's funny, I always try to remember how was I making money. How did I even move from, you know, Seattle to New York? I don't know how I had the money to do that. I never had a job here in New York, and comedy nights don't pay anything. Every once in a while you get like 20 bucks or something.
You worked with the band, Soulive, though, in the years before you moved to New York. They're pretty well-established, so that probably helped financially, right?
Yeah, I was singing with Soulive, I think they were paying me. That's probably how it happened. We opened for the Rolling Stones twice and we played a few huge stadiums. I also always had my main band, Maktub, which was my longest running thing. We played together a long time. And once in a while I'd get my BMI checks, twice a year, for 800 bucks, to pay for rent. I just got lucky and ran into things here and there. But when I really think about it I have no idea.
So what sparked the move from Seattle to New York City?
I guess it was a build-up of things. A friend of mine was active in the modern dance community in Seattle. I always loved dance and would do a lot of music for dance shows. But he had gone to school with Eugene Mirman, and was always telling me about this comedy night they threw in New York called "Invite Them Up." And then one night my friend Joel Israel showed me some of the Stella shorts on his laptop in his car, and I was like, holy shit what is this? I was really blown away by those. And then "Wet Hot American Summer" came out and I kept taking hordes of people to go see it, I loved it so much. And then Eugene was opening for Stella on their tour and they were coming through Seattle. We went to Stella's DVD-signing party at Scarecrow Records, and Michael Showalter weirdly knew who I was.
How did he know you already?
I guess they had shown a Maktub gig on NY1 on TV like late one night, and he happened to be watching it. So when I was in line to get my DVD signed he was like, "Reggie Watts, right? Of Maktub?" I was like, "What is happening right now?"
Then later on that evening I went to the [Stella] gig and [my friend] introduced me to Eugene, who told me to come check out his show in New York any time I wanted. So that's really how it started. I was going to New York to write with Soulive for a month at a time, and I would come to Eugene's show and do a set at the end, and people really liked it. They had me back a few times. Other comedians started taking notice.
At those earliest gigs, was the loop pedal there?
Yeah, I always had the one pedal. At first it felt a lot like being in high school again. That stuff I did was fairly different and fairly weird. And there really wasn't anything else like me on the bill, just other standup comedians. Luckily, the first time I did my thing people reacted really well to it. And that was a big deal -- I wasn't sure if they were going to accept me or not.
So you've carved out a pretty unique spot for yourself in New York, and thanks to the Conan tour and TV appearances, people are starting to notice your particular type of comedy. Is branching out really important to you? Doing something else?
I want to focus on making film and possibly TV and more theater. I want to produce more quantities of things--create an amazing experience for people, fusing the things I've learned from the theater and music worlds, so they become more intense experiences. I also want to make things people can hold onto or re-experience, like short films and videos and music records.
Since your work is mostly improvised, there's a sense that what you see onstage is something people will never see again.
Right, it's like: here's this thing, and now it's gone. And usually it's recorded pretty shittily. But we're filming the SummerStage shows in Central Park - that's going to be my next Comedy Central DVD. There will be some original sketches in there, too, and those should be fun.
But you're just as interested these days in writing original material, in addition to the improvisational stuff?
I'm very interested in writing an actual series, that doesn't have too much to do with my music--a world I create that has characters in it. I'm just trying to get there by doing things that I want to do. People ask, like, how are you going to incorporate what you do onstage into everything else? I'm not too worried about that. Whether it's theater or a TV show idea, or an animated thing or, I don't know, an animated screensaver. I really just want to keep creating things. And I've always been able to do that.