MADISON, Wis. -- Nearly two years ago, Stephen Lee uprooted his wife and two children from their home in Clarksville, Tenn., to study political science here at the University of Wisconsin.
As a 31-year-old Army veteran, Lee took advantage of one of the most successful tuition assistance programs in the nation's history -- the G.I. Bill. In exchange for his nine years of military service, the federal government agreed to pay for Lee's college education.
But on a brittle February night, the rules suddenly changed. At a Vets for Vets meeting on campus, Lee listened in disbelief as a university official told his classmates that the government had reneged on its original promise. In December, Congress voted to cut their G.I. Bill benefits.
Lee closed his eyes and bowed his head. The official said that, beginning in August, out-of-state residents at the university would face caps on their tuition assistance pegged at whatever in-state students had to pay. Lee, who became a Tennessee resident while stationed at Fort Campbell, now owed an extra $8,000 per semester. Beginning next fall, he and 56 other out-of-state residents attending the university on the G.I. Bill needed to come up with $16,000 in order to finish out the year -- an increase in cost none of them could afford without going into debt.
When Lee, a first-generation Korean-American, moved his young family to Wisconsin, taking out loans in order to graduate wasn't part of the deal. The Post-9/11 G.I. Bill promised to cover his educational expenses in exchange for his military service during the previous decade. But then the rules changed.
"When I came to school here, the Post-9/11 G.I. Bill meant that I wouldn't be on the hook for any tuition -- it meant that I'd be covered," says Lee, over beers and brats one recent afternoon on the banks of Lake Mendota. He now feels let down by his country. "I see my time in the military as my service. I volunteered to do it. And while I don't think it necessarily entitles me to have the country now bend over backwards for me, if you say you're going to do something, you should do it."
Since going into effect in August 2009, the Post-9/11 G.I. Bill has provided generous educational support for veterans returning home from war. It is the successor to the original G.I. Bill, or the Serviceman's Readjustment Act of 1944, which enabled millions of World War II veterans to attend college. In addition to money for school, the original G.I. Bill provided loan guarantees to 19 million veterans, enabling them to purchase homes and farms and start small businesses.
In America prior to the Second World War, only relatively affluent elites owned homes or went to college. The G.I. Bill helped lower the barrier of entry for the average citizen. It suddenly made the American Dream of homeownership and a college education accessible to a new generation of young people.
According to the U.S. Department of Veterans Affairs, nearly half of the 16 million WWII vets used the original G.I. Bill for college between 1945 and 1956. Over the past two years, the ranks of veterans attending American institutions of higher education has again swelled -- with more than 500,000 now using the Post-9/11 G.I. Bill.
Under the first version of the bill, a veteran who served for a minimum of three years after Sept. 11, 2001 received a full tuition subsidy from the government if they enrolled at a public college. He or she also received a monthly housing allowance, which varies according to residency, and a $1,000 annual stipend for books. Yet another provision, the Yellow Ribbon Program, enabled veterans to attend private schools as well as graduate and doctoral programs.
All of that changed in December of last year when Congress voted to amend the enhanced G.I. Bill by capping tuition assistance for out-of-state residents according to in-state public rates. Meanwhile, veterans attending expensive private schools will face a $17,500 cap on tuition. Prior to the change, caps varied widely. For instance, student veterans in Mississippi were capped at $805 per semester, while veterans attending schools in Florida were capped at $43,660 per semester. The new rules increased benefits for some while decreasing coverage for many others.
In recent months, Rep. Jeff Miller (R-Fla.) and Sen. Charles E. Schumer (D-N.Y.) have introduced separate pieces of legislation aimed at grandfathering in veterans currently enrolled in private schools whose tuition would skyrocket in August -- or about 30,000 veterans, according to Miller's office. Currently, no provision exists to cover out-of-state veterans attending public schools.
The V.A. doesn't track where student veterans reside, so the precise number of out-of-state students these changes affect is unknown. Student Veterans of America, a national coalition of student veteran's groups on college campuses, estimates that it may involve upwards of 80,000 out-of-state residents -- veterans that aren't protected under either Schumer or Miller's grandfather clause.
"The goal was to cover the greatest number of veterans impacted by this change, while using the limited amount of available money to do the most good," says a spokesperson for Miller. Schumer's office declined to comment on why his proposed legislation doesn't include out-of-state veterans attending public institutions.
In mid-May, Miller's bill made it through the House Committee on Veterans' Affairs. Schumer's bill now awaits a markup with the Senate's Veterans' Affairs Committee, which is chaired by Sen. Patty Murray (D-Wash.). The markup is scheduled for the middle of next week. While out-of-state student veterans at public schools could be added, additional tuition assistance is unlikely. Even for veterans, most increases in federal spending are simply untenable in the current economic and political climate.
What all of this seems to boil down to is that future veterans returning home will face limited options for higher education. Going forward, most will attend a public institution as an in-state resident -- or forgo the dream of a college degree altogether.
For veterans, the in-state requirement is a particular burden. Their twenties are commonly peripatetic. Many decide to establish residency in a state where their military base is located or maintain residency in the state where they last lived in high school. When their service is up and civilian life beckons, many scatter and choose to put down roots in states where they haven't lived previously. Several states, Wisconsin included, don't allow full-time students to become residents while they're enrolled in school.
Faced with a bleak job market, many young veterans are finding it difficult to make a seamless transition from military service back to civilian life. Over the past two years, unemployment payments to returning servicemembers have nearly doubled. And according to the U.S. Bureau of Labor Statistics, the jobless rate for male veterans between the ages of 18 to 24 is 30 percent. For young people in the population at large, the jobless rate is 18 percent.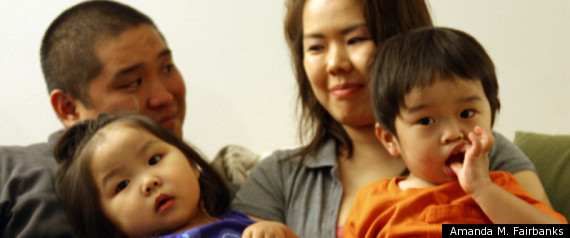 Lee with his wife, Ayumi, and their twins, Amelia and Lawrence.
In the weeks following the announcement about tuition caps at the University of Wisconsin, Lee debated whether he should drop out for a year in order to establish residency. He also weighed the option of relocating to another state. But abandoning Wisconsin and his lifelong dream of a college degree wouldn't only affect Lee.
He mostly fretted about how to break the news of the G.I. Bill cuts to his wife. They currently live on his fixed income of $1,300 a month, combined with their savings. Taking on more debt in order for him to graduate simply isn't an option. They were barely scraping by as it was.
"When I came to school here and ran those numbers, we made the decision as a family based on how affordable it would be," says Lee. While he realizes a college degree is no longer a path of guaranteed riches or stability, entering an unstable job market as a 31-year-old with only a high school diploma seemed a far riskier bet. "I ran those numbers in good faith based on the promises our country made not just to me, but to my family. It really feels like a bait and switch."
DREAMING OF ASSIMILATION
One of Lee's earliest memories is from third grade. His teacher passed out strips of construction paper and brightly colored markers to make Mother's Day cards. But with neither a mother nor a father at home, he instead made a card for his grandmother, the woman who raised him.
Lee was born in the United States to parents of Korean origin, but it was his grandparents who brought him up. He last saw his mother just before his tenth birthday. Even today, he and his father can go years between conversations.
When Lee was growing up in San Jose, Calif., he tried his best to assimilate. "We spoke the language, we ate the food," he recalls. "My grandfather encouraged us to accept that America was our country. He firmly believed that if you were going to succeed in a new place, you had to become a part of the new society -- you had to join it."
Lee's grandfather, like many immigrants, believed that an education -- and especially a college degree -- were pivotal parts of his grandson's eventual assimilation. He hoped Lee might become a successful doctor, lawyer, or engineer.
But most of the time Lee felt like an outsider, unable to quite fit in. In elementary school, he tested two grade levels above the rest of his classmates. As one of two Asian kids in a mostly white school, the racial taunts worsened as he grew older. Once puberty hit, Lee, who is now 5'10" and 250 pounds, went from being a scrawny kid getting picked on to one who was able to strike back. Fistfights became a regular part of his life, and with two aging grandparents, the troubled kid went to live with his father in Arcadia, a suburb of Los Angeles.
His father barely spoke English and worked in downtown L.A. in the import-export business. He shirked the responsibilities of parenthood. At 14, largely unsupervised, Lee came and went as he pleased and started to drink. His schoolwork faltered and as a chronic absentee with a 2.6 grade point average, Lee barely graduated. College figured far on the horizon, if at all.
After two false starts at community colleges in Chicago and California, he moved back to Arcadia. One afternoon with nothing better to do, one of his buddies suggested an excursion to the local Army recruiter's office. Lee recalls his friend enticing him with something about college money. Mostly, he just went on a whim.
He completed a basic aptitude test in the back room of the recruiter's office. As his friends struggled to get through it, the grade-school whiz kid handed in his exam with plenty of time to spare. The recruiter marked his test on the spot and, Lee says, his score was in the 99th percentile -- which qualified him for a desk job in military intelligence.
A month later, Lee boarded a plane for Fort Leonard Wood, Missouri to complete basic training. In the military, Lee thrived. It provided him with a sense of stability and comfort he'd searched for all his life.
"Looking back, I realized I had been living in chaos for the better part of my life," says Lee, who excelled in classes for a career in intelligence. "The military's routine, the getting up at the same time every day and doing the same thing, it was exactly what had been missing from my life."
THE PROMISE OF A NEW G.I. BILL
In those early years, however much Lee benefited from the routine and sense of purpose the military brought to his life, the training and work felt monotonous and of little consequence.
He spent months staring at computer screens, trying to make patterns of out of tiny, green dots. He devoted countless hours to trying to solve make-believe scenarios in which Soviets still threatened much of western Europe. Once 9/11 happened and actual wars erupted, Lee yearned to leave his desk behind; in early 2002, he went on the first of three deployments overseas.
While on his first tour in the Gulf, he gathered intelligence from computers. But midway through his deployment, he realized that he excelled at reading emotional cues, at reading people. "I had to read my family and read between the lines," says Lee, referencing his childhood. "It lent itself pretty well to becoming an interrogator."
During his second 11-month deployment to Eastern Baghdad, Lee spent most of his time in local prisons, working with Arabic translators. In his work as an interrogator, Lee developed two sides to his personality -- the normal, easy-going guy morphed into a fierce, relentless questioner. While he says he never did anything illegal, he felt a growing sense of discomfort. Engaging in the psychological warfare his job required, Lee had to control every aspect of a detainee's life: when and how often they could sleep, eat, or even relieve themselves.
Just thinking about it now makes him uncomfortable.
"The stuff that really messes with my head is the stuff I was good at," says Lee, referring to the days he spent with detainees, breaking them psychologically to secure information. "Interrogating people is not a pleasant thing. It's a battle of the wills. You use certain tools and they're unsavory tools and fortunately or unfortunately, I just so happened to be good at it."
Between his first and second deployment, Lee attended a language school in Monterey, Calif. where he became fluent in Korean. Unlike high school, he flourished in the classroom and college suddenly seemed like a real possibility for his future. While in Monterey, he met Ayumi Kanamaru, a native of Tokyo who attended school nearby. The two married and Ayumi made a home for them in Tennessee near Fort Campbell, the local base where Lee was stationed. Before Lee's final deployment to Afghanistan, Ayumi became pregnant with twins.
"In Afghanistan, I started to see these things in the frame of becoming a dad, becoming responsible for these kids," says Lee, who last collected intelligence in the Afghanistan's Paktika Province.
Most of his work centered around keeping the Taliban from taking control of the local government. Playing with a detainee's emotions weighed on his own. To try and get detainees to talk, Lee would use psychological pressure about a prisoner's wife and children against them. As a new father, such tactics quickly became unbearable. "I guess I just started to see things differently. I know I couldn't continue doing the things I'd done and look at myself in the mirror at the end of it."
While overseas in June of 2008, Lee got word of the Post-9/11 G.I. Bill's passage. The bill meant not only a substantial increase in college tuition assistance, but a monthly stipend to live on. It made many schools in states where Lee didn't reside suddenly affordable. A vision of his post-military life started to appear, where college now figured as the next, logical step. After his service, he hoped to avoid the series of dead-end jobs he worked after graduating from high school. Lee saw a college degree as the best way to avoid becoming a displaced and unemployed vet.
At the urging of his wife, Lee applied to half a dozen schools while still in Afghanistan. As civilian life beckoned, Lee wasn't sure how to translate all he had learned in the military into a coherent career path. He decided to major in political science, believing that a well-rounded liberal arts degree would best prepare him to transition for life on the outside.
And when he received his acceptance letter from the University of Wisconsin-Madison, just months after his release from the Army, the decision to go was an easy one. He'd be able to attend free of cost.
"It was pretty much billed as get into school and we'll take care of it," recalls Lee.
When Lee, Ayumi, and the twins arrived in Madison they purchased a two-bedroom starter home on the outskirts of town. As Lee acclimated to the routine of being back in school, the family settled in for the long haul. For a while at least, their future felt certain.
AN IMPROVEMENT FOR SOME, A LETDOWN FOR OTHERS
"Education assistance for veterans helps reduce the costs of war, assists veterans in readjusting to civilian life after wartime service, and boosts the United States economy," reads the original Post-9/11 G.I. Bill, which Sen. Jim Webb (D-Va.) sponsored in 2008.
Webb believed the updated education benefits might do for current veterans returning home from war what the original G.I. bill had done more than half a century ago when the Greatest Generation returned home after World War II. In an Op-Ed in The New York Times, Webb and then-Sen. Chuck Hagel (R-Neb.) described the young men and women who have served in the military since 9/11 as the "new greatest generation."
"If you truly believe that our Iraq and Afghanistan veterans are like those who fought in World War II, let us provide them with the same G.I. Bill that was given to the veterans of that war," wrote Webb, a former Secretary of the Navy who served during the Vietnam War. "A G.I. Bill for those who have given so much to our country, often including repeated combat tours, should be viewed as an obligation."
The Post-9/11 G.I. Bill sought to shore up an earlier iteration, the Montgomery G.I. Bill, which was signed into law in 1984 and replaced both the Post-Vietnam Veterans' Assistance Program and its predecessor, the original WWII G.I. Bill. Named after its sponsor, former Rep. Gillespie V. Montgomery (D-Miss.), the 1984 bill increased college assistance for full-time students.
But as college costs continued to skyrocket, in most cases the Montgomery G.I. bill wasn't enough. The $800 monthly subsidy barely covered community college, let alone the expense of a four-year degree. The Post-9/11 G.I. Bill described the prior educational assistance as "outmoded and designed for peacetime service." The 9/11 bill gained bipartisan traction once Sen. Olympia Snowe (R-Maine) signed on. The Senate voted 92-6; the House voted 416-12.
Since its enactment nearly two years ago, according to the Department of Veterans Affairs, $9.9 billion has gone towards tuition assistance. Between August of 2009 and February of this year, 547,945 veterans used it to pay for college. Of these, 335,334 attend a public institution, 121,655 attend a private for-profit institution, and 90,956 attend a private non-profit institution.
But the original bill wasn't perfect. Last fall, Sen. Daniel Akaka (D-Hawaii) sponsored the Post-9/11 Veterans Educational Assistance Improvements Act of 2010. It sought to fix flaws in the existing legislation by making benefits more streamlined and less complex, and allowing members of the National Guard and the Reserves to qualify for assistance. Last December, it sailed through the Senate with unanimous approval, including the support of Webb. In the House, only three Representatives voted it down. And in January, President Obama signed it into law.
Webb's office declined to comment about the changes that have been made to his original bill.
While Akaka's legislation improved the benefits for many veterans, a $17,500 tuition cap that was part of the bill hurt about 100,000 veterans who attend private schools or out-of-state residents who attend public institutions. Akaka's communications director, Jesse Broder Van Dyke, says Akaka supports Schumer and Miller's efforts to provide relief to veterans attending high-cost private universities affected by the cap.
But others say such legislation doesn't go nearly far enough.
"We're still trying to get to the original intent this country put forth -- that any veteran who has served this country should be able to go to any school they want," says Michael Dakduk, who directs Student Veterans of America, a coalition of student veteran groups on college campuses. Created in 2008, S.V.A. is a nonprofit funded by public and private donations. It also lobbied on behalf of changes to the bill. "Some of those changes were a long time coming and we were pleased to see them pass. But many veterans are still left out and it still needs to be amended. Student veterans are experiencing a decline in benefits beyond just those attending private institutions. We must not forget that out-of-state student veterans throughout the nation are also affected by changes to the bill. "
Despite some improvements -- such as enhancing the reliability and ease of a payment scheme -- the inequity has left Lee reeling.
But Lee, of course, isn't the only anxious veteran.
At Columbia University in New York, Richard Baldassari, a 25-year-old Air Force veteran, monitors the progress of the bill each morning after he wakes up. Baldassari is the leader of the Veterans for Higher Education Committee, the national veteran action group he formed. Prior to enrolling at Columbia, he served in Iraq and Afghanistan. Unless Schumer and Miller's legislation grandfathers him in before the August deadline, Baldassari is on the hook for more than $30,000.
Baldassari is concerned with the limited degree of social mobility enjoyed by veterans now returning home. "Because of the cap, they will now have to choose public institutions or institutions that cost less money," says Baldassari, who believes all schools in the Ivy League should remain among the list of available options. "If a veteran has the academic potential and drive, they should be able to attend the best school they can get into. That was the whole point of this thing."
Back in Wisconsin, Lee and several of his classmates weighed the option of dropping out for a year in order to establish in-state residency. Lee also considered transferring to another school. But as a homeowner, and with only a year left of school, his options were limited.
In the end, Lee took advantage of the Yellow Ribbon Program that allows veterans to attend institutions whose fees are higher than the available cap -- as long as a college is willing to split uncovered tuition and fees with the Veterans Administration. While the University of Wisconsin is willing to fund the 57 currently enrolled veterans who are out-of-state residents, it will not commit to funding future out-of-state veterans.
"In future years, we'll have to tell out-of-state veterans that unless they want to take out student loans, they won't be able to come here," predicts John G. Bechtol, an assistant dean who is responsible for the more than 600 student veterans attending the University of Wisconsin-Madison. "It's like putting up a stop sign for future veterans wanting to come to this world-class institution. They won't be able to come here using solely their G.I. Bill."
KEEPING PROMISES
When Lee first arrived in Madison, he had a hard time getting out of bed and making it to class on time. Ayumi would ask him what was wrong and what she could do to make him feel better. Challenged by anxiety and depression from his combat experience, he often didn't know how to respond.
Even now, when he's walking through campus or playing with his two-and-a-half year-old twins, he sometimes has to remind himself to smile.
And a college degree may still not solve all of Lee's job problems. In addition to graduating into a weak job market, when potential employers want to know what he's been doing for much of the last decade Lee usually tries to change the subject.
"There aren't a lot of private sector opportunities as an interrogator. I know my skills are useful, but I'm still figuring out how to translate them," he explains, unsure of what comes next. "I guess it's a puzzle I still haven't figured out yet."
When Lee finally graduates next spring, what he wants most is a normal job -- doing something where he feels like he's of service, a job that feels like he finally fits in. His dream is to work in Washington, D.C., advocating on behalf of other veterans acclimating to life after service.
But until his senior year of classes begins this September, Lee is without work. He was even unable to find an unpaid internship for the summer, so he's currently polishing his resume and doing volunteer work on behalf of other student veterans in Wisconsin.
"When I look at my kids, the last thing I want to see is a generation of veterans who are unable to finish school, a generation of veterans who are unemployed. It's a really scary thought," he says. "We as a country need to do something. I guess we could start with honoring our original promises."