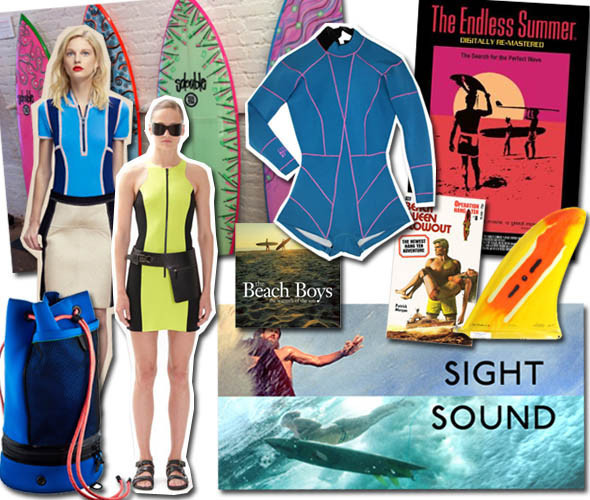 Clockwise From Left: Proenza Schouler Beach Bag, "Hottest 100 Yards" Exhibit, Derek Lam Resort '12, Michael Kors Resort '12, Beach Boys "Warmth Of The Sun", Roxy/Rowley Wetsuit, "Beach Queen Blowout" Vintage Surfbook, Kwock Surfboard Fin, "The Endless Summer", "Sight + Sound"
From the squeaky clean days of Frankie Avalon & Annette Funicello to the rebellious beach bums in the 80s, surf culture has long been a subject of fascination. Fashion designers Derek Lam & Michael Kors both cited it as inspirations for their resort 2012 collections, and the popularity of surfing as sport has lately been riding a new wave of popularity.
Partners & Spade is currently showing 'The Hottest 100 Yards' in collaboration with Quiksilver, an exhibit dedicated to Echo Beach & its influence on today's surfing industry. This month also witnessed the release of "Sight + Sound", a film by surfer & filmmaker, Mikey DeTemple which showcases some local surfers in action.