CALLICOON, N.Y. -- Late last Sunday morning, Doug Stern and Lukie Strydom, farmers from South Africa, shuffled quietly in the parking lot of Lander's River Mart, a combination gas station, convenience store and restaurant situated along the banks of the Delaware River in this western Catskill hamlet.
They'd come to talk to locals about natural gas and a thing called hydraulic fracturing -- or fracking.
"We need to learn as much as we possibly can," Strydom said.
Back home in South Africa, Stern and Strydom live on what's known as the Karoo, a vast, semi-arid, ecologically sensitive region that has lately become the target of prospecting natural gas companies -- Falcoln, Sasol, and Shell among them.
But after awarding permits last year for preliminary gas exploration in the Karoo, stiff opposition from local residents -- their fears stoked by the documentary "Gasland" and an endless stream of news reports out of the United States detailing environmental concerns surrounding fracking -- forced the South African government in April to issue a moratorium on gas activities in the region until the potential impacts could be better understood.
"Given the intensity and scale of the issue and the fact that this has never been done before in our shores," the Minister of Mineral Resources, Susan Shabangu, said in a prepared statement at the time, "my department will conduct a comprehensive study which will assist us to formulate our approach, after which we will go back to Cabinet."
Shabangu added that her office was considering sending a team of experts abroad to "draw lessons with regard to this issue."
Whether the American experience can help in that regard is an open question -- though Stern and Styrdom are on a similar mission.
As representatives of concerned Karoo farmers and with funding from BKB, a major agricultural services company in South Africa, the pair are on a two-week listening tour in northeast Pennsylvania and New York's southern tier -- or what might be considered the white hot center of America's own natural gas debate.
Here in the Land's River parking lot, a red-and-gold Shell logo beamed down from the edge of the gas station's pump canopy, and the pair, finding the irony too rich, snapped pictures as visitors to an adjacent farmers' market at Calicoon Creek Park looked on in curiosity.
Stern and Strydom were waiting to meet with Noel van Swol, a retired schoolteacher and now tireless Sullivan County advocate for shale gas exploration in New York. Van Swol was inside the restaurant, preparing for on on-camera interview with a freelance journalist and fellow South African traveler, Jolynn Minnaar, who is filming a documentary about the possibility of hydraulic fracturing in her home country.
When the group finally settled around a table, van Swol, a tall and dapper country gentleman who heads up a coalition of landowners in the area keen to lease their properties to natural gas developers, held forth on the virtues of domestic energy, the safety of fracking and the fortunes it promises an otherwise economically struggling community.
"If you have decent regulations in place, there's no reason you can't develop this resource while maintaining a safe environment and clean water," he said. "It's a win-win situation for everyone. You can have your cake and eat it too."

Doug Stern, Lukie Strydom and Jolynn Minnaar, all of South Africa (left photo), listen to
New York resident Noel van Swol (right) discuss the virtues of natural gas.
Van Swol's family owns about 400 acres of land in this part of Sullivan County. The coalition of landowners he heads up represents some 70,000 acres, and its formation, van Swol said, has been instrumental in ensuring that families are getting the best possible deal from the gas companies that began knocking on doors offering lease deals a few years ago.
The going offer here, van Swol said, is about $6,400 per acre for a five-year lease on the land, plus royalties earned on any gas produced.
But no one is earning that money now. New York instituted its own moratorium on this sort of gas development late last year.
This area also falls under the jurisdiction of the Delaware River Basin Commission, a federal and multi-state body charged with stewardship of the 13,500 square mile Delaware River Basin, which includes the New York City watershed. Rules proposed last year by the commission would have permitted 15,000 to 18,000 wells to be drilled in the basin, but New York's attorney general sued the federal government last month, arguing that those rules were issued without a full environmental review.
Van Swol is hopeful that all sides will ultimately get past these issues and allow the gas to flow. "This represents millions of dollars in potential income for families in real need," van Swol said. "This industry could turn New York state around overnight."
Stern, a fourth-generation farmer who raises cattle, sheep and alfalfa on his his farm in the Karoo, squirmed in his seat as he listened to van Swol. Outside the restaurant, he grew agitated.
"He speaks so glibly about all the acreage he represents, and how safe everything is," Stern said of van Swol. "But how will these companies be made accountable for the damages they might do? They say it's safe, but what guarantees are there that they will be made responsible if they are wrong?"
Fred Palmer, a spokesman for Shell's operations in the U.S. who has been helping to spearhead the company's interaction with local farmers in South Africa's Karoo -- including participating in two public meetings there this spring -- suggested that it may be hard to overcome such concerns.
"I would sum it up to say there was a very low level of trust in anything that Shell would say or that anybody in industry would say," Palmer said in a phone call, of his meetings in South Africa. "I also think there just hasn't been a lot of onshore gas activity there -- it's new to a lot of people. So there's really a lot of outreach and consultation that needs to happen to have stakeholders feel comfortable."
Of course, growing discomfort over fracking and gas development is a feature of U.S. operations, too.
***
Hydraulic fracturing involves the high-pressure injection of a cocktail of water, sand and a variety of chemicals thousands of feet underground to crack open rock formations and stimulate the release of natural gas. Though the process is not new, refinements in the technique are touted by the industry as being safe and capable of unlocking vast and previously unreachable deposits of natural gas.
But a host of environmental and health concerns have been raised in recent years over lax government oversight of the industry and the potential for chemicals and methane to bleed from poorly constructed wells and into surrounding rock formations, eventually contaminating the water table closer to the surface.
Other concerns have been raised surrounding the vast amounts of water needed to stimulate wells in this way, as well as the production and disposal of potentially toxic wastewater generated in the process. More recently, questions have surfaced regarding the economic viability of natural gas exploration in deep shale formations and whether the gas industry is recklessly overstating the potential returns.
The Environmental Protection Agency is in the midst of a multiyear study of potential groundwater contamination from hydraulic fracturing, and other federal agencies, including the Department of Energy, are also reviewing the process.
The industry, primarily regulated in the United States by a hodgepodge of state guidelines after winning key exemptions from federal law under the Bush administration, opposes federal oversight of natural gas development.
Critics argue that states are overburdened and ill-equipped to ensure the environmental safety of the gas industry and to manage any potential health risks posed by fracking.
South Africa's situation has some unique characteristics. Landowners, for starters, do not own the mineral rights beneath their land, which accrue to the state under rules passed in 2002. That means the lucrative landowner lease contracts that have animated much of the expansion of the industry in the U.S. are not a factor on the Karoo.
Water resources in the arid Karoo are also scarce, and farmers and agribusinesses in the area have difficulty imagining how that water could be shared with a voracious new industry, which needs tens of millions of gallons of water to plumb and service a single well.
The state is also massively dependent on coal. It accounts for more than 75 percent of the nation's overall energy needs, and 90 percent of its electricity. There is virtually no natural gas drilling in the country.
Minnaar, the filmmaker, noted too that a large number of South Africans remain without any sort of electricity at all, and that the debate over whether to expand a resource that might alleviate such poverty is complicated by questions of class and equality.
"We just don't know, this is all so new," she said.
Philip Lloyd, a petrochemical consultant and professor at the Energy Institute at Cape Peninsula University of Technology in Cape Town, is among those in South Africa who insist that the benefits outweigh any costs.
"I think it is necessary to gather thoughts on the issue," Lloyd said in an email. "All was peace and quiet until 'Gasland' arrived like a steam train. Everyone was initially swarnhoggled."
But Lloyd pointed to the explosion of opposition that arose only after fracking arrived in the U.S. Northeast, after years of relatively quiet development in the South and West, suggesting that this was instructive.
"Sure, there are fears -- we all fear the unknown," he continued. "How come you can frack until you are blue in the face in Texas, but you can't even drill a hole in the ground in New York? How come no-one worried about fracking while around 1 million holes were fracked, until the process approached the ground unfamiliar with the process? Did none of the claimed problems emerge during the fracking of 1 million holes?"
But Stern and Strydom, like many South Africans -- and many Americans -- remain dubious, not least because they see the narrative of trouble-free fracking as one diligently created and nurtured by an industry that has fought hard to keep anyone from looking at it too closely. From their staunch resistance to tough oversight to their ongoing reluctance to fully disclose the chemicals used in fracking, gas drillers have, in many ways, earned themselves the mistrust they now confront.
***
After parting ways with van Swol, the South African delegation made its way to an outdoor potluck lunch at the home of Jill Wiener, a local potter and fierce anti-fracking activist. A collection of "NO FRACK" t-shirts and literature were set out near Wiener's barn-cum-studio, behind which some two-dozen members of the community drank beer and ate pie in a field sloping down to a pond.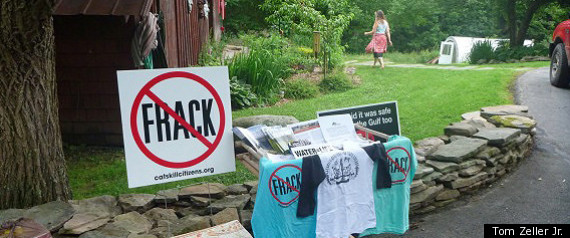 A collection of anti-fracking materials were on hand during an afternoon lunch to welcome the South African visitors.
They warmly welcomed Stern, Strydom and filmmaker Minnaar and quickly set about sharing stories of shady gas company tactics, of their shared affinities for the land and water on which they live and depend and the deep fears they have that one day, those resources will be fouled by chemicals and methane set loose by gas companies.
They spoke of communities -- even families -- that have become ruefully divided over the issue, and swapped stories of confrontations at local meetings or stony silence between disagreeing family members at holiday dinners.
Some shared recipes for protecting their "NO FRACK" lawn signs, which are frequently stolen. One woman, who asked not to be identified, coats the back of her signs with a mixture of Vaseline and hot pepper, so would-be thieves will think twice after grabbing it.
"If there are really no problems with gas drilling, why are there so many problems with gas drilling?" Wiener said, echoing a common refrain among opponents of the process.
Later in the afternoon, as this reporter was preparing to leave, Stern offered that he was frustrated that, despite numerous attempts to reach out to gas drillers with operations in Pennsylvania and New York, he and his fellow visitors had had little luck finding any industry representatives willing to meet them and perhaps offer them a tour of a well site and an explanation of their operations.
But he also said he wasn't surprised.
"I'm not totally blacked out to the idea that they might have to do this drilling in South Africa," he said. "But we want guarantees that it will be done safely. We want each well inspected and properly reclaimed before companies are allowed to move on to a new one, so they don't go willy nilly."
"I would love to talk to the oil and gas companies themselves," he added. "But they put everything under a cloud."