Jon Moore, a lifelong Dodgers fan, has pictures of himself as a baby wearing team jerseys and hats. But ever since the Dodgers filed for bankruptcy last Monday, he's been hard at work launching a line of t-shirts, sweatshirts, and baseball jerseys mocking the team's decline.
As soon as news of the bankruptcy filing went public, Moore got to work with his friend and graphic designer Danny Bazil to create clothing with slogans like "Frankrupt" and "McCourt $0." Moore explains, "Obviously, I thought it was gross and disgusting when they declared bankruptcy. I've been a diehard fan, a true fan since I was a little kid, and it was just a huge bummer." He added, "I'm not saying I'm trying to start a movement or anything like that, but it's definitely something to get Dodger fans riled up."
Moore places the blame for the Dodgers' downfall on embattled owner Frank McCourt and points to his outsized lifestyle as the cause of the team's financial woes. "[The Dodgers] have had record attendance the past year. Stadium prices were definitely increasing on concessions and parking. Now all of a sudden there's no money. How did that happen?" Moore asked.
He hopes that the MLB will seize the Dodgers and sell the team to someone with a proven track record in running a professional sports team -- just as long as it's not "someone who has owned a parking lot and wants to be a flashy rich dude running around with a baseball team as his little toy."
Since the store went live on Monday, Moore has sold 85 shirts and counting.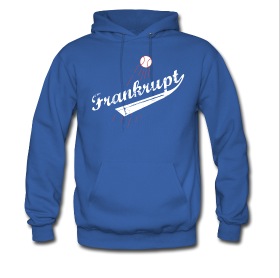 h/t NBC LA