Yesterday we showed you an image of this artwork and asked you to guess the American artist, but only a third of you correctly identified the artist as David Hammons.
Hammons is a black sculptor, installation and performance artist born in Springfield, IL in 1943. He studied in Los Angeles at both Chouinard Art Institute (now CalArts) and the Otis Art Institute, and currently lives and works in New York. Deeply engaged with the civil rights and the Black Power movements, Hammons is best known for provocative works like Injustice Case (shown below), Spade with Chains, and Higher Goals.
Hammons' flag, called African American Flag, is a explicit statement about race. Rather than the typical red, white and blue color scheme of the American flag, Hammons includes black, red and green which symbolize skin tone, blood and African nature.
Not only outspoken about politics of race and identity, Hammons is also engaged with politics of art. Defiantly against formal sculpture, in 1981, Hammons performed Pissed Off, where he urinated on Richard Serra's monumental steel installation Tilted Arc .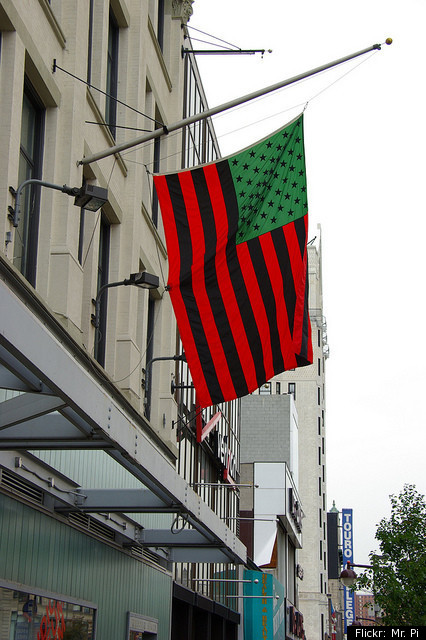 David Hammons (United States, Illinois, Springfield, born 1943)
Injustice Case, 1970
Print, Body print (margarine and powdered pigments) and American flag, Sheet: 63 x 40 1/2 in. (160.02 x 102.87 cm)
photo © 2011 Museum Associates/LACMA