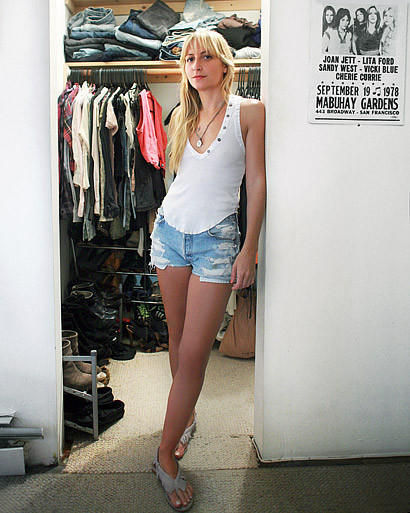 Closet Case is a new column in which we invade the wardrobes of our real life style icons. Here Chrissie Miller, fashion designer, lets us in to her closet. In addition to being the founder and designer at t-shirt brand Sophomore and daughter of Astrologer Susan Miller, Chrissie DJs the sickest parties, is impeccably dressed and lives in New York:
How do you organize your closet?
I am constantly organize my closet, always getting rid of things I don't wear. I love to get rid of things! My dream is to have an entire separate closet of just SOPHOMORE!
What is one thing you wear every day?
I wear a lot of denim, either jeans, jean shorts or jean jacket.
How long does it take to get dressed in the morning?
Under 5 minutes! I am quick!
What do you own that you will never throw away, but never wear again?
Oh boy I have lots of that stuff. I collect weird vintage things that would never fit me. I love children's clothes. I use it for inspiration.
What is your favorite recent purchase?
Patchwork denim shorts from eBay.
Who is your ideal shopping buddy?
My friend Jen Brill, we are both super quick and she has amazing taste.
Three adjectives to describe your style?
Easy, comfortable and sexy!