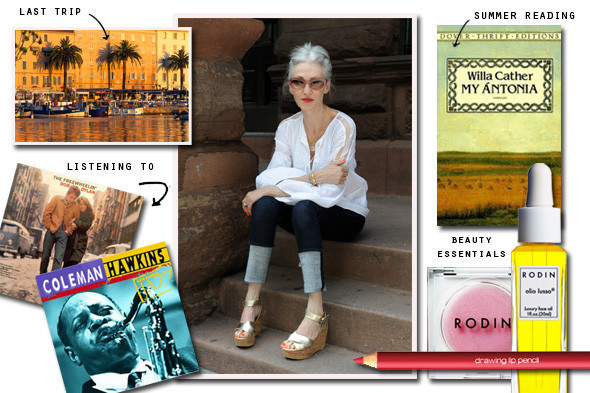 Photo: Damon Scheuler
Linda Rodin -- creator of THE most amazing face oil in the world, RODIN Olio Lusso -- is easily one of the coolest people you'll ever meet. Rodin, who is also a stylist, began mixing oils in her apartment as a side project about four years ago. Interested to see what others thought, she started giving small bottles to the models and makeup artists she worked with on set -- hence her huge fashion-world cult following today. It was her nephew who finally encouraged her to start bottling and selling her jasmine/neroli-infused blends. (If you haven't tried this face oil, you must. It's not cheap, but the bottle will last you for ever and ever. Plus, there's a total glamour-by-association element.)
This fall, Rodin is launching a new hand and body cream, which will have the same incredible scent as her oils (we'll give you more details soon). I met with Rodin to discuss her super-luxe-yet-pared-down line (which also includes a body oil, hair oil and lip balm), as well as her favorite movies (Spinal Tap!), how she spends her weekends, what she's reading, and the best thing about summer in New York.
Hometown: Roslyn, Long Island, NY
Astrological sign: Pisces
Summer weekends -- in the city or out of town: In town usually. I travel so much that I prefer quiet weekends in the city.
Favorite fruit: Definitely tomatoes -- which everyone thinks is a vegetable. I eat some every day.
Summer skincare regimen: RODIN Olio Lusso and SPF45.
Music you're loving right now: Bob Dylan, always Bob Dylan, and Coleman Hawkins.....
Favorite lipstick: A Shu Uemura lip pencil and a Chanel over that.
Person/place/thing that's consistently inspiring you: My niece and nephews, wonderful friends, the sea and my doggie, Winky!!!
Last trip you went on: To Corsica last Christmas.
Contents of your travel dop kit: RODIN Olio Lusso face, body and hair oil, RODIN Olio Lusso lip balm, lipstick, sunblock and a toothbrush.
Summer makeup routine: Very simple: cleanse my face, apply RODIN olio lusso face oil and then sunblock and lipstick.
Favorite movie: Too hard to pick one: "Le Notte Di Cabiria," "Spinal Tap," "Hannah and Her Sisters," "The Thief of Bagdad," "Some Like it Hot." And tons more......
Last book you read: "Inside of a Dog" by Alexandra Horowitz along with "My Antonia" by Willa Cather -- for the 5th time
Best thing about New York in the summer: It's empty.

You have an incredible glasses collection. Where do you find such amazing vintage frames?: Actually, they're not vintage...I go to a great optician on Lexington Ave, Henry Miller. Best selection in the city, ask for Kirk.