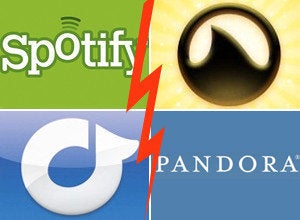 This list is not at all comprehensive -- we could have included Turntable or Slacker Music or Mog or AOL Play or any number of imitators, newcomers, wannabes and cult favorites. And of course we should not ignore the Apple behemoth iTunes, which will allow users to stream their music from the cloud soon, and which still has perhaps the largest legal selection of music of any provider. Like Spotify, iTunes has secured licensing deals that give it access to songs from top studios including EMI, Sony Music and Universal. But the main difference between them remains that iTunes requires users to pay per track -- which they then own -- while Spotify is all-you-can-eat, for free (with some limitations and ads) or a monthly fee.
Right now, however, there are six streaming music services that deserve your attention and that you can use to soundtrack your rager, chill out on a Sunday afternoon or get through the slog of another long day at work. Sorry, boss).
SPOTIFY (free with time limit and ads; monthly plans at $5 and $10)
The Stuff Awards referred to Spotify as an "endless CD library," and that is essentially what it is, giving you access to millions of songs that you can choose at will. A free membership gets you access to this endless CD library for 10 hours of streaming per month with advertising interruptions; for $5 a month you can lose the ads and the time limits; and for $10 a month you can actually download the songs to your cell phone or computer or tablet or whatever and listen to them even when you don't have the Internet. Essentially you get all the music you want, wherever you want, for $10. Excited yet?
Spotify has just come to America, so it is invite-only at this point, and invites appear to be rolling out rather slowly. You can enter your email and get put on the waiting list now, though, to check out Spotify (hopefully) later this month
PROS: Incredible selection of music; ability to choose music by the track; mobile and offline access.
CONS: Ten hour time limit on free account; invite-only at this point; must download software.
PANDORA (free with time limit and ads; annual subscription for $36)
There was a time when Pandora was the dominant, hip force in streaming music, but now it seems like the elder statesman. It even filed an IPO! How Pandora has grown!
You probably know the drill by now: users input the names of songs, artists, or genres they like, and the Pandora database creates a radio station based on those preferences. Users then give songs (or comedy clips) a "Thumbs Up" or a "Thumbs Down," which assists the service in learning what you do and don't dig, music-wise. It helps you discover new music, you get 40 hours per month for free, and the database of songs is huge and growing. It's Pandora--uh huh, you know what it is.
The downside of Pandora has always been the lack of user control in selecting songs. While it is a great service for having new music sprung upon you, it is virtually impossible to listen to any one artist when you feel like it, much less any one song. Compared to other music streaming services, it's a crapshoot: an excellent utility for music discovery, a useless one for scratching a musical itch.
PROS: Generous 40 hours free; terrific music discovery tool with wide range of genres; easy-to-use design; free iPhone app; cheap subscription rates; no need to create playlists.
CONS: Lack of real control over playback; free account comes with caps on skipping songs.
LAST.FM (free with ads; subscription at $3 per month)
Sure, "Scrobble" is really fun to say, but what else does Last.Fm offer?
With your permission and a quick download, Last.fm spies on your music library and creates recommendations and playlists based on your listening habits. It's a handy little tool for random playlist creation: just click on an artist or genre on the Last.fm website, and the service automatically loads a never-ending stream of music based on your choice. It is similar to Pandora in that the playlist generated revolves around your selections and preferences; however, the songs it plays are based on what other users enjoy on Last.fm rather than an intelligent music genome. Because it's integrated with your music library, you also have the ability to make a playlist made entirely of the music you own (like a web-based iTunes Genius) or a mix of your own music and Last.Fm recommendations.
The most distinguishing feature of Last.fm is the "scrobble" (say it out loud and try not to smile). Last.fm instructs you to 'Scrobble' the songs that you like, meaning that the song is saved to your profile, shared with your Last.Fm friends, and used to create more accurate playlists for you.
With a subscription, you get rid of the advertisements and the ability to play Last.fm radio on mobile devices. Having no time cap on your play-time per month, though, is a pretty sweet deal for a streaming music service.
PROS: Both desktop and web-based listening options; no need to create playlists; smart, automatic recommendation and playlist creation; social sharing gaining in popularity; the word 'Scrobble.'
CONS: Inability to choose specific songs.
GROOVESHARK (free with banner ads; subscriptions at $6 per month and $9 per month)
If you have no ethical qualms, and you know exactly what you want to listen to, then Grooveshark is for you. It allows the user to search its database by song title or artist to select precisely the song they are looking for and then drag that song into a personalized playlist. It's as though you were creating a playlist on iTunes, except you don't actually own any of the music. Grooveshark, then, operates similarly to Spotify, except without time limits on free accounts. Premium accounts rid the Grooveshark website of banner ads and unlocks fullscreen mode.
PROS: Listen to any song you want, searching by name or artist; easy to use; no registration required.
CONS: Questionable legality; lackluster radio station choices; Apple has banned the Grooveshark iPhone app from its app store due to legal issues, so currently web only.
RDIO ($5 per month for web access; $10 per month unlimited on web and mobile)
From the makers of old-school peer-to-peer pirating favorite Kazaa comes this newish music streaming service that was just released from beta last year. To be honest, it kind of looks like it's still in beta, but the music selection is so extensive and the pedigree behind it is so good that we had to include it. Rdio partners with several record labels, allowing you unlimited plays of the songs and albums hosted on its site. It features radio stations curated by those labels, as well as by record stores like Rough Trade, culture magazines like Spin and Fader, and music personalities like Jake Shears of Scissor Sisters and Brett Gurewitz of Bad Religion. This all makes for some rather eclectic and enjoyable stations. You can also connect with your friends on Rdio and listen to the playlists that Rdio suggests for them if you don't trust Rdio's "Influencers."
PROS: For a fee, unlimited, on-demand listening; fun, eclectic radio stations and playlists from reputable music sources.
CONS: Not free; music selection is still not quite as large as Spotify or Last.fm.
Your choice of music service really comes down to how many hours of music you want to listen to per month, and how involved you want to be in the selection process. Some of these options, like Pandora and Last.Fm, are great for those listeners that just want to open a website first thing in the morning and not have to flip over to it until the end of the day to turn it off. Others, like Spotify and Grooveshark, are more suited to the hands-on listener -- one who likes to control absolutely what he listens to, personally soundtracking his day song by song. It's a personality thing.
Money, of course, also comes into play. Will Americans continue to pay to play music that they can't even download to their mp3 player (or even pay for music that they can download to their mp3 player), or will Mediafire and The Pirate Bay steal everyone's thunder in the end?