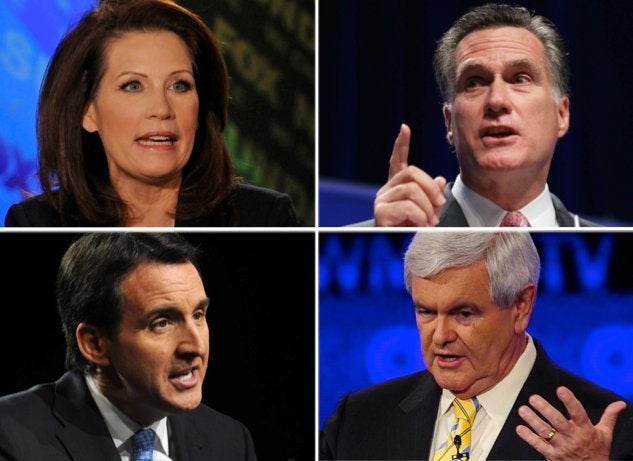 WASHINGTON -- Candidates for president, Congress and other political positions were required to submit their second quarter campaign finance filings to the Federal Election Commission on Friday. Halfway through the first year of the 2012 election cycle, the numbers in these reports can show the strength of candidates in particular elections, where they draw their support, and also which candidates are struggling to capture or retain a seat.
Much of the attention in these reports will focus on the presidential race, which, so far, boasts 11 Republican candidates seeking their party's nomination and one of the biggest fundraising operations in American political history working to reelect President Barack Obama.
The results of the 2010 Census add a different pressure to congressional campaigns, and campaign finance numbers will provide hints at which candidates are doing their best to stay in Congress and which contestants can afford to unseat an incumbent. Congressional districts are due to be redrawn based on Census figures, and in many cases redistricting could cost incumbents their seats. Freshmen Republicans in swing seats will need to prove that they can raise money to protect the GOP House majority.
These reports will also reveal the consultants, pollsters and companies that the candidates are paying to run their campaigns.
Joining the candidates this year are a host of new political action committees that can accept unlimited campaign contributions from individuals, corporations and unions. These committees, known as Super PACs, are expected to play a major role in the 2012 elections. The Karl Rove-affiliated group American Crossroads has already pledged to spend $120 million this election cycle, and a number of Democrat-aligned groups have emerged to counter that spending with money of their own.
We need your help to comb through the huge number of reports coming into the FEC.
Keep a particular eye out for contributions and expenditures in high-profile races. Then email paulblumenthal@huffingtonpost.com with anything you think might be newsworthy.
We'll be adding your findings, along with those of our reporters, to the liveblog below.
If you'd like to participate in more projects like this one as the 2012 election season continues, sign up here.