All 73 libraries in the Los Angeles Public Library system are re-opening their doors on Mondays after budget cuts forced them to reduce hours last year.
Starting today, Monday July 18, all Los Angeles libraries are also expanding service hours on other days to reverse reductions made last year. The new schedule, from the Los Angeles Public Library release: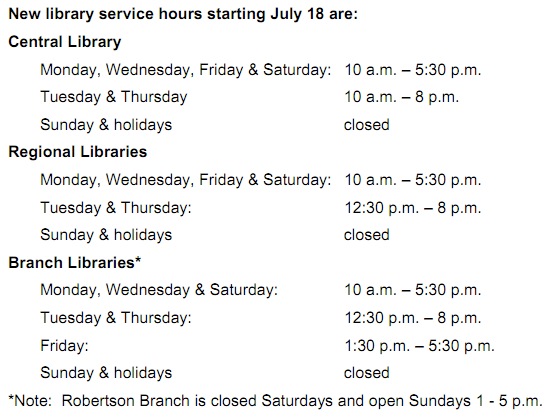 In 2010, Los Angeles City Hall passed a budget with cuts that affected the library system. In response, the libraries laid off 101 staffers and reduced service hours to five days a week, reports the LA Times. The Los Angeles Public Library system notes that their hours were "lowest level in the library's 140-year history."
That all changed in March of this year, when Los Angeles voters approved Measure L, a proposal that gradually diverts larger shares of the city's property taxes to the library system. Eventually, the taxes will contribute $130 million a year to the libraries, reports KPCC. Today, when the Los Angeles Public Library system announced the re-openings, City Councilman Eric Garcetti told KPCC: "Libraries change lives every single day for people who don't know what they're going to read when they come in or people who need help, and it's possibly the most democratic place in this city."