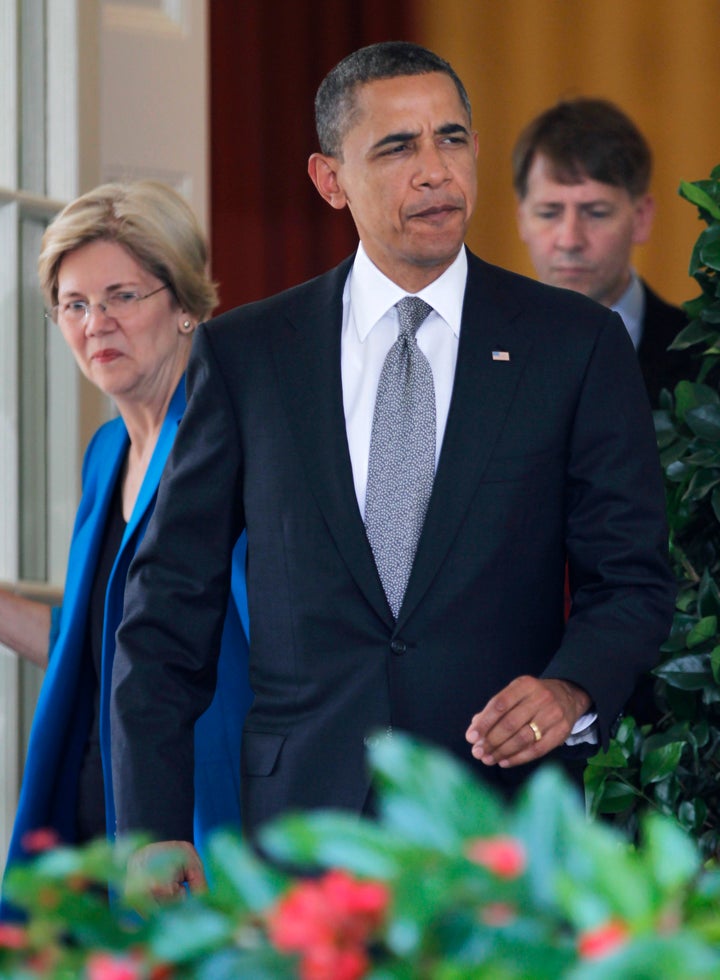 WASHINGTON -- President Obama may have rid himself of a high-profile confirmation fight by shunning Elizabeth Warren and picking former Ohio Attorney General Richard Cordray to run the nation's new consumer finance watchdog.
But even with conservative lightning rod Warren out, the fight remains. Obama still must try to figure out how to get his nominee confirmed, and Republicans signaled Monday that they were not softening their opposition to naming anyone to run the Consumer Financial Protection Bureau.
"Senate Republicans still aren't interested in approving anyone to the position until the president agrees to make this massive new government bureaucracy more accountable and transparent to the American people," Minority Leader Mitch McConnell (R-Ky.) said on the Senate floor Monday.
He reminded Obama that 44 senators had signed a letter that warned "we will not support the consideration of any nominee, regardless of party affiliation, to be the CFPB director until the structure of the Consumer Financial Protection Bureau is reformed."
Republicans argue that an agency as powerful as the CFPB should not have a single leader, but should be led by a commission, even though other regulators have lone directors. They also argue that although the CFPB can be overruled by the Financial Stability Oversight Council, it should be easier to oppose it.
Consumer advocates argue those suggestions are aimed at hamstringing the nascent agency.
But Republicans are taking a hard stance. "We'll insist on serious reforms to bring accountability and transparency to the agency before we consider any nominee to run it," said McConnell. "It took the President a year to nominate someone to this position. I hope he won't wait that long to address our concerns."
So instead of going into a Senate showdown with the well-known, popular Warren, Obama is left with Cordray and must still hunt for a solution -- perhaps a near-historic one.
One option would be to name the new consumer finance cop using a recess appointment, when the Senate is on a break.
Obama has used that maneuver much less aggressively than the previous two presidents. Still, Republicans have sought to deny him any opportunity to do so.
House Speaker John Boehner (R-Ohio) has refused to grant the Senate a break since May -- a power he has because the Constitution says each chamber must consent to breaks by the other that last longer than three days. (Presidents have almost never resorted to recess appointments during spans of less than a week, but nothing in the Constitution expressly prevents it.)
Complicating Obama's odds of using a recess appointment to install Cordray is the debt ceiling showdown. Senate Majority Leader Harry Reid declared Wednesday that the Senate would stay in session even on weekends until a debt deal is struck.
President Theodore Roosevelt once appointed more than 160 nominees during the brief period between two sessions, but observers believe such a step by Obama would spark too much of a backlash.
The CFPB takes charge of a number of regulatory jobs on July 21. With the debt standoff ongoing and Republicans unwilling to budge on all matters regarding the agency, it seems all but certain it will open without a director. It will likely have to function at least into August in order for Obama to have a shot at even a three-day Senate break in which to make a recess appointment.