New media has done a lot for us, but has it made us happier? According to a new study, radio makes Britons happier than TV and the web, and we're thinking those Brits are onto something. Think about it -- radio let's you slow down, reflect, and usually doesn't feel like a waste of time, unlike the mindless hours spent watching TV and browsing the web (just me?).
In honor of radio's role as the keeper of happiness, we've put together a little happiness guide, if you will, of some of our favorite arts-and-culture radio shows, all available for free on iTunes. Take a spin through them, and let us know your favorite podcasts out there.
NPR's Fresh Air
One of the forebearers of all culture radio shows of its kind, "Fresh Air" has been hosted primarily by the wonderful Terry Gross for the past 30 years. The show consists of interviews with cultural figures ranging from actors and directors to illustrators and writers, and ends with a short review of a new release. It's a simple format that has served it well all these years, as it allows Gross to have widely different types of guests on the show. Listen to a recent one with comedian Louis C.K.
Up Next: The Guardian's Everyday Moments
The Guardian's Everyday Moments
While The Guardian has its own culture podcast, a series they have going on right now is particularly interesting. Called "Everyday Moments," the podcasts are designed by different artists, from thespians to comedians, to be listened to at a particular time of day, in a particular place. For example, this one is meant to be listened to at sunrise, outside, at the top of a hill. Good luck getting yourself to the top of a hill -- perhaps a field will do?
Up Next: KCRW's Morning Becomes Eclectic/The Treatment
KCRW's Morning Becomes Eclectic/The Treatment
Santa Monica-based radio station KCRW has some of the most comprehensive music programming out there, and "Morning Becomes Eclectic," hosted by Jason Bentley, is one of the best. Every morning, the three-hour show delves into intense playlists and guest artist interviews.
"The Treatment" is the radio station's film show, hosted by Elvis Mitchell. The show is more along the lines of "Fresh Air," except it's more conversational, following a less rigid interview format, and focusing only on those in the film industry.
Listen to an episode of "Morning Becomes Eclectic":
Up Next: WBEZ's This American Life
WBEZ's This American Life
How could any list not include "This American Life"? While it's not strictly arts-and-culture related, it crosses into the realm of culture often enough to be included here. In case you've never experienced the fascinating stories explored on this show, the basic gist is this -- each show tells three stories, or "acts," all revolving around a single theme. The content that falls under those themes usually ranges widely, making for unexpected connections. The stories are sometimes funny, sometimes heartbreaking, and often both.
Up Next: KEXP Presents Music That Matters
KEXP Presents Music That Matters
This Seattle-based station puts together some thoughtful playlists, taking from the burgeoning Seattle music scene, as well as new, underground tunes popping up elsewhere. Each one is tied together by a theme, and you can listen to their latest ones here. Plus, catch one of their songs of the day by Shabazz Palaces below to get a sense of their style.
Up Next: Mike & Tom Eat Snacks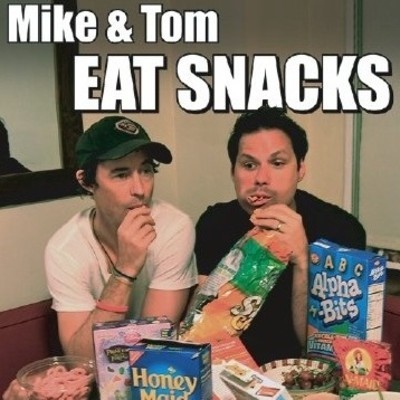 Mike & Tom Eat Snacks
The title is pretty self explanatory -- your hilarious hosts, Michael Ian Black and Tom Cavanagh, eat snacks and talk about them. Trust us, it's more interesting than it sounds.
This particular show is about the oddball snack, aka foreign snacks:
Ep 24 - Chinese Crunch Crunch* by Mike and Tom Eat Snacks
Up Next: Slate's Culture Gabfest
Slate's Culture Gabfest
Gab, gab, gab. That's what they do on this podcast, and it's why we listen. As a roundtable, it's one of the more conversational radio shows out there -- which means you may get restless when they go off on their own intellectual, at times inside-jokey, tangents. But on the whole, it's worth the listen, like this one on Dan Savage's theory on the virtues of infidelity.