Three-time Tour de France champion Alberto Contador had enough of one spectator during Friday's grueling climb up Alpe d'Huez.
As the Spaniard pedaled up to the 1,850-meter (6,070-foot) finish, a person dressed as a doctor ran alongside Contador, holding out a stethoscope.
Scroll down for photos
Spectators running alongside cyclists is common on the mountain stages of the Tour de France, but Contador perhaps thought that this heckler, who could be interpreted as making reference to Contador's 2010 positive test for a banned substance, took it a bit too far.
(Contador was allowed to race in this year's Tour de France because the Spanish cycling federation (RFEC) accepted his defense that he had unwittingly ingested the substance, clenbuterol, by eating tainted beef. That decision is being appealed by the International Cycling Union (UCI) and World Anti-Doping Agency, and the hearing is scheduled for early August.)
On Sunday, Cadel Evans became the first Australian to win the Tour de France. Contador finished in fifth place.
"Next year I will return to the Tour to win and I will focus exclusively on this race," he said, according to Velo News.
WATCH VIDEO AT THE TOP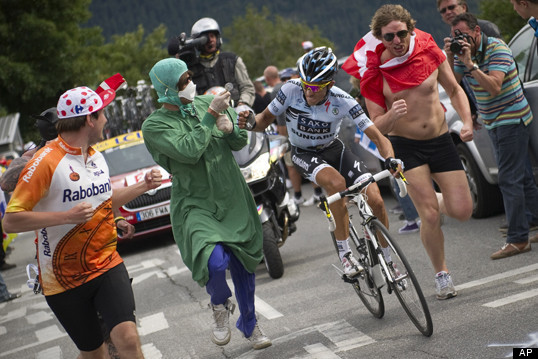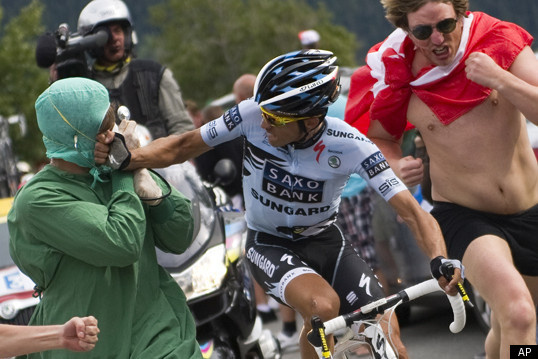 WATCH VIDEO AT THE TOP