Before he was a judge on "The Voice," or became a member of Gnarls Barkley, or was covered by Gwyneth Paltrow at the Grammys while he pranced around in some sort of giant peacock suit, Cee-Lo Green was a member of the beloved hip hop group, Goodie Mob.
And just in case the crooner needed a little extra on his plate, he took to Twitter on Monday to announce the release of a brand new Goodie Mob album, set to hit this fall.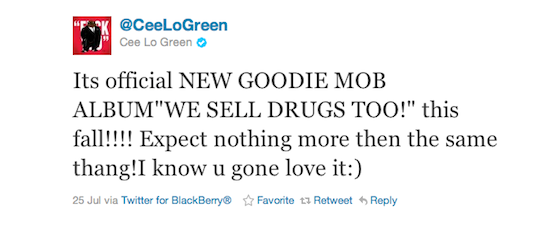 No other details have been released, but the new album would mark the first release for Goodie Mob since 2004's slightly less-than-well-received One Monkey Don't Stop No Show, after which the remaining members branched off and formed other projects.
Cee-Lo himself has not performed with the Mob since 1999, when he left to pursue a solo career. However, the group has reunited several times over the years for one-off events; they performed a few songs after a Gnarls Barkley concert in 2006, and a full set Atlanta's Masquerade venue in 2009. Last year, he told Vibe that he and the group were already recording new songs together.
The Atlanta-based Goodie Mob burst onto the scene in 1995 with their acclaimed Gold record, Soul Food, which sent three singles to the Billboard 100. They were part of a collective of pioneering Atlanta-based hip hop acts called "Dungeon Family," which included Organized Noize and OutKast.