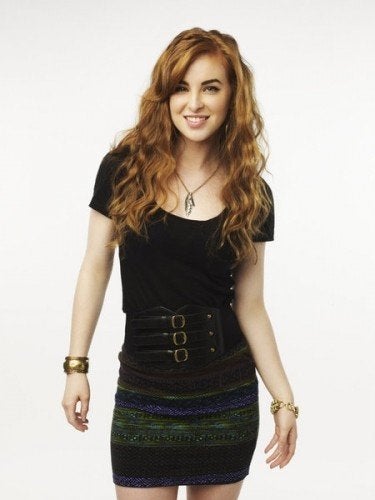 How did you end up on the show?
Well, I heard through the grapevine they were doing open casting calls on MySpace and I figured why not. I honestly never thought anything would come of it, but evidently something did! It's been crazy.
Have you auditioned for competition shows before? And would you do it again?
No, never never. This was my first time. I don't know [if I'd do it again]. It was definitely an enriching experience, but it was very stressful.
You got to work with lots of mentors on the show, who was your favorite?
I loved working with Erik White, he wasn't exactly a mentor but he was our music video guy. He has so many amazing credentials and worked with so many famous people. He's such a down to earth guy. And Zach Woodlee, our choreographer, is absolutely hilarious and we always had a lot of fun.
Did you have any trouble with dancing, or was it easier for you?
The dance was fairly easy for me, I think the most challenging part was never stopping practicing. You can't ever sit down and decide you're all set, you keep practicing no matter what. But learning the choreography wasn't too difficult for me since I have prior dance experience.
This week was your first time in front of Ryan Murphy -- do you think that lack of exposure contributed to you going home?
It's difficult to say exactly what transpired behind the scenes and everything. It was difficult having been my first time in the bottom three and the other two being in several times -- it was hard at first to not feel upset at not having a second chance when all the others had second chances. It could have been to my disadvantage that I had not met him before because he needs to evaluate you on the spot and see if he can write for you, and if I didn't show him that at that instant then there's nothing that can be done.
Are you still close to the rest of the cast?
The only two people who are in New York are Emily and me, and we've hung out a few times. But we all definitely keep in contact, you just don't forget that family dynamic from working in close quarters.
Do you have a favorite to win the competition?
Any of the contenders are equally talented and deserving. I was closest to Hannah and Alex and I think they represent what "Glee" is about more than any of us. I would love to see either one of them win, definitely.
How has the fan response been?
It has been difficult for me, because anyone who knows me knows I'm a notoriously private person. I had to throw that out of the window pretty quickly and start using social media more. It's been difficult to keep up with, but I can never not appreciated the extend of the support I've received from the fans. It's helped.
What's next for you?
I'm still living in New York but the plan is to move out to LA. It's going to be tough, but I'm looking forward to any opportunities that I receive from the exposure.
Are you focused more on acting or more on music?
one great thing about the show was that I discovered through the mentors telling me this, that film and TV are more my medium. I want to keep pursuing that, and singing as well.