50 Cent launched a tirade against Interscope on Twitter Wednesday, announcing that he will not be putting out another album due to conflicts with the record company.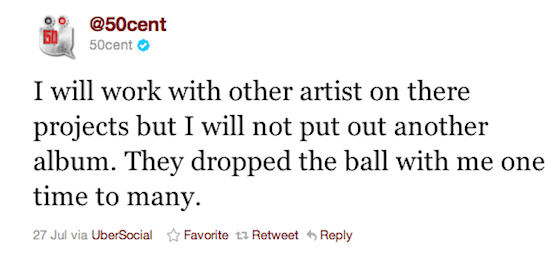 This doesn't come as a surprise. The rapper has been clashing with Interscope for weeks now, frustrated with their slow movement on what is (was?) to be his forthcoming album, Black Magic: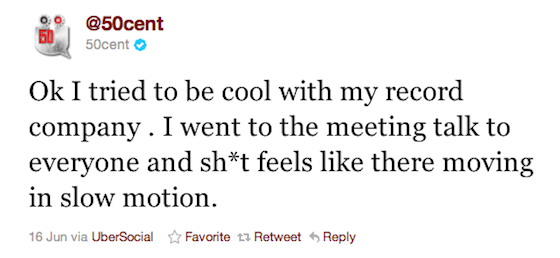 Fiddy added that he would not be "releasing a new album this year if [they] don't get on the same page."
After this flare-up, they supposedly resolved their issues. The rapper told MTV at the time, "By the time we got to go sit down with [chairman] Jimmy Iovine, we talked a little bit and then I ended up having to go see Dr. Dre because we had the little issue. We sat down, we cleared that up, me and Dre, and then we said, 'Let's just get back to the music and do what we do.'"
But the issues rose to the surface again Wednesday, possibly spurred on by the release of Fiddy's track, "I'm On It," which was leaked by the record company.
"I don't know how I can record 41 songs for my album and the one song I give interscope leaks," he said via Twitter. "But I don't care its good music."
But, apparently he did care. Fiddy struck back by threatening to release Dr. Dre's (his labelmate) single, "The Psycho," today at 2:00. He then stood down, tweeting, "I wouldn't leak dre's record he has done nothing but help me in my career. jimmy [Iovine] has always been supportive of me."
Early this morning, it seemed as though things might be back on when Fiddy goodnaturedly tweeted: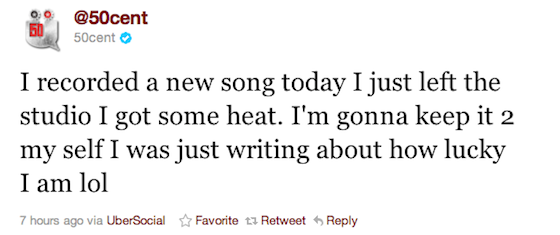 We're not entirely sure what he means, but are we ever?