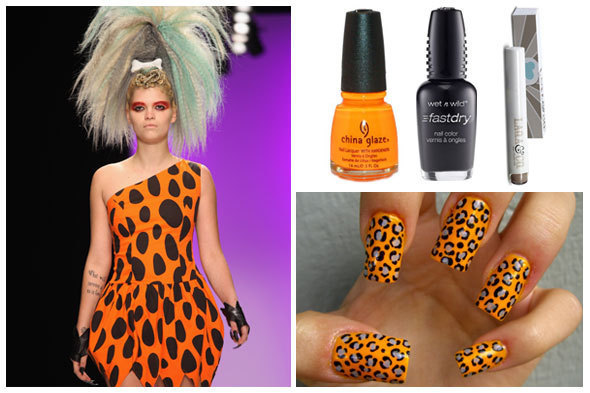 Photos: Jeremy Scott Spring 2010 - London Fashion Week, Gareth Cattermole/Getty Images; China Glaze Sun Worshipper, Wet n Wild Fast Dry Ebony Hates Chris and Laqa & Co Greige Nail Polish Pen; Animal Print Manicure by Shannon of Life and Nail Polish
When I'm in search of an accessory to complete my outfit, I always find myself reaching for a leopard print scarf. But as the temperatures steadily rise, it's time to retire my go-to piece.
Shannon of the Tumblr Life and Nail Polish "missed wearing her favorite kitty print" and decided to deck out her digits in a leopard spot manicure that channeled Jeremy Scott's jungle-friendly Spring 2010 collection.
The mani maven perfected the nail art with three lacquers: China Glaze Sun Worshipper, Wet n Wild Fastdry Ebony Hates Chris and Claire's Rain Drops. But if you suffer from Shaky Hands Syndrome, we'd suggest using a nail polish pen like Laqa & Co.'s Greige to add a pop of glossy gray.
Shop the products below to recreate this wild nail design.
Meanwhile, check out our roundup of fashion and beauty products stamped with the iconic print.
Learn how to nail down manicure savings whether you treat yourself to one at a salon or opt to do one at home.