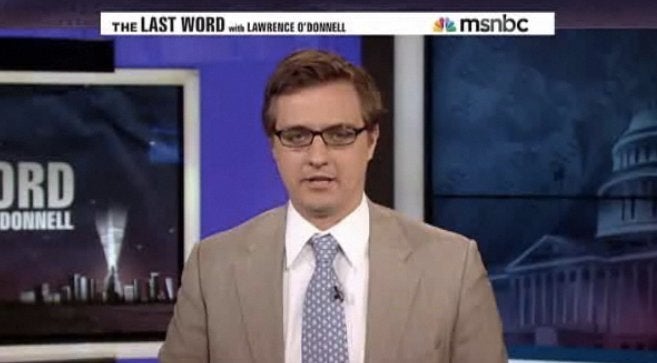 Chris Hayes, the Washington editor for "The Nation" and a longtime contributor to MSNBC, is getting a weekend morning show. Hayes made the news official on Twitter on Monday, and MSNBC released its official announcement shortly after. The show starts on September 17. It will air on Saturdays from 7-9 AM and on Sundays from 8-10 AM. Alex Witt, MSNBC's regular weekend anchor, will see her show pushed back on both days. The launch of the show marks another attempt by MSNBC to successfully program weekends—something it has not been known for in the past.
Hayes has been a regular contributor to MSNBC and a frequent fill-in for both Lawrence O'Donnell and Rachel Maddow. His ascension to permanent host has been not-so-secretly discussed by the network.
The move is one of several MSNBC has made in recent weeks. It also hired new daytime anchor Craig Melvin, let go of Cenk Uygur and is in talks with Al Sharpton for a 6 PM show. Other networks have also been shuffling around their schedules recently. CNN drastically overhauled its lineup in early July, canceling Eliot Spitzer's show, moving Anderson Cooper to 8 PM and developing a new program with Erin Burnett. And Fox News is searching for a replacement for Glenn Beck at 5 PM.