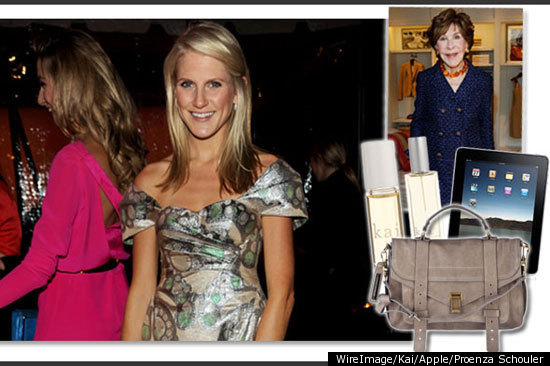 In honor of Betsy Bloomingdale's 85th birthday today, we decided to ask her stylish granddaughter Hayley a few questions.
Name: Hayley Bloomingdale
Occupation: Editorial and Social Media Director at Moda Operandi
From: Pacific Palisades, CA
Currently living in: NYC
What was your most recent purchase? A floral Erdem dress and a Charlotte Olympia clutch on Moda Operandi... both pre-ordered from their Resort collections.
What item do you wear every day? A Cartier watch that was a gift for my 18th birthday.
Who is your ideal shopping buddy? My mother... or myself when shopping online.
What is your current handbag? Currently Proenza PS 1 but changes frequently.
Who is your style icon? My grandmother.
How much time do you spend getting ready in the morning? Depends on the day but usually no more than 20 minutes.
What's your signature scent? I don't always wear a scent but if I do, it's Kai or anything gardenia
What trend do you hope dies this summer? Jeggings. The hybrid of jeans and leggings. They are meant to be two separate options. To paraphrase from the wise-beyond-her-years Blair Waldorf, "TIGHTS ARE NOT PANTS!"
What are you currently obsessed with? My iPad 2
What did you wear when you were 13? Denim overalls from the Gap and a matching denim hat with a gigantic sunflower pinned to it.
What was your first job/internship? I've had several amazing internships... some of the early ones were at C & C California, Paige Premium Denim jeans and then Tory Burch.
What is your favorite magazine? Vanity Fair, New York Magazine, Vogue... and Moda Operandi Magazine too of course :)
What was your first AOL screen name? Oh my. Um, it was "Wakko247"... I had a friend who was the "Yacko" because of some cartoon I think we liked. I should have lied on this answer.
Would you rather.... Midnight in Paris or Midnight in NY? Definitely Paris... when the night is just beginning!
Mojito or Margarita? Margarita
Facebook or Twitter? Both! Follow me.
If you could have one super power what would it be? To be able to teleport!!!