Family vacations in the Bahamas can be rewarding experiences or absolute disasters -- it all depends on pretrip homework. To make planning easier, we've done all the preparation. As part of a Huffington Post Travel series on traveling with children, here are recommended attractions for those planning Bahamas family vacations.
Cable Beach
Perfect white sand and crystal clear water make
Cable Beach
a popular Bahamas destination for tourists and locals alike. If the natural paradise simply isn't enough, though, check out the nearby opportunities for parasailing, snorkeling, sailing and other aquatic adventures -- and the best part? You can book them from local vendors right on the beach!
Address: West Bay St., Nassau, Bahamas
Phone: Nassau/Paradise Island Tourism Bureau: 242-322-8381
Hours: Open year round
Price: Free
The Pirates Museum
It's a self-guided tour through old-school piracy; a journey that begins on an eerie moonlit dock and allows visiting landlubbers to experience life below deck. The
Pirates Museum
pays tribute to the Golden Age of Piracy, the early 18th century period in which Nassau became the unofficial capital of piracy in the Atlantic. Examine real cutlasses, flintlock pistols and other pirate paraphernalia, then learn about the trials, hangings and escapes that brought the era to its close. And after, stroll down to Nassau's picturesque waterfront to put your new knowledge of the "sweet trade" into context. Yarr!
Address: George St., Nassau, Bahamas
Phone: Nassau/Paradise Island Tourism Bureau: 242-322-8381
Hours: Open year round. Monday through Saturday, 9 a.m. to 6 p.m.; Sunday, 9 a.m. to 12 p.m.
Price: Adults, $12; children ages 4 to 17, $6
Ardastra Gardens, Zoo and Conservation Center
Most famous for the Marching Flamingo show -- a celebration of the Bahamas' national bird --
Ardastra
boasts an array of exotic species. Elegant peacocks roam the grounds, and guests can feed lory parrots at certain times of the day. It's not all about the birds, though. Visitors will also encounter hundreds of different mammals and reptiles, including many endangered species.
Address: Chippingham Road, P.O. Box N-4882, Nassau, Bahamas
Phone: 242-323-5806
Hours: Open year-round, 9 a.m. to 5 p.m. (last entrance at 4:15 p.m.). Closed on Christmas Day, Boxing Day and New Year's Day.
Price: Adults, $15 (with resident ID, $10); children ages 4-12, $7.50 (with resident ID, $5)
Junkanoo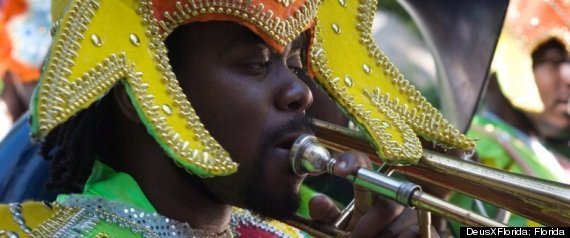 On Boxing Day and New Years Day each year, Bahamians take to the streets in elaborate costumes to celebrate the Junkanoo festival, originally begun to celebrate slaves' three days of freedom from work around Christmas. Junkanoo Groups carefully (and secretly!) plan their costume theme for the year, hoping to outdo other groups in music, dancing and other performance arts. Think Mardi Gras, but in a tropical paradise, with less saxophone and more goatskin drums.
Address: Bay Street, Nassau, Bahamas
Phone: Nassau/Paradise Island Tourism Bureau: 242-322-8381
Hours: December 26 and January 1, 2 a.m. to dawn. Other times, check out the Junkanoo Museum, open daily from 10 a.m. to 4 p.m. (242-356-2731).
Price: Free
The Straw Market
A classic Bahamas destination, the
Straw Market
offers shoppers everything from watches and handbags to authentic Bahamian handmade items and woven baskets. Requiring visitors to navigate cramped aisles and bargain over the explosive shouts and chatter that fill the air, this shopping experience is not for the weak-hearted. The chaos is part of the experience, though, and shoppers who make it through will undoubtedly return home with exciting new purchases for the whole family.
Address: Bay Street, Nassau, New Providence Island, Bahamas
Phone: Nassau/Paradise Island Tourism Bureau: 242-322-8381
Hours: Open 7 days a week, from roughly 8 a.m. to 5 p.m.
Price: Free
Dolphin Encounter
Rub noses with a bottlenose through one of
Dolphin Encounter
's programs. The experience begins with a ride on a catamaran sailboat to Blue Lagoon Island, where kids and adults alike experience these playful creatures up close and personal. Learn about dolphin training and natural history through fun and interactive activities, then fall make friends your own Flipper as you hug, kiss and even dance with the dolphins at Blue Lagoon Island.
Address: Dolphin Encounters Ltd., P.O. Box SS 6257, Nassau, Bahamas
Phone: 242-363-1003
Hours: Tours leave daily at 8:30 a.m., 10:30 a.m., 1:30 p.m., and 3:30 p.m. and last approximately three and a half hours total.
Price: $98 for the three and a half hour program, which includes a ride on a large catamaran sailboat
Aquaventure Water Park
Twenty million gallons of water course through Aquaventure, where guests enjoy water slides, river rides and even rock climbing. The park's central feature is the impressive Mayan Temple, where brave riders can slide down a 60-foot near-vertical drop through a clear water tunnel, appropriately named the Leap of Faith. From stomach-turning thrills to scenic water rafting to smaller slides for kids, Aquaventure gives the whole family a burst of energy to punctuate relaxing days on the beach.
Address: Atlantis - Paradise Island, One Casino Dr., Paradise Island, Bahamas
Phone: 242-363-3000
Hours: Hours vary by season, but the park is generally open from 9 a.m. to 5 p.m. Call for more information.
Price: Day passes are $110 for adults and $80 for children ages 4 to 11, but these passes are not available if Atlantis is fully booked. Free for guests staying at the hotel.
What's your favorite attraction in the Bahamas?
Check out more FAMILY TRAVEL GUIDES.