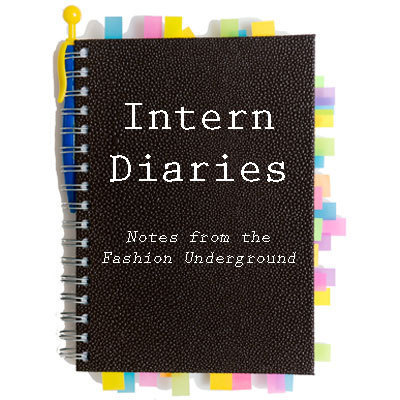 Intern Diaries: Notes from the Fashion Underground is a column that goes straight to the source of the fashion industry: the free labor. In this column, anonymous interns tell all about their terrible bosses and entitled coworkers as they endure ridiculous tasks which include, but are not limited to, fetching dry-cleaning, going on coffee runs and acting as a substitute nanny. This week's intern is an college student working at a French fashion house's office in New York City.
DAY ONE
6:00 a.m Wake up, and consider dressing up but instead I wear my Elizabeth and
James nautical button down, skinny denim, flats and a J. Lo bun..its gonna be a long day!
7:00 Take the subway downtown. Am completely surrounded by hot men in suits.
7:15 Remind myself that I'm taken, and I force myself to focus- I'm determined to beat boss to the office!
7:30 I walk through the lobby, behind a tall pair of Louboutins, wave to the guards, scan my card and take the elevator to the 9th floor.
7:45 Walking by boss's desk making sure that boss hasn't arrived yet. Grab some bottles of water, print the reports and beat her to the lobby.
8:00 We take a cab to Penn station, and chat about previous long 4th of July weekend,
8:30 Arriving at Penn, I notice that she has this seasons "it bag" and she has paired it with a black silk jumpsuit and a blowout, so chic!!
8:40 She buys a couple coffees, snacks and train tickets while I just stand and watch... thinking about the end of the month expense reports.
9:00 On the train we chat mainly about our boyfriends, and I realize that we have a lot in common! So glad that our signs are compatible, not sure if she would've given me the job otherwise.
9:30 We arrive at the boutique, and I take a brief inventory of RTW and shoes from the fall collection.
10:00 I can't believe that I get to help dress looks for windows! I help boss attach all of the new eyes, lips and nails to mannequins.
11:00 Run up and down stairs for the next hour, bringing up any back stock as requested. I swear my bun is beginning to unravel.
12:00 p.m. Boss calls for lunch and asks me to pick what I want from the menu. I forget to mention that I hate sushi, so I just decide to have what she's having.
12:10 I leave to pick up our sushi order, and ask for an itemized receipt (always thinking about the end of the month reports!) WHAT I can't believe that this crap costs 80 bucks!
12:15 I swear we each ordered enough sushi for an entire family! I end up eating the side of rice, edamame and everything else that isn't still alive.
12:30 I can't believe that she just ate everything!! Where does she put it??
1:00 Our production team should be here to help with the windows any minute now. In the mean time, I keep offering my suggestions for re-merchandising the handbags.
1:30 At this point I'm about 2 for 25, and so what? I'm pretty sure that's more than the opinionated sales person who we've both started to ignore...
2:00 I leave to purchase bobby pins and hair ties and begin to style mannequin wigs. The sales guy who is obsessed with my bun calls me the next Orlando Pita. Thanks dude.
2:30 Still no sign of the production team so we move on to shoes. All of a sudden that sales guy plays DJ and Beyonce is all over his playlist. I decide to make friends with him and he volunteers to run up and down the stairs for me.
3:00 Still waiting... starting to get bored we walk to Sephora to buy a new hair straightener. Love errands.
3:30 Grab an iced tea on our way back and call the production team who is now 4 hours late. Someone is in trouble.
4:00 While picking at our leftovers from lunch I talk boss into letting me style her hair. Oh la la.
4:30 I get permission to handle some personal phone calls while we wait. Boss fixes her hair right in front of me... hey at least she's honest.
5:30 Still waiting for the production team.
6:30 The production team finally arrive and begins the installation. They ask sales guy to turn "that crap off." We glare as they work in silence.
7:00 Now they're having technical problems?!?!
7:15 Boss knows its gonna be a long night and is nice enough to let me go.
7:30 Boss calls a cab, hands me 20 bucks and sends me off.
DAY TWO
8:00 a.m. Wake up and wear my yellow Banana Republic shift, fuchsia Pucci scarf, ponytail braid and nude flats.
9:00 I grab breakfast and coffee to go, anticipating getting to the office early.
9:30 As I'm walking through the lobby, the guard pulls me aside and to tell me that I have a beautiful smile.. what a nice guy! I scan my card and continue smiling all the way up.
9:40 I arrive at the office before my team, say "hi" to whoever I cross paths with and check my e-mail as I finish my coffee.
9:45 I start to get worried that boss hasn't arrived, so I check my phone for missed messages.
9:50 I freak out for a quick second because I've NEVER been late... so I start running! I have 10 minutes to get to Saks!
10:00 Out of breath, I am warmly greeted with kisses and compliments as I enter the boutique. I'm excited to work with other boss today, I rarely get to see him in action because he travels a lot.
10:30 First, other boss talks to me about the changes I made at Saks during my previous visit (alone) and gives me some helpful feedback.
11:00 While watching I always ask questions, give my opinion and tell jokes... I'm determined to impress this guy!
11:30 After all these changes, the place looks like a disaster so I offer to help the sales people clean up the remnants before we go.
12:00 p.m. We leave Saks and he tells me my hair reminds him of SJP... that's a compliment right?
12:15 We chat about his boyfriend on the way to the office, and he treats me to Starbucks.
12:30 We enter the lobby and go up the elevator, and return to our desks to find fresh flowers all over the place. It turns out that our florist for our boutique sent these. It's nice to know that the company that I like is actually liked by everyone else too!
1:00 I meet some intern friends at Fresh & co for lunch and we gossip about everyone else.
2:00 Head back to the office, and ask if there are any tasks that I should get to first.
2:30 For the rest of the afternoon, I decide to update Fedex contacts, and work on documenting our inventory of fine jewelry props. Hey, at least I get to stay out of the heat!
3:00 I finish all of my tasks earlier than expected and offer to help organize other boss' desk.
3:30 Underneath a couple boxes I find a stash of Brigitte Bardot wigs and try one on. A couple of minutes later the whole office is wearing the old mannequin wigs. I decide to take one home, since it looks so good!
4:00 Other boss takes me to the boutique downstairs and I help him pick fall shoes for the mannequins to wear.
5:00 Dismissed. Go back up to the office to grab my things and call my boyfriend. I love my job.
DAY THREE
8:00 a.m. Wake up, wait for the bathroom and decide to wear my bright red printed DVF wrap,
with an over-sized black Marc by Marc bucket bag, black Marc Jacobs tie sandals and my seventies wild curls to complete the look. Feeling good.
9:30 On my way in I notice that Bergdorfs and Chanel changed their windows. Send a quick text to boss to let her know.
9:45 I wave hello to the guards, scan my card and happen to see one of my bosses on the elevator. Chat about upcoming vacation.
10:00 I get into my routine pretty quickly, First I check my e-mail, overnight an envelope on my desk and make a cup of coffee.
11:00 Getting a little bored, I mosey over to my managers desk, and offer him some carrots, I show him my tweet about the Bergdorf windows, and he makes fun of me for being obsessed with twitter. #sorry
11:30 He asks for my help with expense reports and I tweet about how much I hate doing them.
12:00 p.m. He lets me know that he's dying for Starbucks and asks if I need anything, how nice! Shouldn't I be the one getting coffee for him?
12:15 I politely decline and continue to slave over the reports.
12:30 The second he arrives back I tease him about his receipt from McDonalds.
1:30 I can't read another receipt without a break, so I go to my desk and eat the salad that I brought for lunch. Healthy.
2:30 Boss comes over to my desk and lets me know that we will be working in the boutique downstairs for the rest of the afternoon.
3:00 We begin moving every single bag and dressing mannequins.
4:00 I swear if another customer touches anything I will freak out.
4:30 I get a call from other boss requesting that I overnight a few things to her that she forgot for her trip.
5:00 After sending packages I rejoin boss in the boutique and we finish moving all of the handbags and accessories.
5:30 We return to our desks and I immediately upload the photos documenting today's changes, and I send them to both of bosses.
6:00 I call boss from my desk asking if he got my e-mail. Realize we are the only two people still here. #summerfridays?
6:15 We try and talk each other into going to the gym after work... definitely not gonna happen
6:30 He walks me part of the way to my train and thanks me for my hard work today. So sweet.
Are you a fashion intern? Interested in contributing? Please email sarah.leon@huffingtonpost.com.
Check out previous Intern Diaries here:
A Teenager Commuting to a Model Casting Agency
Ivy League Student working at Top Magazine
Female College Student works in PR in NY
College Graduate at a NYC-based Magazine