Many people would never think of saying something negative about their priest in person.
But online, things are a different story.
Hirten Barometer, which translates in English to "Shepherds' Barometer," is a German site that allows its users to actually rate church officials, based on a number of different criteria. The basic assessment includes categories such as worship, credibility, "Finger on the Pulse," youth work, and senior work.
Using the image of a sheep the site includes mainly German priests, but extends a bit further into the clergy. There are even ratings for the current Pope, Benedict XVI, and his predecessor, Pope John Paul II.
You can see both of their ratings below, translated into English. Who do you think ranked better?
The site launched in April and now includes 25,000 parishes and some 8,000 priests, according to Reuters.
According to TIME, the rating system actually changes the color of the sheep associated with each priest. Good priests get white sheep and more poorly rated priests are assigned sheep with black wool.
The true aim of the site is for a bit more honesty and the hope of bringing better priests the attention they deserve. Like other ratings sites (notably RateMyProfessor.com), the site's founders hope to draw attention to the spiritual leaders who really grab the attention of their clergy, much like finding a professor who truly reaches his students.
"Pastoral work should be qualitative," Andreas Hahn, one of the founders told Reuters, adding that they hoped "to stimulate dialogue to improve pastoral work."
Pope Benedict's Rating (Translated via Google Chrome):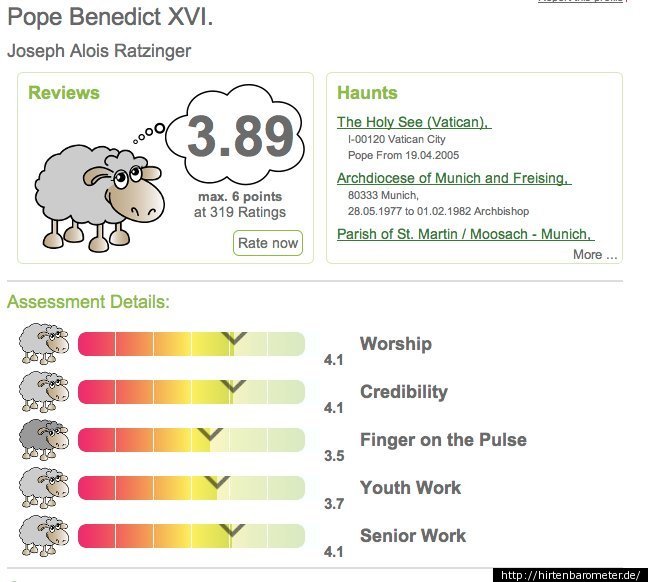 Pope John Paul II's Rating (Translated via Google Chrome):