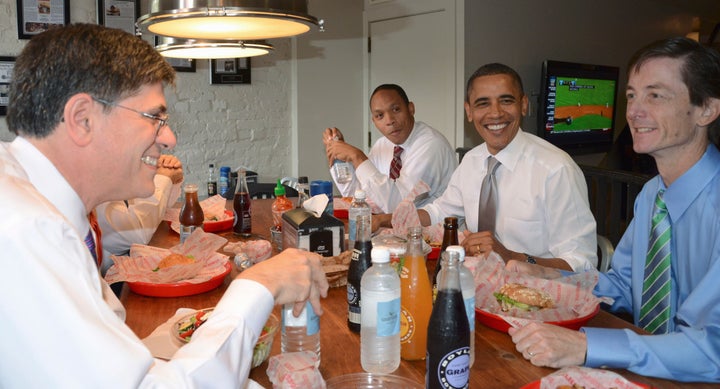 President Obama took five members of his staff out to lunch on Wednesday, to thank them for working so hard on the debt ceiling crisis for the past weeks and months.
The group included Office of Management and Budget Director Jack Lew, White House Director of Legislative Affairs Rob Nabors, Deputy Chief of Staff for Policy Nancy Ann DeParle, Vice President Biden's Chief of Staff Bruce Reed and Gene Sperling, director of the National Economic Council.
The group ate celebratory burgers, fries and milkshakes at the casual Capitol Hill restaurant Good Stuff Eatery, which is owned by former "Top Chef" contestant Spike Mendelsohn.
"It smells good," Obama said when he walked in. "Michelle eats here all the time, but I don't get out."
The jovial group sat at a long table by the window for lunch, and Obama chatted with patrons and shook hands. At one point the president offered a young patron one of the milkshakes on the group's table. "I guarantee this table isn't going to drink them all," he said.
Obama's meal consisted of a burger, fries, and a salad.
Crowds gathered on Pennsylvania Avenue outside the restaurant, and Rep. G.K. Butterfield (D-N.C.) stopped by to chat with the president on his way to pick up a lunch of Chinese take-out. "We talked about the difficult vote the other night," Butterfield told reporters afterward. "I explained to him that I didn't vote with him, but I'm glad that it passed. He said he understood."
Recently released White House photos show staff members at frequent informal meetings with the president in the Oval Office throughout the debt ceiling debate.