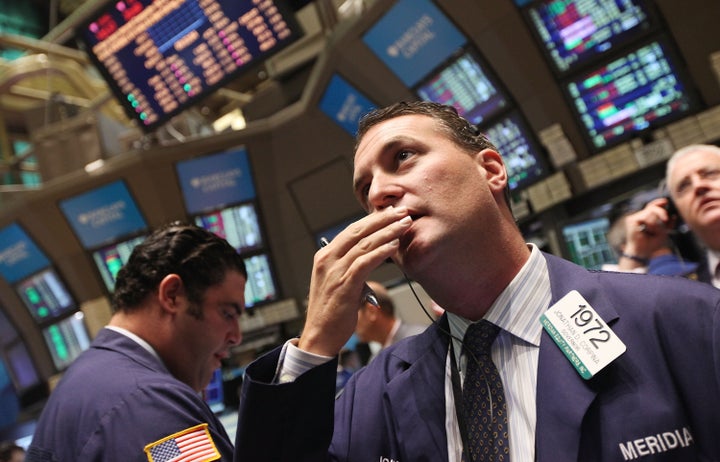 NEW YORK (Reuters) - World stocks plunged to new 2011 lows Thursday as worries about a global slowdown intensified and investors piled more money into safe-haven assets like bonds.
As Wall Street's losses deepened, gold turned negative after touching another record high near $1,700 an ounce.
The exodus from stocks pushed the broad Standard & Poor's 500 Index down 3 percent, while the clamor for safe-haven investments drove the yield of the 10-year U.S. Treasury note below 2.5 percent, the lowest since early November 2010.
Officials moved to calm markets and ease volatility around the world, with the largest move coming from Tokyo, where the government spent an estimated 1 trillion yen ($13 billion) to stem the strength of its currency.
The intervention comes a day after an unexpected cut in interest rates by Switzerland to weaken the franc.
Safe-haven assets like the Swiss franc, the yen and gold have spiked this week as investors fret that governments around the world are planning spending cuts at a time of slowing global economic growth. Government moves are seen as just temporarily reversing the trend.
``They're trying to fight a futile battle,'' said Ankita Dudani, currency strategist at RBS. ``It won't have a lasting impact so long as the euro-zone crisis continues and the global (economic) outlook deteriorates.''
The latest spate of economic data points to slowing demand in the United States, while the euro zone grapples with the spread of its debt crisis to Spain and Italy, where borrowing costs have increased sharply.
Stocks, energy prices and industrial metals continued their slide.
The Dow Jones industrial average was down 337.17 points, or 2.83 percent, at 11,559.27. The Standard & Poor's 500 Index was down 41.80 points, or 3.22 percent, at 1,218.54. The Nasdaq Composite Index was down 95.16 points, or 3.53 percent, at 2,597.91.
The MSCI world equity index was down 3 percent on the day, its largest daily fall in a year, and hit a fresh 2011 low.
European stocks lost 3.4 percent.
Feeding on the market preference for safety bets, spot gold rose to a record of $1.681.67 and was lately trading at $1,662.94 per ounce.
The benchmark 10-year U.S. Treasury note rose 1-8/32 to yield 2.48 percent, a level not seen since early November 2010.
The European Central Bank kept interest rates unchanged on Thursday, but traders said the central bank has been buying bonds of peripheral euro-zone countries in an effort to keep rates lower.
German Bunds gained, while Italian and Spanish government bond yields rose in volatile trade on Thursday, after a euro- zone monetary source said the European Central Bank was only planning to buy Portuguese and Irish bonds.
Markets were unconvinced the ECB bond buying will be effective in stopping contagion and some were disappointed that Italian and Spanish bonds, whose yields climbed above 6 percent recently, were not the target of the purchases.
``It wasn't a unanimous decision to (buy bonds). (ECB President Jean-Claude) Trichet looked really uncomfortable saying it,'' one trader said.
``The market obviously dismissed it pretty rapidly,'' another trader said.
Brent fell more than 2 percent and U.S. crude lost 3.2 percent to $89 a barrel. Copper prices dropped 1.5 percent. (Additional reporting by Julie Haviv, Marius Zaharia and Emelia Sithole-Matarise; Editing by James Dalgleish and Jan Paschal)